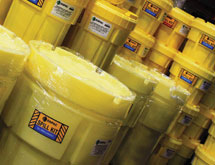 When the federal, state or municipal government imposes a mandate concerning prevention and containment of hazardous materials, companies often have to scramble to comply. ENPAC – the worldwide leader in spill prevention, containment and control – answers those questions so its clients can focus on their core business.
It began in 1988 with its flagship pro­duct – the 95-Gallon Poly-Overpack Salvage Drum. From 1988 to 1998, ENPAC focused its efforts on oil spill containment products. When its current owners, Scott Janda and Tim Reed, purchased ENPAC off the public market, they began expanding the pro­ducts and their applications into other fields including industrial, pharmaceutical and military. Today, ENPAC manufactures more than 500 products that ensure worker safety and business compliance.
With a soon-to-be launched eco-friendly line, ENPAC not only is promoting environmental safety with the products themselves but with the process it takes to make them. "Our eco-efficient line is an extension of our spill product line, and we manufacture them from up to 100 percent recycled and recyclable materials," says Brian Walters, vice president of sales and marketing. For the past 18 months, ENPAC's engineering and manufacturing team has taken some of the company's most popular products such as the 95-gallon Poly-Overpack Salvage Drum and recreated them from recycled materials with similar properties and performance standards of the original products.
Only in America
ENPAC's products are manufactured from its two Ohio-based plants. Its 150,000-square-foot East­lake facility employs nearly 100 people experienced in the traditional rigid plastic and spill kit lines. Five minutes away is the company's 30,000-square-foot Willoughby plant, staffed with 30 people who manufacture all of ENPAC's flexible products including containment berms and boom.
At ENPAC, quality is the priority and while technology can be duplicated, the company feels its biggest im­pacts on quality are its experienced engineers and manufacturing work force, says Patrick Gothro, vice president of international sales. "We also have a good work force who has been doing these processes over many years," he says.
ENPAC is not just a leader in its field, it has innovated many of the hazmat-control technologies and its catalog represents the world's largest and most comprehensive list of plastic spill prevention products.
The company also has grown by taking its products and modifying them to meet regulatory standards in a different industry. ENPAC's most recent significant boost happened during the 2010 BP oil spill. "We were still up in 2008 and 2009, when most of the economy was having problems," says Scott Janda, co-owner of ENPAC. "However, we grew 20 plus percent last year and were up significantly. A lot of it had to do with the oil spill in the Gulf coast, but this year's sales are very strong, as well."
ENPAC supplied 50- and 100-foot-long containment booms that prevented the oil from spreading further across the Gulf Coast. "During the oil spill, the typical company could not produce close to enough containment booms needed for the spill," Walters explains. "We were contacted by our distributors to increase our production. We hired more than 50 temporary employees and we manufactured 24/7 during the spill."
During this time, Janda maintains that its regular business did not suffer. ENPAC's engineers continued to develop new products, including the eco-efficient line, and weekly orders for international distributors to regions such as Australia and Europe continued their on-time delivery.
The company also maintained its just-in-time process and standard lead time average.
"We moved production to the Willoughby facility because we needed more space and to make sure that our everyday customer didn't feel the pinch," Janda explains. "We still covered all of our standard business."