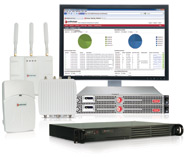 Enterasys Net­works has been a pioneer in the network infrastructure industry since its founding, consistently staying one step ahead of technological advances for its clients throughout the United States and the world.
"The ability to deliver end-to-end experience is absolutely critical, and that is the total value proposition we bring to the table," says Ram Appal­araju, vice president of marketing.
Enterasys Networks was founded as Cabletron Systems in 1983, when it pioneered multilayer routing and infrastructure products, which in­cluded infrastructure-embedded sec­urity and network management visibility and control in its patent portfolio. In 2000, the company was re­branded as Enterasys Networks, and two years ago, it formed a joint venture with Siemens Enterprise Comm­unication as an authorized major supplier of secure wired and wireless network infrastructure for Siemens' security solutions business.
Enterasys is active in a number of sectors, including healthcare, education and the federal government, Appalaraju says. The company's business is split evenly between domestic customers in the United States and internationally. Today, the company mainly focuses on clients needing secured wired and wireless networks in mission-critical situations.
"Enterasys has a rich track record being an innovator in the networking industry with more than 500 pat­ents," Appalaraju says.
"Our core competency is world-class engineering and delivering world class solutions and services to our custom­ers. That's what our customers have come to expect from us."
Changing Times
According to Appalaraju, Enterasys Networks is dealing with three areas of change in the marketplace. One is the proliferation of personal devices used by employees. Whether it is smart phones, laptops or tablets, IT departments are using these technological advances that allow employees to work wherever they are 24/7.
"It is to a point where employees almost have to bring their own device," Appalaraju says. "It is not just a buzzword; it is absolutely critical."
Another market change is the real-time nature of the business world. This means a company's network must be ready and able to respond to demands whenever it is called upon. And this in­cludes delivering applications to their consumers and employees 24/7 with the highest quality of service.
The third change is the notion of integrating supply chain to user experience. "Businesses are no longer using networking as just a connectivity platform," Appalaraju says. "Network­ing technology is enabling business to optimize application performance and deliver user experience at the same time. There is a high expectation on product quality and reliability."
No matter the application, Enter­asys Networks' products are manufactured with a level of quality unrivaled by its competitors. According to Jack Lyon, vice president of operations, the company's products are a "roof over our customers' heads," so reliability is the most important factor.
"Not having a network up and running presents significant challenges for customers," Lyon says. "There are many things we do in the manufacturing process that allow us to put out a significant, high-quality product.
"It is all our manufacturing tests and control processes that exist in conjunction with the products we provide that set us apart," he adds. "We have a proactive view into our manufacturing with process im­provements, which allows us to be transparent with customers. We instill confidence that allows us to be a real trusted advisor."
Raised Expectations
Appalaraju says the definition of quality is changing. This means Ent­erasys Networks must focus on the reliability of its own hardware and devices, including device installation and how people interface with each other.
"It's more than product hardware quality," he adds. "Quality is implicitly for us in all things customers place value on: Software, simplicity of de­ployment, operation and management. And, of course, quality in ongoing services and support.
"A good hardware in my view is completely transparent to the application operation and performance," Appalaraju says. "Hardware reliability shortcomings are easily visible to end-users, so I consider our engineers, designers and operations team as unsung heroes for the quality of the product they deliver."
It is that unwavering reliability that brings clients to Enterasys Networks in the first place. This attitude is built into the company's culture, which is based on the principles of reliability, innovation and customer focus.
Lyon says his company pushes this focus throughout its own supply chain, constantly challenging the suppliers to improve their processes.
"We're trying to drive 'supply chain excellence,' which means we give back to customers in cost, quality and delivery," he says. "This really is enabling our business for growth." mt