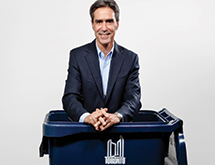 Plastic is one of the most versatile materials in the world, but it hasn't been until relatively recently that it was used to its fullest potential. For many years, plastic containers were manufactured, used once and then sent off to landfills. It wasn't until consumers and manufacturers started to recycle plastic that the true benefits of the material became fully realized, and Entropex has been one of the companies leading the way.
For more than 35 years, Entropex has specialized in the reprocessing of post-consumer and post-industrial plastics, recycling used plastics and resins into materials that can be reused by manufacturers to create new products. President Keith Bechard says the company's initial focus was on recycling specific resins from refineries into materials used by the agricultural industry. From there, the company moved into processing post-consumer plastics from detergent bottles and other products, and today Entropex is one of the top suppliers of post-consumer plastics in North America.
From its 180,000-square-foot facility in Sarnia, Ontario, Entropex processes more than 80,000 tons of plastic a year. As more consumers and manufacturers become cognizant of reducing their environmental impact, Entropex continues to lead the way in the development of processes that divert more plastics from landfills.
Innovative Processes
According to Bechard, Entropex's ability to develop new processes for recycling plastic and resins has been a significant component in the company's longevity. "Innovation is really what we rely upon for the success of our business," he says. "We've developed industry-leading technology in the recovery of non-bottle rigid plastics."
Entropex developed the RigidReclaim technology after a 33-month development cycle and more than $26 million in R&D expenditures. Bechard says this process allows Entropex to recycle plastics that previously were being sent to China or straight to landfills, but now it can recover those plastics and recycle them into valuable commodity resins for use in other manufacturing processes. "It's really quite an innovation," Bechard says, adding that Ontario has seen a 24 percent increase in rigid plastic recycling as a result of this technology.
Increasing Need
Bechard says Entropex has benefited greatly from the increased focus on sustainability that has spread among consumers and manufacturers. Many of the world's largest manufacturers have publicly committed to reducing their environmental footprint within the next two decades, and increasing the use of post-consumer plastics in products and packaging normally is a big part of those strategies.
As this trend continues, Entropex continues to grow. Bechard says the company has grown by nearly 50 percent over the last two years. "I think the challenge that we have most is managing the growth of our business," he says.
Because the company is located in a relatively small community, finding the right people to help manage its growth has been part of that challenge. However, Bechard says Entropex's entrepreneurial culture and strong leadership training program have gone a long way toward making sure the company has the internal strength to grow. "We develop our people with the right culture to meet the challenges that we have," Bechard says.
Further Growth
The company's growth is expected to continue well into the future. Bechard explains that Entropex sees growth developing through three sources. First, it expects the sources for materials to continue growing as more people recycle non-bottle mixed resins and the company continues to develop new processes for recycling them. Secondly, Entropex anticipates adding production capacity to meet the increasing customer demands for recycled materials. The third growth area is through new end-user markets as more manufacturers use recycled plastics.
"Companies are recognizing that they need to improve the sustainability of the products and services that they offer," Bechard says.