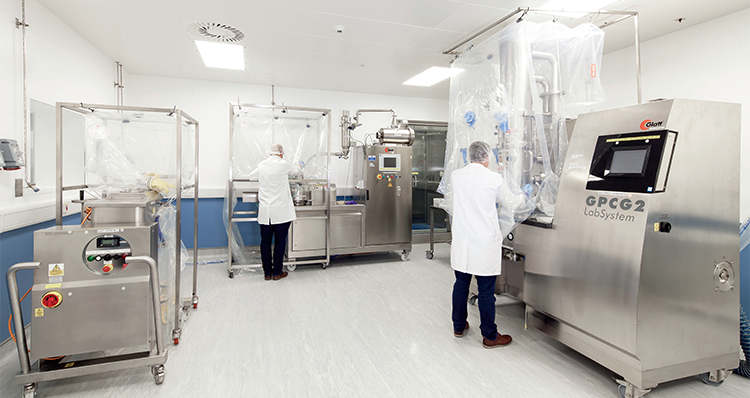 An air of excellence
Global leaders in innovative clean air and containment technologies, Envair Technology is uniquely placed to improve the working lives of its customers, and keep processes and products safe from airborne hazards
Formed in 2018, Envair Technology is the result of the acquisition of Envair by flexible containment specialists ONFAB, with the support of Foresight private equity. A further acquisition of fume cupboard specialists TCS was completed in August 2020. As a result of their respective reputations for high quality engineering, all three companies continue to trade under their original brand names, but are positioned as part of the wider Envair Technology group.
"Envair Technology is a market leader in flexible containment solutions for pharmaceutical process manufacturers (CMOs and CDMOs), where we have a longstanding reputation for containing complex, critical processes through bespoke retrofitting," explains Managing Director, Gary Bagshaw
"Flexible solutions are, however, not always the right answer for these clients, and so adding rigid containment products to our portfolio, as well as developing a new range of aseptic isolators, has enabled us to now offer the widest range of isolators in the market."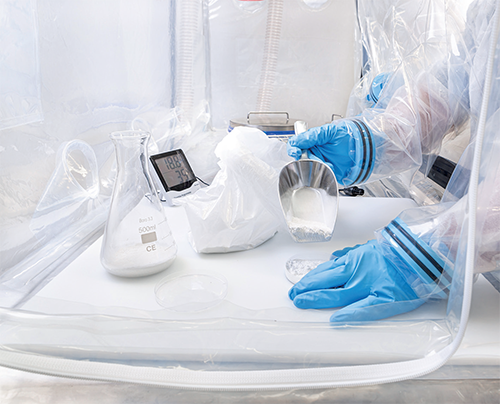 Quality control
Envair's strength in hospital pharmacies has also opened up a new market to the wider group, where the business successfully supported the NHS in the first wave of the Covid-19 pandemic. "We also recognized that we can dominate in all clean air and containment solutions, and adding TCS' capability in custom fume cupboards allows us to offer full turnkey solutions to the widest range of pharmaceutical laboratories – in High Potent API process manufacturing, aseptic manufacturing, aseptic pharmacies, drug discovery, drug development and academic R&D," Gary adds.
Key clients of Envair Technology today include the likes of AstraZeneca, Pfizer, Sanofi, Novartis, Johnson & Johnson, Clatterbridge Cancer Centre, University of Oxford and GSK. Its manufacturing sites are based in Cheshire, Lancashire and Albacete, Spain, and it also provides ongoing service and maintenance through its field service division. "We manufacture our flexible isolators at our sites at Middlewich,
Cheshire and in Albacete," Gary comments. "Meanwhile, all of our rigid isolators and clean air solutions are manufactured at our new facility in Heywood, Lancashire, which we moved into in August 2021. All our production is kept in house so we maintain control over quality and timescales. This means we have experienced teams of designers, welders, electricians, assemblers, and more."
Empowered staff
Gary goes on to detail more about the significant, £1 million investment that the business has made in its new Heywood facility. "We knew that we wanted to merge the operations of both Envair and TCS, but struggled to find manufacturing space large enough for us in the North West," he notes. "We were always determined to stay in Lancashire because of the talent pool in containment solutions in the area, so, in the end, we chose to convert 63,000-square foot premises at Heywood Distribution Park which had previously been used for warehousing. This involved building our own electricity substation amongst many other modifications. The investment sees us gain enough space for the expansion that we expect to see over the next few years."
Among the additions to the company's new facility, one will find new laser cutters, press brakes, material handling hoists, and a powder coating plant, along with a client facing showroom and a Factory Acceptance Test suite. Furthermore, to improve efficiency, Envair Technology has also invested in MY-Compliance software, which automates its management of ISO standards, and legal and aspects registers. "The new Heywood factory will enable us to offer faster turnaround times, consistent quality control, enhanced procurement and inventory management, better training facilities and culturally, will help our team feel part of a larger organization," Gary professes. "We also expect to see improved efficiencies from cross skilling the teams who are now under one roof at Heywood – for instance, the team who usually makes isolators have just produced their first set of school fume cupboards."
On the subject of the aforementioned company culture, Gary highlights how, without good people the company will never be able to meet its ambitious growth targets. "With that in mind, we take a great deal of care to empower our people within the right organizational structure. We consulted our staff on the development of our company values, and across the group, the sense of pride in producing high quality equipment that has the potential to save lives was a strong theme. Now that we are one group, we've further improved our communications by introducing staff SMS, staff newsletters and an employee forum. This enables two way communications between senior managers and shop floor workers, and promotes listening all round."
Another thing that Envair Technology can proudly state is the fact that it is constantly reviewing and evolving its product range, often due to specific client requests to meet the demands of a particular process. "The process of product development and evolution at Envair Technology is very collaborative, and our engineering team works very closely with our clients and users to make sure that we meet all of their needs, using things like 3D modelling software, full scale timber mock ups and focus groups for feedback," Gary says. "We have invested heavily in our engineering team over the last 12 months, moving from a department of six engineers to a current team of 15, in order to keep on top of our growing order book and the changes to our manufacturing process at our new Heywood facility. In addition to our development work directly with clients, we also work closely with other manufacturers to integrate their equipment into our machines, such as fillers, robots and automated dispensing and gaseous decontamination."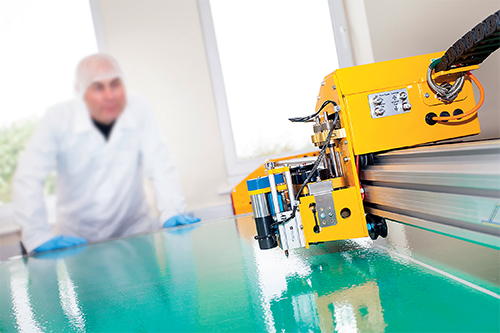 Flexibility in action
As far as current product developments are concerned, the company now finds itself creating a new range of rapid gassing isolators, which dramatically reduce decontamination cycle times from eight-to-nine hours, to 30 minutes. "The beauty of our design is that customers can continue working on a batch, whilst the second batch is being decontaminated. This constant throughput means less downtime and more efficient production," Gary explains. "We have also partnered with several medication workflow solution providers over the course of the last 12 months, to integrate their equipment into our isolators, helping accelerate the pace of digitization of hospital pharmacies."
Envair Technology is often appointed by customers because of the bespoke nature of its work – if a model needs to be adapted for any reason, it possesses the flexibility to build to exact specifications. Gary gives us a prime example of this in action. "A customer recently ordered a number of positive pressure isolators for their new healthcare facility where they will prepare CIVAS and other non-toxic injectables. As they'd already selected a software solution for their medication workflow, we offered to create a wooden prototype of the isolators which could be hooked up to the software. We spent a day with the customer working through typical workflows and were able to adjust the design of the isolator in real time to fit their needs. For instance, we changed the standard process box work surface and position of cales to achieve more process space, moved an integrated camera to enable easier cleaning and repositioned a critical barcode scanner so that the efficiency of the process could be optimized.
"Following the collaborative design exercise with the client, the feedback we received was that the process had potentially averted many headaches further down the line, and will enable them to work more efficiently from the outset, whereas using a traditional design approach, may have entailed them making modifications once in operation, which would have been both costly from a time and money perspective."
Successful and sustainable
The company's expertise and forward-thinking approach also proved invaluable during the peak months of the Covid-19 pandemic in 2020/2021. "We supplied a lot of safety cabinets to hospitals that were used to test Covid-19 samples, often at extremely short notice, and were also involved in the production of a new pop up dome that was used to protect anaesthetists conducting intubations in ICUs at the beginning of the pandemic," Gary points out. "Our client, Dr. Sahgal of Aintree University Hospital, wanted some kind of shield to use in addition to standard PPE when intubating highly infectious patients. We entered a fast-track process to develop prototypes that were taken to the hospital for simulation testing. When we reached the optimum design, it was submitted for approval for clinical use. We then needed to adapt our manufacturing processes and add capacity without affecting existing orders, so that the first 30 units rolled off the production line, eight days after the initial call. We believe the pop up dome was the first device of its kind to be commercially available in the UK, and it went straight into service at Aintree Hospital, followed by orders to other hospitals in the North West, and Madrid in Spain."
As Envair Technology's size and reputation has increased, it has successfully managed to attract larger overseas clients and partners, opening up markets throughout Europe and the United States. "As our key competitor lags behind on speed and customer service, we have capitalized on this gap," says Gary. "Our strategy includes appointing new distributors, hiring multi-lingual staff, securing new exclusive deals and driving strong sales pipelines in the US, Germany and Turkey. In the last year, sales outside the UK have grown to 33 percent of all revenues. Our investment in a manufacturing facility in Spain has also helped mitigate the risks posed by Brexit and supported this strategy. Meanwhile, the move to online, or hybrid conferences and events, is helping us to build awareness in markets that might have been too expensive to visit in person, and we anticipate creating several foreign language versions of our website in the next year.
"Simply put, in the medium term, we would like to continue the successful and sustainable growth of Envair Technology across all our current sectors and markets. In line with that, our new manufacturing facility will continue to support our growth and allow us to achieve our aim of being the global leader in clean air and containment."
Envair Technology
www.envairtechnology.com
Products: Clean air technology and containment solutions