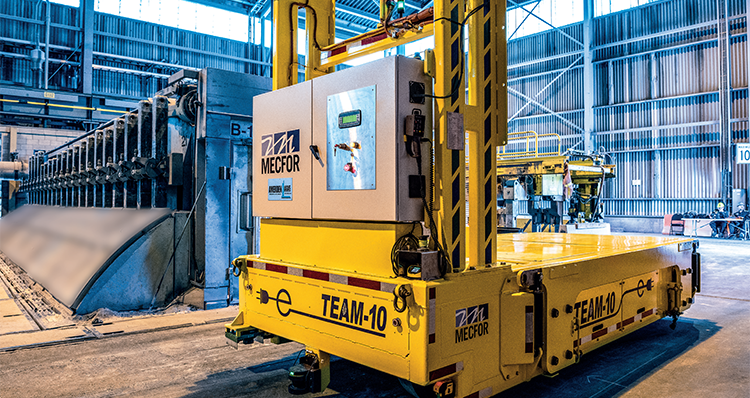 An epic combination
The result of a merger between Mecfor and Advanced Dynamics, EPIQ Machinery is a new North American leader in equipment designed for the aluminum, pulp and paper, and rail industries
When Advanced Dynamics (AD) President Peter Hanna met Mecfor President Éloïse Harvey for the first time in 2008, he was immediately impressed. Though the details were far from clear back then, even at this early stage, the groundwork was already being laid for future collaboration. "We weren't ready to merge in 2008," Peter recalls, "but we sold products together and a close partnership took hold over the next five to seven years."
Around 2016, Peter, Éloïse, and the partners reassessed the relationship between their companies, concluding that the time was finally right to join forces. After five more years of preparation and due process, Mecfor – a leader in specialized mobile equipment for the aluminum and rail industries – and Advanced Dynamics – a premier manufacturer of heavy-duty material handling equipment for the primary and secondary aluminum industries and the pulp and paper industry – announced that they had fully merged their operations. EPIQ Machinery was born.
Shared culture
As a combination of AD and Mecfor – two highly successful companies turning over around $30 million each – EPIQ Machinery will boast a stronger market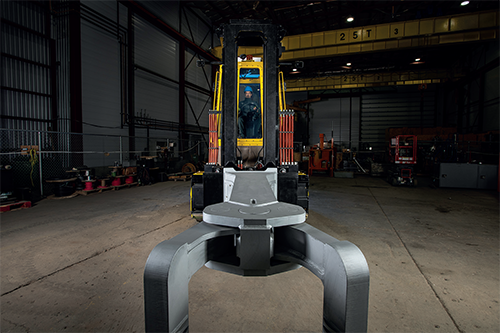 presence, broader range of capabilities and more solid platform for future growth than either firm did previously as a standalone business. However, despite the new company's ambitious plans for global success, it will not be abandoning its roots. "Both AD and Mecfor have long histories as part of the Quebec economy," Peter explains. "The 'Q' in EPIQ is a nod to Quebec. We want everybody to know that we are very proud to be a Quebec company."
Having previously worked together on a number of projects around the globe, Mecfor and AD had, even before the merger, gained substantial knowledge of their respective strengths and the ways in which the two firms could work together on a technical, operational level. In order to achieve EPIQ's shared vision, both parties understood that the new organization would need strong leadership. Therefore, while Peter's sales skills and desire to get back into business development made him a perfect fit for the General Sales Manager role, Éloïse was the board members' unanimous choice to lead the business as EPIQ CEO.
"Merging is probably one of the toughest things two businesses can do," Éloïse says, looking back on the journey so far. "You have to be 100 percent sure that it will give you the results you expect.
"When we sat down as executives from AD and Mecfor, we discussed our future together and it became really clear that we shared the same vision. We wanted to increase our critical mass through acquisition and we also saw the importance of diversification. The two businesses were already united by strong aluminum divisions, while AD was bringing pulp and paper expertise to the table and Mecfor was bringing the vehicle and rail maintenance capacities. It gave us three key areas of operation from which we could launch EPIQ as a new and exciting proposition.
"Most importantly," Éloïse remarks, "both businesses have the same approach towards culture. We treat employees and clients like family, and we appreciate the importance of knowing our people, taking care of them, offering them opportunities and making them happy."
Future potential
One of the key benefits of establishing EPIQ has been that the company's inherent heft allows for the adoption of better practices and the addition of valuable new team members. For example, rather than having a Production Manager responsible for safety, quality and a range of other areas – as may have been the case at AD or Mecfor – EPIQ has the means to hire a dedicated Health and Safety Manager, as well as similar area-specific managers to oversee quality, innovation, R&D and more.
Though the company is, in an official sense, still less than a year old, EPIQ is already working on a number of major deals. Towards the top of that list are active projects in Europe, the Middle East, and Asia using their acquired Brochot technology.
"Back in 2015, both AD and Mecfor acquired intellectual property from the former French company Brochot – Mecfor for aluminum and magnesium, and AD for nickel, copper and zinc – and started working with that equipment and those existing Brochot clients," Éloïse states. "As part of the deal, Mecfor landed a mixture of mobile equipment and also fixed machinery, but as you grow as a company, you decide to focus on some areas more than others, and we ended up putting all our resources into the future of the mobile side of things.
"When we started up EPIQ, we were able to pass the fixed equipment IP from Brochot over to AD who helped to develop it and take it forward as a key part of our operation. It's vital equipment for anode rodding, which is, in turn, critical for the production of aluminum. We can now deliver full rodding shops for our clients, which really adds to our portfolio.
"This is just one success story illustrating EPIQ's potential following our merger," Éloïse asserts. "We are taking a line of product that Mecfor had in its back pocket but did not use or exploit, and with AD's famous Industry 4.0 approach, transforming it into millions of dollars per year in business volume."
Optimized strategy
With EPIQ still at the very start of its journey, the road ahead looks full of possibilities. For Éloïse, one of the central objectives is to guide the organization on its way to becoming an 'iconic' Canadian company.
"We want people to look at our business and say, 'Wow, we want to be part of their success
We want to work for this business. We want to partner with this business. We want to give them work,'" Éloïse reveals. "It's an amazing sector to work in, and although it has not always been seen as 'sexy', we believe we can make it that way. We want to prove that there is more to manufacturing in Quebec and Canada than Bombardier.
"Ultimately, our core goal is to support our clients in getting better and making sure that they stay on top of their competitive curve. We are growing organically and AD has brought a major facility in India to the table too, which will help give us a bit more of a head start globally. Of course, we are going to keep creating and innovating here in Quebec, but we will also utilize our Indian facility and continue optimizing our industrial strategy."
Over the course of the next five years, EPIQ hopes to increase its turnover to $100 million with the help of both organic growth and targeted acquisitions. Following the recent installment of a private equity firm, Seafort Capital, as majority shareholder of the firm, EPIQ is confident that the company's early achievements are just the beginning for a future Canadian icon.
"We are currently laying the foundations that will allow us to attract and integrate new businesses in every one of our divisions, as well as establishing shared services in areas such as finance, human resources, quality, and sub-contracting," Éloïse reports. "If you are going to grow together in a merger, you have to remain stable. We are giving ourselves every chance of remaining a market leader, whilst staying agile and responding quickly to our clients."
In many ways, EPIQ is an amalgamation of two business entities perfectly suited for each other. AD's 60-year history has lent EPIQ a stable, well-established presence and the promise of further longevity and operational excellency. As a rising star in the market, Mecfor brings a modern approach to EPIQ's vision, as well as strategic planning and marketing capable of getting people talking. Together, the companies ensure that EPIQ is a force to be reckoned with; an organization brimming with energy, enthusiasm and passion.
"We might go by EPIQ most of the time, but our full name is EPIQ Machinery and I think that is important because if one thing is true, it's that there is an absolute love for machinery in this business," Peter declares. "Both myself and Éloïse are engineers, and so are many of our employees. By bringing together AD and Mecfor we have only increased our passion for machinery and that engineering spirit. We love a challenge here, and if something does not exist on the market, we will raise our hand, get out there and deliver it!"
EPIQ Machinery
www.epiqmachinery.com
Services: Equipment designer for the global heavy equipment, vehicle and material handling systems market