Get invalved
ESBE is committed to expanding its product range to further meet the needs of the customer
With more than 100 years of history in the benchmarking of new standards for valve and actuator capabilities in different systems, ESBE AB's product range today is based on three core features: energy efficiency, enhanced comfort and improved safety. Used in systems for heating, cooling and tap water, ESBE's products are present throughout Europe, where the company has developed a strong foothold thanks to its commitment to continuous development of its portfolio and ongoing modernisation and improvement of its facilities.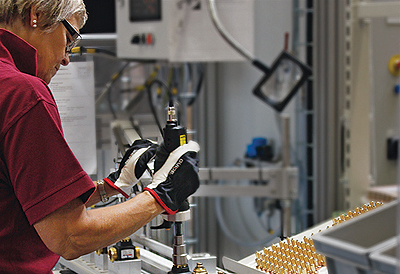 "ESBE was founded 1906 in the small Swedish village of Reftele, where headquarters and production remain today. Since the 1930s our focus has been on heating, an area that ESBE has achieved a leading position in valves and actuators used in water-based heating and cooling systems in most of the large European markets," begins Karsten Pillukeit, CEO of ESBE AB. "Today we employ more than 200 members of staff across Europe, with two thirds of our employees working in production, management and support functions in our headquarters; the remaining one third is employed in the European sales companies in Germany, Poland, France and Italy. Although we have a global customer base, more than 90 per cent of our sales are concentrated in Europe."
Majority owned by the Skogsfors family, with an 80 per cent stake, with the remaining 20 per cent owned by employee shareholders, the highly successful organisation currently boasts a 40 million euro turnover and a ten per cent increase in organic growth over the last ten years. One reason behind ESBE's strong foothold in Europe is its superior facilities, which have seen investments of approximately 35 million euros over the last five years. Using its own financial strength to make these improvements, the company has ensured it will continue to lead the way in valves and actuators.
"In order to stay competitive as a European based manufacturer of highly energy efficient solutions, continuous improvement must be a driving force. Due to our ability to develop and produce products from scratch, we have a considerable breadth and depth of production capability. Our investments included ongoing modernisation of the machine park, extension of process capabilities, capacity increase, product line extensions, improvement of work methods and assembly lines and the optimised utilisation of space."
So far these enhancements have proven fruitful for ESBE, with the innovative company winning the Red Dot Award: Product Design 2015 for its ESBE Superflow valve SLB130 and ESBE Circulation unit GRA111. Offering reliability, security and high quality standards, the SLB130 allows for easy adjustments to customer requirements in a wide range of applications. Compact in size, the superflow valve has a flow value that is twice as high as conventional valves without compromising on controllability. In addition, the integrated actuator features intelligent functions and can work as both a diverting valve as well as a mixing valve.
Meanwhile, ESBE's circulation unit – GRA 111 was praised for its well-conceived functionality, easy handling and elegant look. The one size fits all product offers pre-assembled, tightness tested and heat-insulated assembly and boasts a unique technology that can reduce the risk of over dimensioning and lost authority. Moreover, the GRA 111 is controlled by an actuator, making it a perfect match for mixing operations with an external controller. Equipped with a high efficiency circulation pump and tailor-made insulation, customers can rest assures that ESBE provides the best possible circulation for both economy and environment.
Aware that new products offer a higher possibility of delivering better value sales throughout the supply chain, ESBE is committed to expanding its product range to further meet the needs of its customer base and thus maintain its competitive edge in the market, as Karsten highlights: "In times when market growth is limited and competition becomes tougher, innovation is one important way to distinguish yourself from the rest of the crowd. Our depth and flexibility of production, combined with a geographically tight network of quality secured suppliers enables us to maintain the required high quality standards in delivery times and delivery precision. Our customers appreciate the durability and functionality of our products, features that have been core elements of our brand. We are seen as an innovator in our field; customers consult us on market trends and ask for our support in using our products as integral components in new developments of their own."
With some European markets such as the UK remaining strong, ESBE will focus on selective markets over the next 12 months while remaining optimistic that the general economic situation across Europe will improve, as Karsten concludes: "It would seem 2014 was a difficult year for most sectors. Despite record low interest rates, there was a low investment mentality, which affected the HEVAC sector in the wake of falling energy prices. Being more than 90 per cent dependant on Europe, a more global view on market opportunities will be a natural path to follow for us over the coming years. On top of market opportunities, we are well on our way to being recognised as much more than a component producer, and the possibilities of valves, actuators and controls as systems integrators is becoming more widely acknowledged. These are our two key elements, which we need to mould in a broader strategic view."
ESBE AB
Products: Valves and actuators for water-based heating and cooling systems
Sites: One in Sweden
Employees: 220