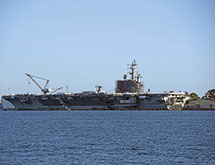 From the outside looking in, shipbreaking seems like a tough, dirty business, but it's actually one of the greenest industries around. That's because when it comes to shipbreaking, the breaking isn't the end goal. Recycling is. Rather than the majority of tons upon tons of retired marine vessels ending up on the beaches of third world countries with little to no environmental and safety regulations, companies such as ESCO Marine recycle large quantities of vessels following strict U.S. safety and environmental laws.
Sitting on 103 acres in Brownsville, Texas, ESCO Marine is a full-service marine yard and recycling operation. The company specializes in recyclable metals and the proper disposal of obsolete maritime vessels. It employs 300 to 400 people depending on the amount of work at hand and processes about a dozen vessels a year. Depending on the size of the vessels, the company is capable of handling eight ships simultaneously.
If the ships are on the larger end, however, such as an aircraft carrier, the ships at ESCO Marine's facility may number just two or three. The company also has a car shredder to process road vehicles, but the majority of its work is in processing marine vessels of all types – ships, tugs, barges, jack-up rigs, semi-submersibles, production platforms and crew and supply boats. In addition to dismantling two nuclear repair ships, ESCO Marine is currently working on one of the historic aircraft carrier, the USS Saratoga.
Piece of History
The Saratoga made its final voyage in late August from the Newport Navy Base in Rhode Island to ESCO Marine's site in Brownsville for the purpose of dismantling and repurposing of its hull and board materials. The project will take 18 months to complete.
"So far we have cleaned a good part of the top part of the ship and have removed a lot of weight on the port side of the overhang," President of ESCO Marine Richard Jaross says. "We have also started on the back of the ship so we are making good progress. The ship weighs 58,000 tons and ESCO will recover multiple ferrous scrap, non-ferrous and other materials and reusables. All this material will be returned to the economy to be reused."
On all of its projects, Jaross says safety is a chief concern at ESCO Marine. The company acknowledges that although accidents happen, it is in the employer's best interest to educate and equip employees with proper safety knowledge and resources.
"When you have a company of 400 people you obviously have things that happen," Jaross says. "But we have regular safety meetings and various safety programs in place here to minimize injuries. All workers wear proper PPE and take safety training for their particular job requirements. You can teach people everything you know about safety but the real responsibility lies on them, so we help keep them aware of all the dangers involved and we try to protect them in every way we can.
Jaross says the safety efforts have paid off. ESCO is a government contractor that receives enough work to keep its hundreds of employees busy. Now the company is investing in its facility to take in larger projects more efficiently. ESCO Marine is enlarging one of its three slips so that it can take in whole aircraft carriers, larger vessels and oil rigs directly into its dismantling slip for increasing production and overall capacity.
Jaross says "we are not limited in the type of vessels we can handle, but this investment will make it more economical," thereby making ESCO more competitive.
"We only have five competitors in the U.S. and each one thinks they're better than the others, but I know that we get awarded a lot of ships so that tells me we run a good program at ESCO," Jaross says. "We follow technical programs very carefully and most important there's a good esprit de corps with ESCO's personnel, which is important to have in any business."