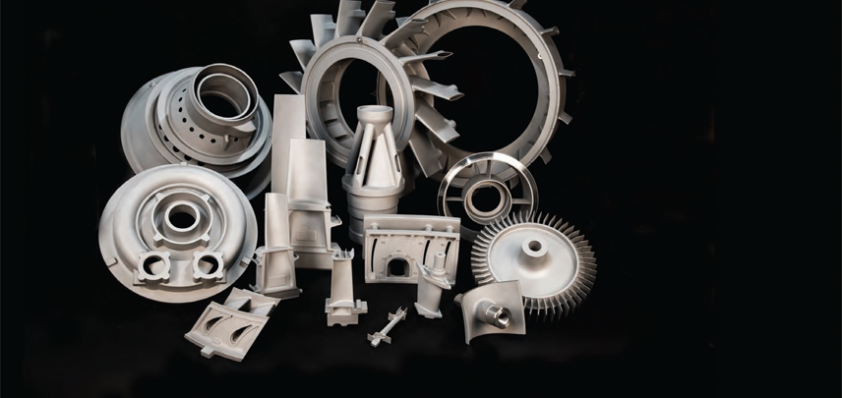 European Investment Casters' Federation
Casting the future
The European Investment Casters' Federation is serving a significant purpose in a highly critical and growing industry
The EICF was formed in 1954 as a forum to bring together the representatives of the European Investment foundries to discuss developments and advances in the industry. This arrangement existed until 2003 when it was decided to formalise the organisation as a registered company limited by guarantee under the management of David Ford. The Federation's objectives are to promote the industry, organise conferences, share information on markets and technical advances and to facilitate research and development activities. Today the membership from 19 European countries includes, 46 foundries, 41 suppliers, five research organisations and one university. The Federation represents a highly critical European industry worth an annual
three billion dollars.
The industry itself falls under precision manufacturing and serves the aerospace, power generation, medical markets as well as a range of engineering applications. "If you can design it, we can cast it," highlights David. "The main competitive industry is metal injection moulding. However, the big advantage of investment casting comis that you can make very intricate internal shapes that are not possible with other methods." Other advantages of investment casting include the range of materials, including steels, aluminium, titanium, cobalt and nickel base superalloys that can be cast in intricate geometries. In particular, investment casting is used to produce components in superalloys that require temperatures too extreme to be fabricated by any other way. By using directional solidification and single crystal casting it is possible to maximise superalloy properties essential for future gas turbine efficiencies. The process then is irreplaceable when manufacturing components for highly demanding applications in extreme conditions and which require intricate internal structures.
As a result David explains that about 50 per cent of all major parts in an aerospace engine can be investment cast, including casings, and turbine blades and vanes. A booming turbocharger market also benefits from the process to manufacture turbo wheels and a large percentage of medical prosthetics such as joint replacements also rely on investment casting. Considering this importance then it may be surprising that investment casting is scarcely taught in colleges and universities. "There are no courses available that are directed specifically at this technology," explains David. "There are only a couple of textbooks that have been written and these are out of date. This is mainly because a lot of the processes are confidential. Therefore, the only way to learn is to move from company to company, which isn't desirable, or to set up a professional network."
This is where the EICF comes in, and the principle focus of the Federation since David took over has been to reignite a passion within the industry and to give young engineers the opportunity to gather knowledge and experience. To do this the Federation organises annual technical workshops for engineers from all over Europe. "Principally, when we run these workshops there are specific themes for each one. For example, the last one which we ran in Sheffield was directed at computer modelling, previous workshops have focused on quality and process control, defect reduction, advances in process materials, measurement and non destructive testing, so each event is tailored for the industry and run by experts from the industry," outlines GroupDavid. "We get anything between 80 and 140 engineers each year typically representing 15 – 16 European countries. It gives people the opportunity to network with new ways of thinking and new perspectives from their colleagues – it's all about sharing best practice. These events are also always accompanied by industry visits and factory tours to really enhance the experience."
Alongside these workshops the EICF organises international conferences every four years in a European country. "We have about 300 to 400 people at these events from well over 20 different countries all coming together to share their knowledge and foster good international relations in the industry," notes David. "It has produced quite a fellowship between competitors to help enhance and promote the industry." The EICF also works closely with the American Investment Casting Institute (ICI) and the Japanese Foundry Society (JFS) to organise four-yearly world conferences, the next of which will be managed by the EICF under its new CEO Dr Carlos Olabe, in Paris, April 2016. The sequence of these conferences ensures that international conferences are held every two years so that the industry has knowledge of the very latest technology in which to compete and satisfy its customers.
The EICF has also set up a research group, comprised of the principal European research organisations involved with investment casting and able to support the industry with the necessary R&D to maintain its competiveness. By way of example the Federation has initiated projects at the UK National Physical Laboratory to determine the properties of process materials used by the industry, and projects at the University of Birmingham including the use of electrophoresis to manufacture shell moulds. The Federation is also supporting the EU 'FOUNDENERGY' project to develop heat exchangers to transfer waste heat from furnaces to organic rankine cycle (ORC) engines via generators to convert the heat into electricity. The project involves the Croatian Centre of Innovation with several European partners and is managed by Tecnalia in Spain which is one of the EICF R&D members.
"The investment casting industry is a very old one, but it is and will remain the only manufacturing process capable of producing complex geometries from materials that cannot be fabricated in any other way," concludes David as he assures that the Federation's focus will continue to be trained on further enhancement and promotion within the industry. With growth evident in many of its target markets, the industry is set to expand even more over the coming years and the EICF's efforts to attract and train fresh talent and keep best practice flowing throughout will be instrumental to it keeping up.
European Investment Casters' Federation (EICF)