European Springs and Pressings
Poised for success
European Springs and Pressings Ltd represents the exceptional quality, highly innovative and strong service that continues to define British manufacturing
First established back in 1948 and existing under several names throughout its evolution, European Springs and Pressings Ltd has grown to become a leading expert in the field of spring manufacturing and high speed press technology. As part of the Swedish Lesjöfors Group since 2007 the company now operates from three sites across the UK in London, Cornwall and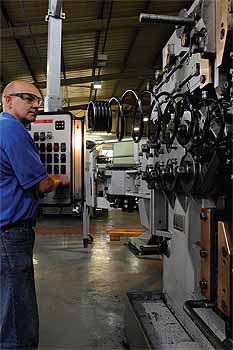 Yorkshire, and under the new group it has grown from strength to strength. At the time of the acquisition the business was turning over around £5.5m but today this figure has risen to over £16.5m.
"We are quite unique in comparison to other UK spring and pressing manufacturers in that we cover a whole variety of disciplines," begins MD, Stuart McSheehy. "We have stamping, coiling, multislide, heavy coiling, high speed stamping and assembly facilities, as well as both high and low volume production capabilities." Regarding its capacity range, the company is capable of manufacturing tension, torsion and compression springs with diameters ranging from 0.1mm to 26mm, pressings and multislides up to 130 tonnes and an unlimited design spectrum of wire forms. Serving clients from major blue chip manufacturers right down to specialist niche companies, European Springs and Pressings is active in numerous sectors such as electronics, automotive, aerospace and construction, to name but a few.
"I believe what really sets us apart is our ability to take our customers' ideas and concepts and engineer them into reality, ready for both low and high volume production," Stuart continues. "This is all about keeping it personal, listening to their needs and using our combined skill sets, and some of the very best manufacturing technologies available, to solve their problems and meet their demands. We also have access to 23 other manufacturing companies within our parent group, which helps massively in delivering a complete range of products and services to our clients."
Based across the three sites, European Springs and Pressings boasts a catalogue stock of over 12,000 individual standard products such as disc springs, gas springs and circlips and, thanks to ongoing R&D relationships with its clients, is currently running between 30-40 new products through its facilities every month, either on a short or long term production programme. Thanks to an extensive range of machinery, and state-of-the-art design facilities, the company is able to deliver one-off prototyping services right up to full-scale serial production. At its peak capacity it is able to produce over three million components every hour. This is supported by a stock of over 600 tonnes of raw material to ensure it is able to react to all production and service demands from its clients.
Such an unrivalled capacity has resulted in a company that is quick to react and is highly flexible to the needs of its customers and a continuous investment programme enables the factory to maintain this service. "We're always developing new products with our clients and major partners and we'll often invest in new pieces of machinery to enable us to satisfy their changing demands," explains Stuart. "For instance, we've just invested in a new WIM-20 heavy gauge coiler for our Cornwall site, which took the spring diameter capability up to 26mm from 16mm based on demands from both the construction and oil and gas industries. In London, we've recently put a new 50 tonne Bruderer high-speed press into operation and have invested in a Wafios FMU-4 machine for large wire forms."
However, it doesn't matter how much money is invested in new tools, without the strength of its people, European Springs and Pressings would fall short of the success it has grown accustomed to. "It's the attitude of the people and the way they approach strong and flexible relationships with our clients that allows us to operate in such a technically demanding and agile way," Stuart adds. "This was particularly evident in a project recently completed for our client James and Taylor who were supplying the anti-climb zone façade for the Tate Modern. We had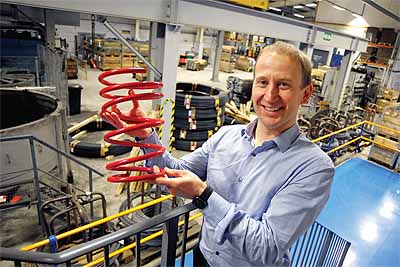 been working with them a few years ago on some corbel clip samples for the project but, this year, they came to us with a new design needing a turnaround time of about a week to ensure they were able to deliver their programme on time. Thanks to the dedication of both our material suppliers and our staff, we were able to complete the order very quickly and meet their demands."
When it comes to remaining successful, European Springs and Pressings' commitment to flexible operations and the maintaining of relationships with its clients, is essential in securing sustainable, long-term growth. Stuart emphasises the importance of this longterm future, noting that establishing strong partnerships and large-volume production runs are key to maintaining a profitable business well into the future.
In considering the company's future, Stuart reflects on the current situation. "The market is very buoyant for us at the moment as we follow the positive trends set by many of our clients.
"The UK is very strong in low to medium volume, quick turnaround and innovative manufacturing and engineering, and we need to ensure we can support and reinforce this as we move forward. Therefore, steady and sustainable growth, whilst maintaining close partnerships with our customers, will define the coming months and years as we look to become the most respected springs and pressings supplier in the UK."
European Springs and Pressings
Products: Specialist manufacturers of springs and pressings