Ingenious hygiene
An award-winning manufacturer of cleaning and hygiene products, Evans Vanodine is recognised across the globe for its efficient, consistent, and cost-effective range of disinfectants, soaps, and cleaning chemicals
With winners announced every April, The Queen's Awards for Enterprise recognise outstanding achievement by UK companies in the areas of innovation, international trade, sustainable development, and promoting opportunity through social mobility. The awards programme first came to the attention of Evans Vanodine's International Division Manager Peter Thompson around 15 years ago when, on the back of a strong period of company sales, he submitted an application for The Queen's Awards on the company's behalf Unfortunately, Peter was met with a disappointing reply, but he used the rebuff as a source of motivation. "We were told that our sales were not significant enough to warrant the award," he says. "That stuck with me. It made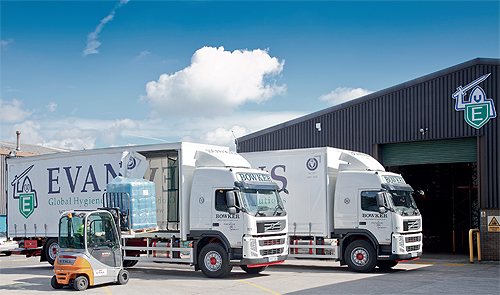 me think, right, we'll wait until the time is right."
The planning and persistence paid off. In 2015, around ten years after Peter first applied, consistent increases in export sales led Evans Vanodine to be honoured with its first Queen's Award for Enterprise in the category of International Trade. Towards the end of April 2020, Evans Vanodine doubled its account, picking up its second Queen's Award in five years. The prize came, once again, under the category of International Trade, but this time recognised the firm's outstanding short-term growth in overseas sales, triggered by its proactive approach to finding opportunities across the world.
"A recent outbreak of African Swine Fever in China has led to devastation for large parts of the globe's largest livestock industry," Peter reports. "However, we saw this coming to an extent, and we got out at the front end of it. Fortunately, we managed to get our FAM-30 product (a Multi-Purpose Iodophor Disinfectant) on the water immediately, we filled the pipeline, and as a result, our sales in China went through the roof. They've quadrupled in the last two years and they're still going because the brands we're selling have now become the benchmark and people trust them. That's primarily why I submitted us for the second Queen's Award, but it wasn't only based on our work in China because the virus has been transmitted to South East Asia and is now in Eastern Europe now. It's a whole regional drive which has given us a great volume increase.
"In terms of manufacturing, it meant a huge amount of strain on the facility we have in Preston because production lines of one particular pack-size have had to quadruple their output. Additionally, knowing that some of these products are quite hazardous, you've got extraction issues on some of the raw materials. How to handle vastly increased volume was quite a challenge too, but one that was successfully and safely met. We couldn't have shipped all the product we've got without the manufacturing team pulling out all the stops and giving us the support we need."
International benchmark
Family-owned for 100 years, Evans Vanodine now operates in 86 countries, dividing its focus between janitorial cleaning products – for sectors such as contract catering, healthcare, laundering, and professional cleaning – and products used for animal health and hygiene; in particular, disinfection and biosecurity for livestock production. Falling under the latter category is the product that Peter previously referred to, currently being used to fight African Swine Fever. First developed in the late 1960s by Derek Evans, son of the firm's founder, Charles, Biocid-30, or FAM-30 as it is known in Europe, is now the world's best-selling iodine disinfectant for animal health.
"Over 50 years ago, Charles and Derek started to concentrate on evolving the technology of disinfection and Evans Vanodine became specialists in the chemistry of iodine, which is used as a disinfectant in human and animal care," Peter states. "Derek had just developed the first formulated iodine disinfectant for animal health when the foot and mouth outbreak hit the UK in 1967. The product, FAM, killed the virus very efficiently. At the time, DEFRA wholeheartedly embraced it, saying it was the only product they could find that was effective against foot and mouth, and that's one of the things that spring boarded us into the animal health business. FAM became the market leader in the UK and it attracted an overseas partner, a pharmaceutical company, to come and buy the product from us.
"A similar thing happened in 2004 when there was another foot and mouth outbreak. FAM immediately became the number one seller again because farmers remembered it. It's a benchmark internationally. We are now probably the largest manufacturer of iodine disinfectants in Europe. It's a journey that's yielded great success."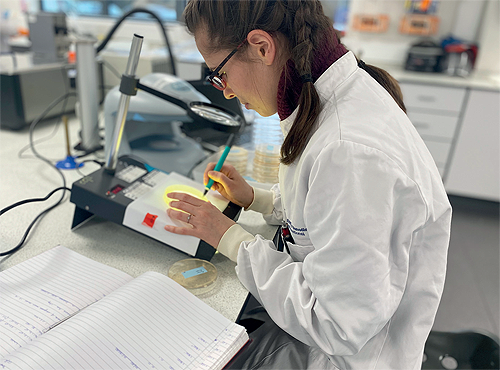 Now company chairman, 93-year old Derek Evans continues his father's legacy to this day and his presence at the company's helm is evidence of Evans Vanodine's core ethos. "It's a family business," Peter says plainly. "We've got three directors from the Evans family, the production manager is an Evans, and there are four other grandchildren in the business. I don't simply mean there are lots of blood relatives in the business but that the culture here is deeply family oriented. The directors are known to everybody in the plant; they regularly walk through the factory and, before the pandemic, there was a variety of social interactions in place so everyone could celebrate the company's achievements. I'm very pleased Evans Vanodine has remained an independent, family organisation. I think it always will be."
Increased output
Though proud of its roots, since the 1970s when Derek Evans started travelling the world to test the export market, Evans Vanodine has been looking to grow and expand. When Peter joined the firm around 22 years ago, he was tasked with developing international business – an endeavour that led to the company introducing a business model whereby it provides licenses to onshore manufacturers in targeted locations around the globe.
"During my research, it became apparent to me that there are some markets in the world that are simply too difficult for us to export to from the UK, for reasons of high tariffs, high freight rates, and currency issues," Peter claims, revealing the company's rationale. "In those markets, it became desirable to have onshore manufacture, so we now have four licensed production facilities around the world. These companies are given a manufacturing license and they put Evans' products to market in regions we cannot really service from the UK. In return for technical advice and marketing support, they provide us with a yearly royalty. The business model works extremely well and we're talking to a potential fifth partner now."
With licensed locations in Saudi Arabia, Israel, Jordan, and South Africa, Evans Vanodine is a truly global organisation, but this hasn't stopped the company from making a concerted effort to provide hygiene products to UK customers in a time of need. As the severity of the Covid-19 pandemic increased, Evans decided to cancel a number of overseas orders and instead, focus its efforts on supporting customers in Great Britain.
"When you are presented with an emergency situation like this, you've got to decide where your core business lies and for us, it's in the UK," Peter asserts. "Our overseas sales of hand sanitiser have never been historically very high, so we refocused all the overseas business back into the UK so that they could have the capacity. We have had a vast number of orders from overseas – people asking for 200 tonnes of hand sanitiser and the like – but they are not our normal customer base and it was decided that we wouldn't take advantage; we would continue servicing our existing clients."
One of a small number of UK manufacturers with an HSE licensed hand sanitiser formula, Evans Vanodine has overseen a huge increase in manufacture levels to meet national demand for the product. For a better idea of the operation's gargantuan scale, Peter explains that the company had previously produced around four tonnes of hand sanitiser per week, but at the end of April, production leapt to an enormous 11 tonnes per day.
"From a manufacturing perspective, it's been a very tricky thing to do," Peter admits. "Alcohol is flammable, so it means the storage vessels, the processing vessels, all had to be flameproof. We couldn't have any accidents with that quantity of alcohol in the plant, but the production team rose to the challenge, figured out how to do it safely, and ramped up our production to meet the demand. We're still running at a very high level now, making as much as we can make at the moment, limited only by our ability to get more raw materials."
As the team at Evans Vanodine continues its battle against Covid-19, Peter is hopeful that the company, and the wider world, will be able to learn from the experience. "It goes to show that the science of biosecurity, which is something we're at the forefront of, is not just an animal health thing, it's a human thing," he proclaims. "I think it's the future. I think the use of disinfectant practices for products and houses has got to remain at a much higher level than before. Hospital security and biosecurity are now completely different too. They've changed overnight. There's got to be a lot more awareness of maintaining better hygiene standards and fortunately for us, that's our core business."
Evans Vanodine has always committed a large amount of resources to research and development, and in particular, microbiological testing. Two years ago, the company renovated its Preston factory, adding new microlabs, and the firm is UKAS approved in its disinfectant testing. With state-of-art facilities in place, Evans is now looking at a programme of product rationalisation, simplifying its ranges and targeting products with the best benefits for both customer and business.
One thing Peter is sure of is the vital role the company's manufacturing facility and processes will continue to play in the years to come. "The Evans family is very good at making sure the factory is running at top capacity with the latest technology so we can produce anything to an extremely high standard," Peter maintains. "Our company's ethos has always been to work at the front on regulatory issues. Lead rather than follow. When a new regulation comes in, we're the first to adopt it; the first to include it in our product offering in terms of quality."
Evans Vanodine International
Products: Cleaning and hygiene products manufacturer