A centenary celebration
2019 marks the 100-year birthday of Evans Vanodine, with the Preston-based manufacturer of cleaning and hygiene chemicals using its centenary celebrations to prepare itself for future growth
When William Charles Evans established his own business in 1919 – under the title of W. C. Evans & Co. Ltd – little would he have known of the impact it would make on so many generations of his family and countless other people in the century that followed. Initially, the business specialised in producing spraying essences for cinemas, and in the decades to come

would become synonymous with the development and manufacture of products for the cleaning and hygiene industries. Today, Evans Vanodine's products cover an extensive range of applications for the industrial, janitorial, food process and animal health sectors, and can be found in over 80 countries worldwide.
Nick Evans is one of the newest generation of the Evans family responsible for leading the business – holding the position of European Sales Manager – and is as well placed as anyone to discuss how it is marking the fact that 2019 is Evans Vanodine's centenary year, and of its importance. "Marking 100 years as a business is an incredibly important and proud experience for everyone associated with Evans Vanodine," he begins. "Our official day of celebration was 19th February 2019, when we brought all of our people under one roof to properly praise their efforts, and since then we have hosted various functions at different events and expos, and inviting people to our premises in order to share our gratitude with our vast array of customers. Such happenings are likely to continue for some months to come, possibly even extending into 2020!
"One of big focus areas for us, however, is using the centenary to really drive home to the industry, our customers and our staff the fact that we have no intention of resting on our laurels. In the background, we have invested millions of pounds into the building of new facilities and we are in the midst of a company-wide brand refresh project, so this centenary year is not just about reflecting on the past, but also using it as a springboard for the next phase in our development."
So, what, in Nick's opinion, has been the secret to the company's decades of success? "In all of its forms throughout the years, Evans Vanodine has been known for the quality of its products, the level of expertise it possesses, and for its ability to deliver to a customer's specific requirements," he explains. "Maintaining that high level of quality, remaining a trusted part of the industry, being willing to evolve and create new solutions, and encouraging an environment where we let our people do what they are best at, has been at the heart of our continued prosperity."
Today, around 60 per cent of the company's total turnover comes from its industrial/janitorial product range, which can typically be found in locations such as hospitals, schools, bars and restaurants. Making up the vast majority of the remaining 40 per cent of its sales are its animal health/livestock protection products, which include farm disinfectants and other goods designed to improve the health, wellbeing and efficiency of animals for farming. While the former category continues to benefit from a rising awareness of the importance of hygiene and cleanliness in sensitive environments, it is the animal health market that is the fastest growing segment for Evans Vanodine, particularly when it comes to exports.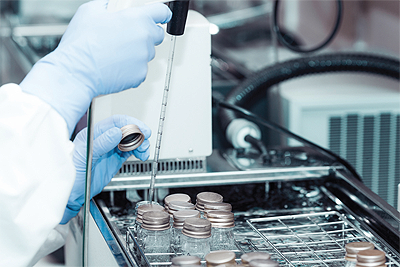 "In terms of growth, we have seen high levels of demand coming from places such as the Far East – China in particular – which is a region where we have been present for some time, building up a critical mass of expertise, and have proven to be extremely quick to market," Nick states. "Elsewhere, we have seen an increase in enquiries coming from Russia, with people interested in viewing our product range, and even at home in the UK, we are seeing both sides of our business displaying a good consistent level of sales growth."
With such growth has come the need to make the earlier-mentioned investment in the company's facilities, and, as Nick details, the upgrades made have been extensive. "We have been based at our premises south of Preston since 1981, when it was purpose-built on what was then a new business estate, and it was in 2018 that we took the decision to carry out an extended overhaul of the facility, particularly our laboratories," he says. "It is within our labs that we carry out our own on-site testing, which is not only rare for a company of our size, but also a testament to our commitment to supplying high quality, researched products. Together with new offices and several other additions, the total cost of this investment comes to around £2 million. While this is admittedly a considerable sum, every penny is worth it, as it will again go a long way to making Evans Vanodine ready to embark on the next 100 years of its journey."
Making sure that the company is best prepared for what both the immediate and long-term future holds is a collective effort, and across the business the Evans family and its employees have been working hard to ensure that Evans Vanodine remains efficient and quick to respond to its customers. "As a company, we know what we are best at, which is delivering high quality products at a fair price to customers that trust us, and that will remain at the core of Evans Vanodine regardless of where the future takes us," Nick declares.
He goes on to add: "We also need to remember that the goal is not simply about securing the financial future of the company, but about making all of our employees happy and proud of their working lives. We are incredibly proud that a fifth of the men and women amongst us have been with the company for more than 20 years, and this is a culture that we want to maintain as we go into the next few decades. Above all, it is important to remember that, while Evans may be the name above the door, the success of Evans Vanodine over the last 100 years is a result of the efforts of our staff, and we owe it to them to keep it a success for many years to come."
Evans Vanodine
Products: Industrial hygiene and livestock protection products