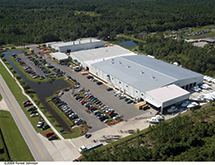 Having everything where it needs to be is a tenet of lean manufacturing, and doing so is easiest in a facility specially designed for manufacturing a specific product. That was the way the 111,000-square-foot factory for manufacturing Everglades Boats was designed – from scratch.
"This plant was built in 1999, and we added on in 2006," Vice President of Sales Bryan Harris recalls. "It was built to be a boat plant." Founder and CEO Bob Dougherty has been building boats for 58 years for several leading companies and founded Everglades Boats in 1999. The company is celebrating its 15th anniversary in 2014.
"He knew what he wanted this factory to be like," Harris says. "It was built to do what it does. A lot of boat manufacturers go into existing facilities and kind of make them work, but this was built to have the flow of a boat factory."
One-piece Hull
Dougherty invented and patented the Rapid Molded Core Assembly Process (RAMCAP). Most boats have their foam insulation injected between the hull and the deck. "The unique part of what we do is we make the foam first," Harris explains. "It's very high-density, closed cell foam that we make first and then build the boat around the foam. So it's the opposite of what 99 percent of people are doing."
The advantage of this process is that the hull is essentially one solid piece. Boats constructed using different methods usually have foam blown in and use a stringer system of either wood or fiberglass inside the hull and a floor or liner. "Because you have separate components, they are going to move in different directions," Harris points out.
This affects the performance of the boat. "You don't hear water slapping on the side of the boat," Harris maintains. "Invariably, people talk about how solid the ride is. People say it's apparent when they run one of our boats that it's one piece." The solid construction of the hull makes the boat unsinkable, Harris claims. "Out of hundreds of manufacturers, not 10 boats are truly unsinkable," he insists.
RAMCAP enables Everglades Boats to have a quality fit and finish. Everglades Boats also has patented a sliding adjustable, curved windshield that in some models can be operated with a pushbutton. "We're the only manufacturer that does that," Harris maintains.
Vertically Integrated
Everglades Boats builds luxury family fishing boats from 21 to 35 feet long and has won three awards for innovation from the National Marine Manufacturers Association. They are sold through dealers in the Southeast, Northwest and Gulf Coast, but usually not to first-time buyers because so many features on the boats are standard.
"We don't build a stripped-down boat," Harris stresses. "We're known as having a boat that is just loaded. We know what consumers want and we charge for it. We have dealers in the Great Lakes, and we're starting to see a real uptick in international business. Europe is a little slow with the economy, but especially in Asia, China and Hong Kong, we're getting business from Africa, South America, the Caribbean, all over. But certainly, our biggest market is the southeastern United States."
A distinguishing characteristic of Everglades Boats is that most of its components are manufactured by the company itself. "We're very vertically integrated," Harris emphasizes. "We do a whole lot of stuff in-house. We specialize in metal work. All our T-tops and most anything that is not a commodity – like a ladder or a cleat – anything that you see that is metal on our boat, we pretty much designed and manufactured it in-house. Most small fishing boat manufacturers would use an outside fabricator."
Everglades Boats even manufactures its own seats and seat frames, wiring harnesses and other electrical components. This enables the company to have unique components that no one else has and to obtain them on time and with quality that it controls.
"We buy raw material, pull the wire – everything, which is a big investment," Harris declares. "Seven or eight years ago, we were having a problem with a supplier, and we decided to do all our electrical stuff in-house, which is pretty unique for a small independent boat manufacturer. Most would go to a wiring harness company."
Manufacturing Process
Everglades Boats can make adjustments in its products for customers but is not a custom manufacturer. "We are willing to change a few things around, but it can't involve mold changes," Harris cautions. "We try to be as adaptable to our customers' needs as we can. We do a lot of things within reason if that's what the customer wants."
Because of this and the nature of boat assembly, it is not highly automated. "Building boats is very labor-intensive," Harris stresses. "We have some CNC routers and computers cutting stuff and in our R&D shop, but as far as the manufacturing, putting it together is all done by people."
Once the hull and deck come out of their molds, the rough edges have to be ground off and holes drilled. "It's like a Corvette body shop," Harris says. "It spends a couple days in there." Once the boat leaves finishing, it moves into assembly, where the deck and hull are rigged and the deck married to the hull. In final assembly, gas tanks, consoles, seats, electrical and electronics and other components are installed in each boat.
"There are multiple inspections at each of these stops," Harris notes. "Then the boat comes out of the building and goes into a pool, where everything is water-tested, checked for leaks and the boat is run to make sure all the systems work. Our bigger cabin boats we run on a body of water for two to three hours, but in the smaller boats, it's not necessary to go water test-run every boat."
Depending on the model, it can take from three-and-a-half to eight weeks to manufacture a boat. "We're constantly reassessing and readjusting everything," Harris says. "Making adjustments where needed is something that is a big part of our manufacturing."