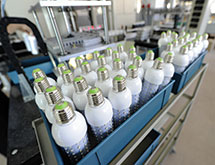 In 2008, at a time when many manufacturers were either closing their doors or severely reorganizing, George Blackstone saw an opportunity. Blackstone, a 35-year-plus manufacturing industry veteran, at the time had been involved in a resort development project that, like many commercial developments, had stalled as a result of the recession.
One aspect of the project, however, inspired him to begin an endeavor that he anticipates will reach $100 million in revenue within the next few years.
"I was previously involved in developing a 400-acre mixed use resort community that incorporated many sustainability features," he says, noting the resort was designed to attain the U.S. Green Building Council's LEED Platinum status. "The resort was never built, but during the investigation into sustainability features, LED lighting stood out as a very effective way to make a difference in energy savings. Based on that research, I decided to make a business out of it."
Every Watt Matters, the company Blackstone founded and serves as chairman and CEO, specializes in upgrading commercial, industrial and government buildings with LED lighting systems. "LEDs were invented more than 50 years ago, but the technology has only become truly commercially viable since 2012," he says. "The lumen per watt efficiency of LEDs has reached the point where LED lights can pay for themselves from energy savings in two years or less. The technology has evolved to the point where you can't afford not to upgrade your lighting."
Complete Turnkey Solutions
Every Watt Matters counts a number of commercial, industrial and governmental entities among its client base, including several Fortune 500 companies. "We position ourselves as a turnkey solution provider," Blackstone says. "We perform a full building audit of existing lighting systems, engineer a LED lighting solution to replace every light in the building, and do a full financial analysis to show the payback and energy and cost savings over a 10-year period."
Installation is performed by either the client's in-house staff, an electrical contractor of the client's choice or by a licensed and bonded local contractor arranged by Every Watt Matters. The company also helps its clients obtain the maximum available utility rebates.
The company offers three payment options: cash purchase, 100-percent financing and "lighting as a service." Financing is always scheduled for a period slightly longer than the payback period so the project is cash flow positive from the first month after installation. The lights typically operate 10-plus years before maintenance is needed. "The savings companies receive from the LED upgrade pays for the cost of the new lighting systems," Blackstone notes.
In the lighting as a service option, Every Watt Matters incurs all of the cost of the new lights and installation. Clients enter into a 10-year lighting service agreement and pay a monthly service fee. "We calculate and guarantee a minimum dollar savings and assure clients they will save at least 80 percent of the labor time they formerly spent changing bulbs and ballasts," Blackstone says. The first payment is due after the system is fully installed. At the end of the 10-year term, clients can purchase the system outright for $1 or enter into a new service agreement that would include another upgrade using the best products available at that time.
Best-in-Class Products
Every Watt Matters offers LED products to retrofit virtually any indoor or outdoor light that is used for commercial, industrial or government buildings and also produces retrofit kits for existing HID fixtures. "I think offering a full-facility turnkey solution with best-in-class products is what sets us apart," Blackstone says. "There are other companies who offer portions of what we provide, but I have yet to run across another company that has the breadth of products or services that we offer."
Every Watt Matters' component suppliers help keep the company abreast of the latest industry trends. "We have a close partnership with all of our suppliers, and are keenly aware of what's in the development pipeline to be able to plan our own product development to stay ahead of the competition," Blackstone notes. "This is a very fast-moving technology, so we stay current with the LED diode manufacturer's research and development initiatives."
Fixtures and lights are manufactured in eight facilities in China and assembled in the company's HQ facility. Assembly and headquarters operations were recently relocated to a facility in Vancouver, Wash., which was projected to open in March. The company also operates 64 sales offices across the United States as well as three offices in the United Kingdom.
All of the company's manufacturing and assembly operations are performed under strict ISO 9000 guidelines. Product assembly is performed on a just-in-time basis using components that are regularly replenished as fixtures are completed. "We work with an inventory of components that allow us to build hundreds of different fixture combinations and permutations of different color temperatures, wattages and mounting options minimizing our inventory investment while maximizing our service level," Blackstone says.
Products are built on  two sided universal assembly lines, with overhead pneumatic tools and components feed to each of the assembly technicians. "While one product is being built for a customer order, the opposite side of the assembly line is being set up for the next job order. This keeps the assembly technicians fully productive. Using this method, we're constantly building products, and simultaneously  setting up for the next run," he adds.
Testing is performed at each step of the manufacturing and assembly process. This includes burning the lights for 24 hours before shipment and using instrumentation to check color temperature, lumen output and wattage for each LED product the company produces.
Manufacturing employees go through extensive training including job shadowing. "We don't just take a person off of the street and throw them on the assembly line," Blackstone says. "Every step of the operation is fully documented and each new employee is trained to follow each of the assembly and testing steps as listed."
Happy Customers
The company's recent projects include upgrading the corporate headquarters facilities for container glass products company Owens-Illinois and Cubist Pharmaceuticals. The company also recently performed upgrades at the Boeing Leadership Center outside of  St. Louis, and is just starting to upgrade the lighting at the aviation giant's Seattle manufacturing facility. Thermo Fisher Scientific, 3-M, Allegheny Technologies Inc (ATI), Dana Corporation and Cla-Val are also among the hundreds of satisfied clients the company has served.
Every Watt Matters is currently in the process of bidding large projects for national retailers in the United States and the United Kingdom, as well as for public transit systems, municipal and state street lighting systems in the United States and several foreign countries. Dwayne Kula, the company's president, has designed customized lighting solutions for each of these prospective projects based on the client's exact needs and specifications.
Blackstone says he is proud that the company has garnered "raving fans" among its past and present clients. "We always strive for 100 percent customer satisfaction," he adds. The company's repeat clients include Tennessee Valley Authority (TVA), for whom it has upgraded indoor and outdoor lights at their nuclear power facilities, and it has done extensive work at Edwards Air Force Base in California.
Blackstone attributes the company's customer satisfaction level in part to its sampling policy – customer purchase orders are not immediately accepted until their clients have sampled and installed each of the lights that have been specified for each application. "It's only after the client signs off on each lighting solution meeting 100 percent of the requirements for color, lumen output and light distribution will we place the entire facility purchase order into the production schedule," he says. "Even though it's time consuming to go through this step, we'd much rather have our customers have a smile on their face when they see their lights go on for the first time instead of being disappointed that they didn't get a light that met all of their requirements."
All of the company's products are backed with a "no-quibble" warranty policy, meaning that failed products can be returned and replaced with no questions asked. "I'm very proud of the quality of our products," Blackstone says. "We put our name and reputation on every light and take special care to make sure we're building products that will deliver the best possible light for the job with the maximum service life."