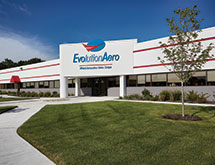 In 1980, Pedro Agreda and his son Charlie founded a small machine shop in South Windsor, Conn., aimed at servicing the aerospace industry. In time, C&P Machine Co. grew from a two-machine operation to one occupying a 98,000-square-foot facility, and it has continued to grow and evolve as the years have passed. In 2008, the company purchased Empire Manufacturing and brought it into the fold.
In 2010, it acquired Aero Tube Technologies, a leader in manufacturing rigid tube  assemblies for the aerospace and power generation markets for more than 50 years. That combination of skills, experience and capabilities gave the company a new lease on life, and it recently rebranded as EvoAero Inc. to reflect this.
Vice President Charlie Agreda says the company's combined talents and attributes have made it a leader in the aerospace field, serving customers including Pratt & Whitney with precision machining for a variety of exotic aerospace materials. Nearly 70 percent of the work done by Evolution Aero is for the aerospace market, with the remainder consisting of work for the power generation and medical markets. Within the company's aerospace work, he adds, the majority of work is for engines, with structural work making up the rest.
Although the marketplace is extremely crowded for manufacturers serving OEMs in the aerospace industry, with nearly 30 other competitors in the same region as Evolution Aero, Agreda says the company has the pieces in place to maintain its traditional level of success. Thanks to the company's focus on advanced technology and integrated services, he says, Evolution Aero has what it takes to survive and thrive now and into the future.
All-in-One
The biggest advantage Evolution Aero brings to the table is the depth and breadth of its services. This means customers can bring their idea to the company and see it developed all the way from concept to finished product without ever having to deal with another company. "Right now, we're trying to align ourselves as a one-stop shop," Agreda says, noting that the combined capabilities of the companies that made up Evolution Aero make this possible.
Evolution Aero boasts full 3-D prototyping capabilities as well as precision milling, turning, waterjet, EDM, tube bending and NDT capabilities under the same roof. The company's capabilities allow it to work with numerous materials that are crucial to the aerospace industry, running the gamut from basic materials like simple aluminum to more complicated and exotic materials such as titanium and cobalt- and nickel-based alloys. "We enjoy a reputation for precision production of close-tolerance components and assemblies with consistently high quality," the company says.
Because the company's equipment is a major factor in its success, Agreda says, Evolution Aero understands the necessity of keeping its facilities on the cutting-edge of the industry. "What sets us apart is technology," he says. "We're constantly investing in new machines."
In recent years, the company has spent more than $5 million in new equipment for its facilities, and Agreda says the oldest of the company's machines were built no earlier than 2000. In particular, Agreda says, Evolution Aero has invested in Additive Manufacturing using 3-D metal printing equipment and has started working with OEMs on integrating the technology into its manufacturing programs. "That's where this industry is going to go, to the additive machining," Agreda says.
More Manpower
As the industry becomes more technologically advanced, Agreda says one of the biggest challenges for Evolution Aero is keeping the company staffed with the right people to help it continue to grow. "Our biggest issue right now is employees, trying to find trained employees who have technical knowledge," Agreda says.
To solve this challenge, Evolution Aero has become proactive, working closely with local educational institutions  to start up programs encouraging students to enter the manufacturing field. Agreda says the company has even talked to elementary schools about promoting careers in manufacturing. In its own facilities, Evolution Aero has given up some of its production floor space to create a training center where new recruits can get up to speed on the latest technology in a safe, controlled environment.
Evolution Aero will need the extra help in the near future, as Agreda predicts a major growth spurt coming down the line. He says the company has the floor space available to grow by as much as 40 percent in the next few years. "As the OEMs ramp up, so will we," he says. "We're just waiting for them to turn on the spigot."