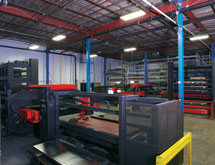 For EVS Metal, the only way to be successful is by keeping its operations state-of-the-art. "Old technology just doesn't have a place," owner and Vice President Joe Amico says. "You need to capitalize on the newer things that are available."
Based in Riverdale, N.J., EVS Metal provides metal fabrication services for multiple industries, including the military, medical and commercial markets. Amico co-founded the company with President Scott Berkowitz in 1994.
Since then, Amico says, the past 19 years have gone by very quickly. "At one point, we were the new guys on the block," he recalls, adding that EVS Metal stays successful by continuously seeking out new clients.
Many of EVS Metal's competitors, he notes, strive to serve only one or two industries. Instead, "We're in a lot of different places," he says, noting that EVS can supply to "anyone that needs metal products."
This has earned the company a customer base that includes firms such as Intel Corp., L-3 Communications Holdings Inc., General Dynamics, Ultra Clean Technology and Siemens AG. "[We're] always replenishing the queue of work so that [we] can have steady growth," he says.
EVS Metal's philosophy of being diverse, he notes, came from a lesson the company learned after investing heavily in the telecom industry in 1999. At the time, the industry "was hard to avoid in the areas that we were based," Amico says.
But in 2001, the industry's bubble burst. "Everybody realized we didn't need all this fancy equipment, and the market pretty much dried up for large-scale optical switches," he recalls.
"For about three years, most of these companies went out of business or stopped buying," Amico says. "The lesson [for us] was to be diversified over many industries and many customers."
Adapting and Adjusting
EVS Metal has experienced significant drops in its customers' recent orders, Amico notes. Its clients used to order products in the thousands, "[But that] has been replaced by hundreds," he says.
Some clients, he explains, purchase larger quantities from overseas and do not want long commitments. Today, EVS Metal manufactures items in smaller batches and quantities.
The firm also has changed some of its manufacturing practices. Rather than sticking to tried-and-true methods, "We've had to move and change to adapt," he says.
For instance, EVS Metal has started using laser-cutting equipment in place of punching and stamping machines. While the laser equipment can be more expensive on a part basis, it saves EVS Metal money by costing much less when setup costs are amortized into the production run.
Additionally, the company has started using press brakes that it can program offline to form parts, as opposed to programming them at the press brake. The off line programming allows visual simulation of the forming process and allows the process to be refined on the computer rather than physically setting up the press brake.
Occasionally, when that setup is done multiple times, problems are found, Amico says. "As long as you're able to use the technology and deploy it correctly, [it can] drive down lot size," he says.
Ways to Survive
EVS Metal uses some lean manufacturing practices throughout its process, Amico says. "Our customers don't give us the visibility to do so," he explains. "We're building what the customers want, when they want it.
"They don't want to have a long commitment," he says, noting this gives EVS Metal a much smaller backlog. Even its blanket orders, he notes, become just-in-time orders. "We turn our inventory more than once a month. It's the only way you can really survive in this industry."
EVS Metal recently opened a new 32,000-square-foot warehouse/assembly facility next to its current facility. "We moved our shipping warehouse in and it gave us a little more room," Amico says. "That allows us to get better organized and support some of the customers that are looking for inventory management from us."
The facility also features solar panels that generate power for a 170-kilowatt system in the building. "We would [like to] expand that to over 300 kilowatts in this area," he says. Amico notes that the company saves approximately $45,000 annually, thanks to the panels.
The company also purchased a 120,000-square-foot building in East Stroudsburg, Pa., which became the new home of a former satellite location. "We were always a little tight for space," he says. "Now with the new work facility and the large building, that's stopped."
Keeping Clients Happy
Amico, who has more than 25 years' experience in the metal industry, says he is pleased with EVS Metal's success. "I think we're most proud of just being able to run a business like this in the type of economic climates that we've been through," he says.
"I'm very proud that we're running a quality company, especially as a contract manufacturer/job shop," he says, adding that EVS Metal works hard to keep its customers satisfied. "If you upset one or two customers, word travels very fast."
Approximately 80 percent of EVS Metal's business consists of repeat clients, Amico adds. "If you were to look over the last 10 years, [we have] the same customer list day-to-day," he asserts. "This isn't a business that works great with one-hit wonders."
Amico sees more automation in EVS Metal's future. "We have automated bending, automated punching, automated hardware insertion, automated MIG welding and powder coating," he says. "That technology really helps us to be more efficient." Now, EVS Metal is looking at automated laser welding that can produce a high-quality weld joint.
"We're [also] looking at further automating the punching process and material loading, to include automatic part separation and sorting," he adds.