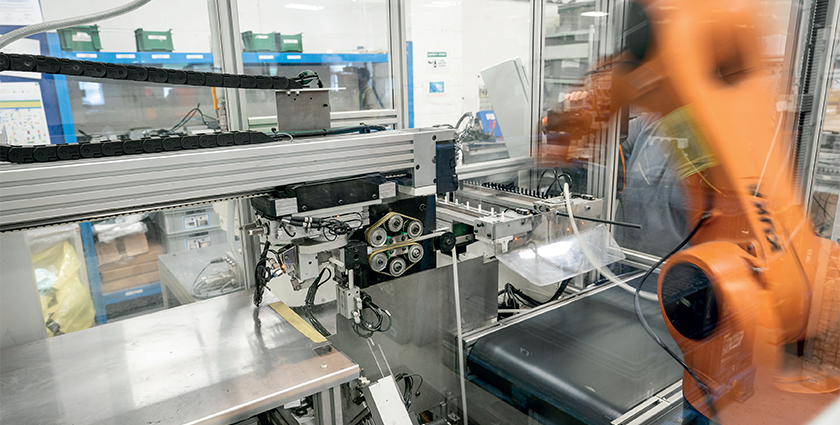 The single-source supplier
As a provider of complete assemblies to leading OEMs, with a sizable percentage of disabled employees, Evtec Automotive is re-writing the narrative around manufacturing as a sector for those of all abilities
What do automotive OEMs including Jaguar Land Rover, Ford, and Aston Martin all have in common? They're all clients of Evtec Automotive (Evtec), a single-source, people-led parts and assembly supplier.
As a self-described expert in simplifying customer supply chains, Evtec provides complete assemblies to OEMs, simplifying sourcing, saving time on procurement, and increasing production efficiency. Equipped with its own internal engineering, commercial, quality, and supply chain departments, Evtec's "everything under one roof" service has the capability to take ownership of all suppliers within the assembly process, up to a total of 25 for any one commodity. In return, Evtec's customers enjoy a single point of contact, providing exemplary control over each and every component within the assembly BOM.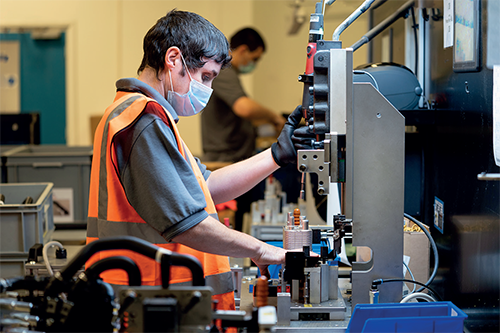 "We have a large portfolio of trusted suppliers, many of whom can offer competitive quotations on various materials and components," explains Kevin Hubbard, Managing Director at Evtec. "At the same time, we can also work with our customers' chosen or nominated suppliers.
"Our internal engineering department collaborates with our customers throughout the early stages of product development," he adds. "Working with our customers' CAD, engineering, and commercial functions from such an early stage in the development allows us to offer suggestions or guidance that can offer cost and assembly efficiencies, such as using the latest manufacturing techniques and materials."
A new era
The history of Evtec stretches back to 1944, and a government-funded initiative to offer employment to ex-servicemen and people with disabilities: Remploy. The initiative ran for almost 60 years prior to the withdrawal of funding in 2013. Its automotive sector was acquired, however, since which the initiative has operated under private ownership. The company's Coventry site was purchased by Evtec in January 2021, and continues to offer employment to people with disabilities.
"Evtec is a people-oriented business," says Kevin. "We're proud to practice industry leading ESG, and prove that having a sizable disabled workforce has no impact on our ability to deliver on time, and in full."
As proof of its focus on ESG, Evtec ensures that all of its equipment is accessible for employees of all abilities, with support offered to adapt tooling where necessary. The company also offers as much training as required to ensure complete employee confidence in the use of all equipment.
"By embracing everyone's unique skillsets to drive improvement and positive change, we believe many employers are missing a golden opportunity, overlooking some very adaptable people in the job market," Kevin continues. "Our recruitment practices understand the challenges people face when applying for jobs and interviewing, and we have the privilege of working with specific disability schools and colleges, offering work placements of up to ten months each year with a variety of eager students who we watch flourish during their time here. We also have various events throughout the year to support charities while bringing everyone together, and we celebrate and embrace each other's ethnic backgrounds and beliefs."
Through a tough trading period during Covid-19, Brexit and a global semiconductor shortage, Evtec has proved its resilience. Now, the company is looking forward to a new era of supplying assemblies for the fast-growing electric vehicle market.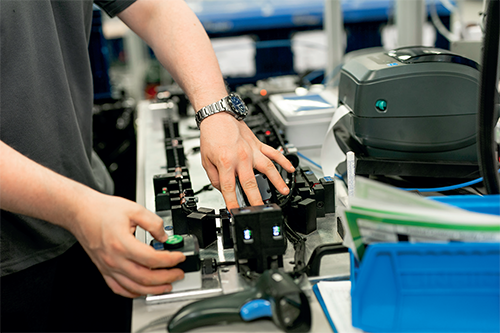 "We are committed to supporting OEMs in the fast-paced growth of the EV sector," Kevin confirms. "As technology, processes, and materials constantly evolve, we're working closely with our network of manufacturing engineers. We've noted the transition to robust but lightweight materials used in fuel, cooling, and electrical systems. Moving away from heavy metals to lightweight but robust plastics, we see this transition in many of the assemblies we supply.
"In response, we're rapidly increasing our in-house manufacturing abilities in these areas," he develops. "We need to ensure that we're recognized as a key supplier to our OEM's, and offer not only competitive costs, but quality assurance achieved through shorter, more tightly controlled supply chains. In doing so, we benefit from our fantastic supplier base, from extremely large corporations to single-site entities. Each supplier contributes significantly to our product evolution."
Transforming operations
As part of its drive to support the EV sector, Evtec is currently in discussions with one major OEM to assist in the development of a battery enclosure. It's a daily process of collaboration, in which Evtec is taking an active role in identifying potential design improvements, removing material, and reducing tooling complexity. The company is also cooperating with key suppliers to offer feedback in areas outside of its area of expertise.
"We're also working with another OEM to explore ways of improving the efficiency in the assembly of a battery module system," Kevin reveals. "We are not involved in the design from a functional perspective, but our expertise in manufacturing has supported the OEM in reducing the overall complexity of assembly."
It's the latest project in what is Evtec's impressive record of working alongside OEMs, including a well-known UK-based bus manufacturer, for the assembly and supply of electronic distribution boards containing 50+ complex electrical components. As Kevin indicates: "As part of this contract, we had to quickly implement critical changes to these assemblies, and support them with quick turnarounds of new bespoke parts."
In parallel with its efforts to support a more sustainable future for the automotive sector, Evtec is hard at work transforming its own operations. The company has set an ambitious date of December 2025 to achieve carbon neutrality, one that Kevin insists is necessary, if hopes of tackling climate change and protecting the planet are to be realized.
"The way we track our carbon footprint has changed to really understand our usage, and we're already making strides in our journey," he tells us. "For instance, we work quite closely with the Coventry Food Bank through the upcycling of our cardboard boxes, which they then send around the world to people in need. Our in-house manufacturing strategy will help to further reduce our carbon footprint, and we've already commenced with the installation of EV charging points."
In taking these steps, Kevin gives credit to an engaged and informed leadership. "Our chairman is exploring some very interesting engineering potential, which will not only support our carbon neutral target, but which will also support our transformation in our aftermarket and customer care range," he says. For Evtec, it's only the early stages, but the signs are looking positive.
As it looks to the future, Evtec's vision continues to be shaped by the present, in which semiconductor shortages and other constraints continue to disrupt the automotive sector. Nevertheless, the company continues to invest, as it looks to drive forward its EV journey. At the time of writing, Kevin was looking ahead to the upcoming launch of Evtec's new ERP business system, complete with a streamlined manufacturing unit, offering additional space for a next-generation strategy.
"Looking further ahead, our five-year business plan transforms Evtec from what was a traditional pick and pack business to a modern manufacturing unit, that enhances technology and product offerings," Kevin confirms. "Whilst our engineering team continues to work with our customers on product innovation and best practices for the mainstream OEM, we will continue our diversification program for the aftermarket. Amid this exciting journey, we continue to remember our core values and DNA: our employees, and enhancing our social and corporate responsibilities."
Evtec Automotive
www.evtec-automotive.com
Services: Tier one automotive assembly supplier