Precision in action
A world leader in the manufacture of high-precision tool grinding machines, EWAG AG continues to find solutions to customer demands with its innovative new products such as the LASER LINE PRECISION machine and LASER LINE ULTRA
With origins dating back as far as 1946, EWAG AG began its operations as a supplier to the Swiss watch industry; over the years the company has not lost its focus on meeting the high precision requirements of those in the tool machining industry and has developed an impressive product portfolio in response to market trends and customer demand. "EWAG has more than 35 years of experience in giving diamond a superb cutting edge with grinding and the latest laser technologies," begins Christoph Pluess, CTO at EWAG. "For re-sharpening and production of diamond tools, we start with manual precision grinding machines like the successful RS15 and go onto high-end CNC grinders with five and six axes such as the COMPACT LINE and EWAMTIC LINEAR; we also have our newest products, the LASER LINE SERIES machines, which enable us to process diamond tools by laser ablation.
"These products are complementary; where the limitations of a specific machine are, another kicks in. Diamond and superhard materials are our main business field; diamond cutting tools have an increasing market demand as they are needed more than ever before, particularly for the machining of carbon reinforced plastics (CRFP) and lightweight alloys, which can only be processed in a satisfactory manner with laser processed diamond cutting tools. This is because very sharp and flawless cutting edges are required for acceptable tool life and reliable machining processes."
Operating under the United Grinding Group since 2000, the company was linked with Walter Maschinenbau GmbH in 2010 to form the WALTER EWAG Tooling division of the United Grinding Group. Today the Tooling division is the leading supplier for machine tool solutions in the area of manufacturing with grinding, EDM, laser and measuring technologies. "Over 95 per cent of our machines are exported all over the world. To be globally present we have as the WALTER EWAG Tooling division, our own sales, application and services present in all major industrial countries. In the USA, China and India we are using local organisation of the United Grinding Group to cover local market needs with sales, service and application specialists," said Christoph when speaking to Manufacturing Today Europe in January 2016.
Since then, EWAG AG has noticed increased demand and investments in its laser machine products, most notably in Asian markets driven by the electronics industry. "This is particularly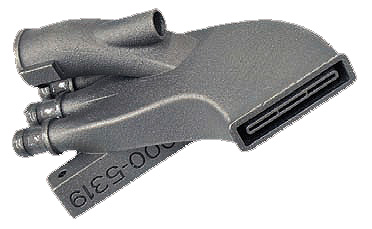 true in high-end markets, where laser processed diamond cutting tools have become the standard. In general it seems as though the new technology has finally found acceptance in the cutting tool market; this is highly beneficial for us as this market development fits our strategy," says Christoph. "We are also pleased with the portfolio development of our two laser machines, LASER LINE ULTRA and LASER LINE PRECISION, since we last spoke."
The LASER LINE PRECISION machine is a smaller, more affordable option to those seeking all-in-one laser processing of diamond cutting tools. Replacing previous methods for grinding and eroding ultra-hard materials such as PCD and CVD-D through the use of lasers, the LASER LINE PRECISION provides efficient machining results and can be used to achieve highly complex geometries with excellent surface quality. It also holds rotationally symmetrical tools of up to 200 mm diameter and 250 mm length as well as indexable inserts from three mm inscribed diameter and up to 50 mm circumscribed diameter.
Much like the high-end laser-machining centre LASER LINE ULTRA, the LASER LINE PRECISION can be equipped with a six-axis folding arm robot with various gripper systems to achieve increased levels of productivity. However, when it comes to superb laser ablation machining quality in a wide variety of cutting materials, then the high-end laser-machining centre LASER LINE ULTRA is the preferred choice.
Although EWAG AG boasts a strong presence in the global market, the company is aware that precision laser machining with ultrashort and short pulsed lasers is a relatively young field, especially when it comes to cutting tool processing. Because of this, EWAG AG continues to invest in R&D to retain its leading position as a technology leader. "One example of us surprising the cutting tool industry this year was when we showed a world premiere at the Grindtec exhibition in March of the manufacturing of spiralled fluted micro tools out of a solid blank. This created a great deal of momentum and interest around our laser machines."
Another example of the company's commitment to R&D can be seen in its recent completion of a 42 month EU project that was co-ordinated by the Institute of Machine Tools and Manufacturing at ETH Zurich, Switzerland. Established to address the need for an efficient, precise and flexible processing technology for ultra-hard materials, DIPLAT (an acronym for enabling advanced functionalities of Diamond and other ultra-hard materials by Integrated Pulsed Laser Ablation – PLA – Technologies) resulted in a tooling technology based on 3D PLA being developed.
Discussing the challenges of operating in an ever-evolving sector, Christoph notes: "The machine tool industry is facing some challenges with substantial growth potentials such as Industry 4.0 and 3D printing. We feel that the power and force of the United Grinding Group, holding company for the machine tools business area in the Körber Technology Group, will bring us a substantial technological advantage; we will also focus, as part of United Grinding group, on grasping joint efforts when it comes to future potential developments.
"Just recently, United Grinding established a joint venture named Irpd AG, with the university affiliated inspire AG of ETH Zurich; IRPD specialises in additive manufacturing processes such as laser-based processes and 3D printing. The Irpd AG joint venture is the new Centre of Excellence for Additive Manufacturing of the United Grinding Group and is collectively managed by both joint venture partners. Irpd AG concentrates on the manufacture of industrial metal or plastic prototypes, through to the production of small series of complex workpieces as a service for customers. We see great potential to combine 3D metal printing with our technology portfolio of precision parts finishing of the United Grinding Group," he concludes.
EWAG AG
Products: High-precision tool grinding and laser machines