A precise process
Viewed as a world leader in the manufacture of high-precision tool grinding machines, EWAG is continuing to meet the needs of its customers with innovative new products such as the LASER LINE PRECISION machine
With origins dating back as far as 1946, Ewag AG began its operations as a supplier to the Swiss watch industry; over the years the company has not lost its focus on meeting the high precision requirements of those in the tool machining industry and has developed an impressive product portfolio in response to market trends and customer demand.
Expanding into laser machining in 2008, the company has since focused on the advantages of the ultra short pulsed laser ablation and is now well respected in the market as the pioneer for machining diamond tool edges and cavities with ultra short pulsed lasers. "Today EWAG stands for high precision and high quality machine tool solutions; we are a world leading supplier, especially in the area of super hard material processing," highlights Christoph Pluess, CTO at EWAG.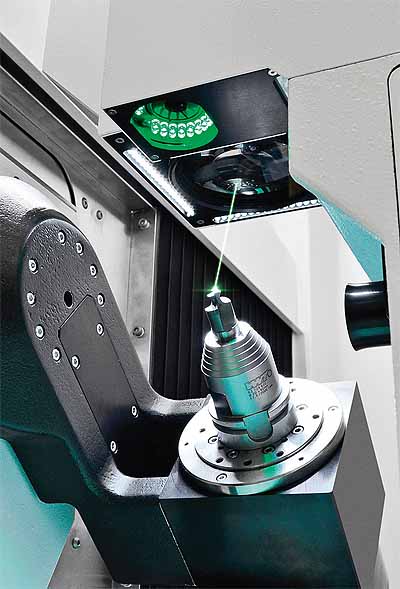 Operating under the United Grinding Group since 2000, the company was linked with Walter Maschinenbau GmbH in 2010 to form the WALTER EWAG Tooling division of the United Grinding Group. Today the Tooling division is the leading supplier for machine tool solutions in the area of manufacturing with grinding, EDM, laser and measuring technologies. "Over 95 per cent of our machines are exported all over the world. To be globally present we have as WALTER EWAG Tooling division own sales, application and services present in all major industrial countries. In the USA, China and India we are using local organisations of the United Grinding Group to cover local market needs with sales, service and application specialists," says Christoph.
"The largest growth in the tool industry can be seen in the area of diamond tools, with CBN, PCD, or CVD-D cutting edges, this is due to the fact that an increased amount of special lightweight alloys or CRFP's have to be machined in the automotive and aerospace industries," he continues. "The use of these new types of materials substantially reduces overall weight and therefore enhances fuel efficiency. However, most of these new lightweight materials are tough to machine and raise the need for diamond tools with superb cutting edges and especially for CRFP machining with ultra sharp cutting edges below three microns without any chipping. Especially for these types of tools EWAG invested heavily in the past years to develop new CNC production machines equipped with latest laser technology to meet the requirements of this market demand."
The company's most recent innovation is the LASER LINE PRECISION machine, which is a smaller, more affordable option to those seeking all-in-one laser processing of diamond cutting tools. Replacing previous methods for grinding and eroding ultra-hard materials such as PCD and CVD-D through the use of lasers, the LASER LINE PRECISION provides efficient machining results and can be used to achieve highly complex geometries with excellent surface quality. It also holds rotationally symmetrical tools of up to 200 mm diameter and 250 mm length as well as indexable inserts from three mm inscribed diameter and up to 50 mm circumscribed diameter. "The LASER LINE PRECISION machine is equipped with a new type of industrial fibre laser with very short pulses and is tailor made for processing PCD and CVD-D cutting tools; it is also especially designed for customers who are intending to enter laser processing. Much like our high-end laser-machining center LASER LINE ULTRA, the LASER LINE PRECISION can be equipped with a six-axis folding arm robot with various gripper systems to achieve increased levels of productivity. However, when it comes to superb laser ablation machining quality in a wide variety of cutting materials, then our high-end laser-machining centre LASER LINE ULTRA is the preferred choice," highlights Christoph.
Indeed, the LASER LINE ULTRA is the leading technological high-end machining unit for demanding applications. Offering optimum flexibility thanks to its kinematics, 3D programming, ultra-short pulse laser technology and integrated automation, the LASER LINE ULTRA also produces exceptional surface quality due to its ability to carefully machine all commercially available cutting machines without producing heat.
Key to the company's ability to continuously innovate is its R&D centre, which is based in its headquarters in Etziken, Switzerland, as well as the collaborative nature within the company, as Christoph notes: "Solving special customer requests and developing innovative and smart tooling solutions is our strengths, for that we are known and respected in the market. We also cultivate a strong collaboration with research institutes and universities to also develop skilled, fresh and new talents in the area of laser machining."
These strengths have resulted in the company being chosen to participate in DIPLAT, a 42 month project to apply the latest ultra short pulsed laser technology to novel methods for the laser-based production of micro and macro diamond cutting tools. Co-ordinated by the Institute of Machine Tools and Manufacturing at ETH Zuerich, Switzerland, the project began in 2013 and is due for completion in 2016. "Our role is to provide the necessary laser machine platform and laser processing capabilities to develop together with the consortium members new strategies and methods for modern diamond cutting tools. This project will also allow us to extend our technological leadership in the field of laser-based tool processing in the future," highlights Christoph.
Moving forward, EWAG is keen to take advantage of the strong growth potential in the market as innovative and new laser machining or cutting solutions are required. "Our strategy is to convince our customers with innovative and surprising technical solutions. Innovation and technological leadership is the only valuable market strategy for highly developed machine tool countries like Switzerland," Christoph concludes.
EWAG AG
Products: High-precision tool grinding machines