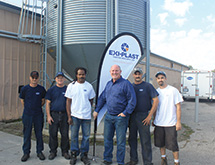 Exi-Plast Custom Moulding Ltd.
Specializing in custom plastic molding services, Exi-Plast Custom Moulding has 25 years of experience in development, production and finishing of custom plastic products. The company provides blow-molded solutions for designers, manufacturers and distributors worldwide.
"Our founder previously worked for a drainage tile company and started his own blow molding company to make drainage tile fittings," President Jeff Lang says. "We started with two blow molding machines and grew from there."
Key Elements
Today, Exi-Plast is an ISO 9001:2008-certified organization that can handle project management for its clients' blow molding projects, utilizing state-of-the-art robotic trim and finishing technology. The company has two of the largest blow molding machines in Ontario for custom molding. Alongside its custom molded work, Exi-Plast develops and manufactures a number of proprietary branded products sold by North American distributors and retailers.
"Our specialty is high-end, small run products," Lang says.
As a family owned and operated business, Exi-Plast established its reputation based on its ability to manufacture custom and proprietary industrial blow-molded and injection-molded products. It is known for its research and development, design and prototyping capabilities, and it has two six-axis robotic trim cells.
Having designed and developed a variety of new and innovative products for clients seeking custom solutions, the company can accommodate large molds up to 50 inches wide by 90 inches tall with shot sizes up to 50 pounds. Exi-Plast also uses Kaizen for continuous improvement and 5S for waste reduction.
The company's proprietary lines include the 60 Plus Rain Barrel, Pro-Series Park Benchends and the Style 200 Watering Cans. Additionally, Exi-Plast manufactures Jetfloat module dock and raft systems and is Ontario's West Coast Jetfloat distributor.
"We are very selective in the projects we take on, and we don't do commodity products," Lang says. "The products we make are highly specialized and high margin. We only do high density polyethylene products, no polypropylene, however we do use engineered mixes or blends."
Ongoing Improvement
One of the circumstances that positioned Exi-Plast for success is the scarcity of blow molded products producers in North America. Many commodity blow molded items are now produced overseas. Exi-Plast's capabilities allow it to be selective regarding the projects it chooses because of the lack of North American capacity.
"By staying out of high-volume commodity areas, we can bring on a larger array of products and round out our expertise," Lang says. "We can quickly and effectively change tools and colors. Downtime is expensive, and you don't want machines out of service long when doing short runs."
Exi-Plast is able to pursue growth thanks to its current initiatives, as well as its profitability prior to the passing of its founder a few years ago. Since Lang purchased the company in April 2014, Exi-Plast has invested in equipment maintenance, streamlining efficiencies and training and recruitment.
"We have a lot of room to grow," Lang says. "The company will need to make capital expenditures moving forward to bring in new equipment, as the last year has been focused on tuning everything up."
Sustainable operations have been another focal area for Exi-Plast. The company is recycling flash and trimming waste and using as much recycled materials as possible in the production process. The company is also interested in using renewable energy to reduce its energy costs and carbon footprint, so it is looking at investing in a large solar power project.
"Ontario has the highest utility costs in North America," Lang says. "We want to get off the grid as much as we can, because it can be hard to be competitive because of utility costs. Our recycling program reduces waste and costs, and it promotes a greener culture. To build on that with our solar program, we are looking to start with 500 kilowatts and hoping we can get up to 1 megawatt. We are looking at rooftop and ground mounted solar, and we are also exploring the possibility of investing in an anaerobic digester to create biogas as part of a cogeneration facility."
By continually striving to expand its presence with local manufacturers and distributors and with markets around the world, Exi-Plast is confident that it can continue to produce a wide range of large and small molded parts. Its research and development efforts are ongoing, and it is continuously seeking quality and process improvement.
"Smart growth is our focus," Lang says. "We want to make wise decisions about the business we bring on, creating win-win relationships that are good for our business and our customers. Our aim is to put out consistently good products and meet customer objectives and requirements. The scarcity of producers in this niche market in plastics means there is a lot of opportunity available, so it is up to us to foster the right partnerships."