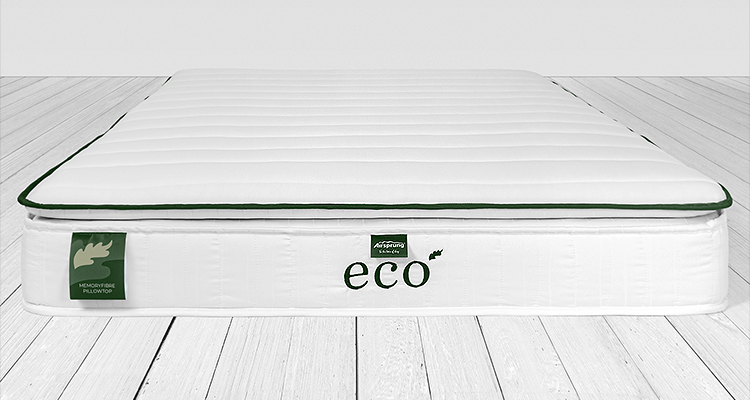 Experience Airsprung Beds' century-old mastery in crafting superior mattresses for unrivalled sleep comfort
Recognizing the profound impact quality sleep has on our daily lives, Airsprung Beds, a leading bed manufacturer in the UK, implements rigorous quality standards for the manufacturing of its beds, to ensure customers receive a restful and rejuvenating night of sleep.
With the needs of its customer base in mind and to enable them to find exactly the right product when browsing for beds and mattresses, Airsprung Beds' products can be found on key online retailers' websites such as Argos, Wayfair, Very, Dreams, Furniture Village, Next and Fabb Furniture. Paul Little, Managing Director of Airsprung Beds, provides context on the company's roots. "Today the company is a subsidiary of the wider Airsprung Group PLC, which is made up of six other brands," he begins. "One of the oldest bed companies in the UK, Airsprung Beds was founded in 1871, over 150 years ago. Over that period, we have been among the first to bring many new ideas to the national bed industry, including pocket springs, rolled mattresses, and much more. We have grown to be one of the largest bed manufacturers in terms of volume, and are now part of a group manufacturing upholstery, headboards, and sofa beds."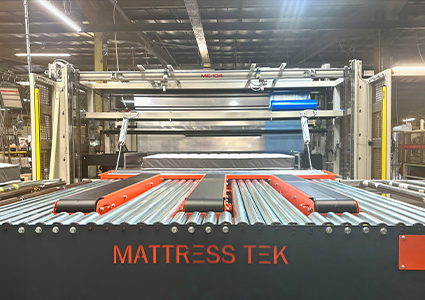 Sustainable solutions
Kevin Cullen, Operations Director, adds: "There are two other manufacturing operations within the company. Gainsborough focuses on manufacturing sofa beds, upholstery and beds catering to the high-end market, with a customer base primarily consisting of brick-and-mortar stores. Swanglen, our headboard division, supplies independent customers as well as group companies. Furthermore, our dedicated foam converter located at the Trowbridge site provides foam to both our group and other industries. Our in-house marketing company works across all the channels for each group company. We prioritize working collaboratively across the entire organization, ensuring that we avoid operating in separate silos."
As the national giant of bed manufacturing, Airsprung Beds must cater to the needs of a vast audience. "Our main business by volume is entry to mid-level mattresses, divans, and headboards. Because we supply most of the major online platforms, we must produce a significant number of mattresses to keep up with the demand, and we can leverage a capacity of up to 2000 mattresses a day. In recent times, we have shifted our focus towards mid to higher level products. This strategic move allows us to achieve greater profit margins by producing in lower volumes. Moreover, it presents us with exciting new opportunities, especially in the bricks-and-mortar retail sector," Paul states.
Strategic production
With a long-standing period of success spanning well over a century, Airsprung Beds has worked to maintain a unique edge to outperform competitors. Kevin describes the company's unique selling points. "What makes us stand out from the crowd is, in three words, scale, flexibility and value. At the value end of the industry, we need to deliver a very competitive product to our retailers. Often, this will be a white label product, and our key retailers will expect a unique offering. Realistically, achieving our ambitions can only be accomplished with a scale of business such as ours. Beyond output, rapidly adjusting to demand demonstrates the scope of our operations as well as the value of our extensive experience and workforce. Our considerable know-how and expert staff ensure we can deliver a comfortable solution to a tightly defined brief," he enlightens.
The quality of products the organization is known for is certified through rigorous standards and checks during the manufacturing process. Paul elaborates on what those entail: "We have a dedicated quality control team that ensures strict adherence to all legal requirements, such as those governing fire retardancy. The head of this department sits on the industry body's compliance committee, which lets us drive the standards for the entire industry. Additionally, we are audited by the National Bed Federation to ensure that we adhere to an exhaustive legal framework covering everything from flammability to trade descriptions and health and safety. We are also regularly audited by our key retailers and our most recent, largest evaluation was an outstanding success."
But premium quality only represents one side of the coin of the company's priorities. Paramount is an emphasis on eco-friendly operations across its product range. Airsprung offers an eco-range utilizing sustainable production methods and responsibly sourced materials. "Our eco-range first launched a couple of years ago with a focus on recyclability and affordability. It was designed to be recycled and recyclable as possible, all while maintaining affordability for most customers. I firmly believe that making sustainability accessible broadens its positive impact, which is why our green range remains affordable. As a leading voice in our industry, we were the first to sign the Pledge for our Planet which commits us to reduce our carbon footprint by 50 percent by 2030. This imperative is also being driven by our retailers who have their own net-zero plans that they will expect all suppliers to sign up to," Kevin affirms.
Investing in people
On top of its sustainability goals, Airsprung Beds is also looking to invest in automation technologies in the future. "Our focus for investment in the short-to-medium term is automating the end-of-line processes. This will be made possible through the recent purchase of an automated wrapping machine, which feeds through conveyors to the automated rolling and compression machines. The machine will greatly increase our productivity and enable some of our people to work on other more manual processes further up the production line," Paul explains.
"In the next five years, I would expect us to experience continuing growth in both the online and physical markets and become leaders in the entry level- to mid-market. I would also like to see us make further in-roads into the lower volume for higher margin products. Our people are one of the most crucial assets of our business, and my commitment lies in nurturing and developing them through training and mentoring initiatives. Indeed, within our factory we have implemented an upskilling program that offers many opportunities to acquire new skills. Additionally, we actively support our workforce in participating in our government backed apprenticeship scheme whenever feasible," Kevin concludes.
Airsprung Beds has created a name for itself as a leading UK bed manufacturer known for its focus on quality, sustainability, and customer satisfaction. With its commitment to continuous improvement and a diverse product range, the company
is poised for future success and innovation.