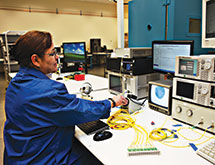 When it was founded in 2003, Experior Laboratories began its journey as an independent, third-party testing, design verification and qualification laboratory. Originally known as Experior Photonics, its initial focus was on testing fiber-optic components. In 2010, the company rebranded as it expanded its focus to include the electrical connector and environmental testing markets.
Today, Experior Labs provides services to component manufacturers, military contractors, integrators and system providers in the telecom, datacom, military, aerospace and industrial markets. The company is headquartered in Southern California where it has 15,000 square feet of space and around 30 employees. Experior Labs is in the midst of doubling the size of its facility to handle more volume.
"To get off the ground and establish ourselves, we built a high level of expertise in the testing of fiber-optic components," President Lorenz Cartellieri says. "We understood how to take true ownership of test programs and the sample, compliance and schedule requirements. Providing short lead times and working on projects very expediently allowed us to quickly grow in that arena. From there, we looked for additional areas of growth."
Strong Presence
Customer service has long been a differentiating factor for Experior Labs. The company assigns a program manager to each project who is responsible for the entirety of each test program. Serving as a single point of contact, the manager can be an advocate for the customer, which helps with customer satisfaction and retention.
In the fiber-optics testing market, Experior Labs has grasped control of around 75 percent of the market's share. Its goal in that arena is to maintain the quality of its service and continue to satisfy its customer base. It is the other market segments where the company has plenty of room for growth.
"We haven't served the other markets for as long, and they are much larger markets," Cartellieri says. "Environmental testing will eventually become our largest segment as it is the largest market and we currently serve a small percentage."
Experior Labs was able to establish itself in the electrical connector and environmental testing markets by leveraging the testing infrastructure it had built to support the fiber-optic market while also expanding its capabilities. In so doing the company could increase business by serving existing customers more broadly and reaching new customers.
"Within those two market segments, we do a lot of qualification testing performed at the end of the design cycle just before full-volume manufacturing," Cartellieri says. "The goal is to have no issues during qualification testing, which allows our customers to ship large volumes to their customers. We need to stick to the schedule, as our customers have spent a lot on development and need a reliable third-party test lab before their products to go to market."
Expanded Offerings
Including the expansion of its Southern California facility, Experior has invested considerable resources into enhancing its offerings to customers. Major equipment investments have focused on vibration and shock testing, as the company has brought in state-of-the-art equipment that outperforms its competition.
"We have leapfrogged forward and expanded that service area to a large customer base, such as serving companies producing space launch vehicles," Cartellieri says. "Parts of those markets have been underserved by limited test capabilities at the incumbent labs and long lead times. We are continuing on a growth path, having acquired a second Unholtz Dickie T2000 vibration system last year and enhanced our shock testing methods. Expansion of our facility will help us continue to develop test methods internally."
Staying on top of the evolution of its industries will play a major part in the future direction of Experior Labs. In the fiber-optics space, the company has been able to take advantage of the erosion of competition in the market. For example, Experior Labs is approved by Verizon to conduct qualification testing of fiber-optic components under its ITL-FOC certification program. When it joined that program in 2005, there were six approved test labs. Now, there are only two. "We have been able to take the marketshare, and the market has stagnated overall," Cartellieri says.
In the electrical connector and environmental testing markets, Experior Labs growth strategy is focused on continued expansion of its capabilities. The company recognizes the need to offer a complete portfolio as a test lab so it can serve its clients' entire testing needs. "It has become essential for Experior Labs to fill gaps in our service portfolio to offer inclusive testing programs and be able to maintain total ownership of the project," Cartellieri says.
As the company works to fill gaps, it will evaluate opportunities to ensure it is spending on areas that will have the biggest impact on customer needs and growth. Experior Labs will invest in areas that help fill out its portfolio while also providing good profit margins. It must also make sure that it maintains and builds its internal stable of subject matter experts so it can continue to provide a high level of service even as it grows.
Overall, Experior Labs is clearly a success story. Since its inception, the company's revenue has averaged more than 50 percent growth year over year. Maintaining this relatively high growth rate as a service provider is only possible by continuing to make existing customers happy and gaining business with existing accounts while also finding and acquiring new customers.
"For our expansion to continue, we must close gaps and invest in our capabilities so we have a comprehensive offering in all of our markets," Cartellieri says.