A doorway to a better home
With premium quality products and efficient service at the heart of everything it does, Express Bi-folding Doors has become a leading manufacturer and installer of architectural aluminium and glass façades
In the space of a single decade Express Bi-folding Doors (Express) has undergone significant growth. From its beginnings as a father and son team, who set up the company in 2007, this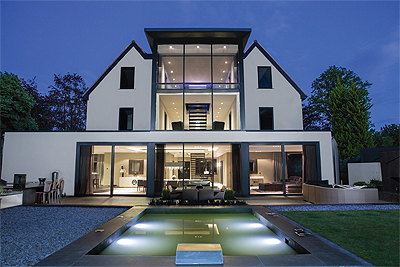 family owned business has since grown to the point where it employs over 200 people nationwide. Now firmly established as the largest specialist manufacturer and installer of bespoke aluminium folding, sliding doors, aluminium windows and roofing products in the UK, Express anticipates making a turnover of around £24 million this financial year.
"Every individual involved in the development of the business has always given 110 per cent of their effort to make it a success," begins Steve Bromberg Junior, Express' General Manager. "Today we have showrooms in Glasgow, Harrogate, Romford, Redhill and our flagship location 'The Home Space', which sits within our 200,000 square feet manufacturing facility in Leeds. This facility is made up of three units, the latest of which will be fully operational in a matter of months." The company's newest unit, which at the time of writing was being kitted out, will be used primarily for stockholding, while also acting as a dispatch area. It is hoped that the latter will provide the infrastructure needed to allow Express to begin taking on more commercial projects.
Express' ISO accredited operation includes the specialist manufacture of aluminium bifolding doors, in-line sliding doors, bespoke panoramic windows and roofing systems. Servicing the whole of the UK, the company has completed thousands of installations including commercial developments, and residential and new build projects. Such is Express' reputation that it has worked with many of the country's leading architects and its products have been featured on television programmes such as Channel Four's 'The Home Show' and 'Grand Designs', and Channel Five's 'I Own Britain's Best Home'.
"The vast majority of our products are manufactured in-house, allowing us to take full responsibility for the quality of everything we make," Steve continues. "We believe we have the most impressive production facility of its kind in the UK, which houses the most advanced CNC machinery available. We strive to stay at the cutting edge when it comes to our machinery and we estimate to have invested around £1.5 million in this to date, creating efficiencies, eliminating human error and speeding up the entire manufacturing process."
Express' team of highly trained engineers utilise said machinery in order to produce a high volume of premium quality bespoke products every week. Further quality control processes exist at each stage of a product's life cycle, through to final assembly where it is then checked by the company's QC department against details of the initial order. Then, once installed, a dedicated after sales and customer service team ensures that the process has been completed to the customers' complete satisfaction.
"Customer feedback is of great importance to us as it not only allows us to make improvements to our own processes, it also plays a key role in determining the future needs of the market," Steve states. "This feedback, together with information on what our competitors are doing and what is going on in Europe, which tends to be a couple of years ahead of the UK in terms of trends, allows us to stay ahead of the game."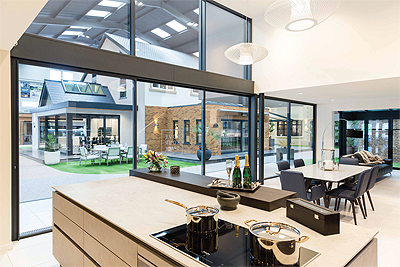 A quick browse of the company's website, which itself has recently been redesigned, will provide you with a multitude of case studies and examples involving Express' work. When asked to highlight a few that stood out to him, Steve highlighted Oakdale Manor, Rutland Road and The Courtyard. The former involved the entire transformation and renovation of a family home, with Express' range of bespoke products used throughout, including aluminium windows, French doors and a distinctive aluminium front door with a glazed atrium above. At the rear of the home, a bold new extension also showcases its work with floor to ceiling glazed doors, a fixed picture window and shaped gable frame.
The Rutland Road project saw the company providing all of the rear elevation glazing and the huge sliding patio doors on the front wings of a customer's house. The full rear elevation of the house is made up of its premium XP Glide S doors, with a curtain wall atrium complete with glazed returns. This has created a huge panoramic window across all floors of the property. Last, but certainly not least, The Courtyard is a luxurious semi-build home, built and finished to the highest standards, made up of two separate buildings bridged by fixed picture windows and large XP Glide sliding doors. The rear elevation was completed in the same style with shaped curtain walling installed into the roof gables, while the flat roof extension floods the interior with light thanks to the company's most prized skylight, the Sky-line roof lantern.
With a new website live, a new showroom being prepped for opening in London and a Contracts Manager and Sales Director now in place to support the commercial growth of the business, these are exciting times for Express. "Our vision for the business is focused on the building of our assets and the increasing of our profitability," Steve concludes. "As a result of our rapid growth to date we have accumulated a lot of capital which we have invested back into the business, and we will continue to do so. In doing this we hope to achieve our primary goal, which is to become a national brand with a name and reputation that people recognise and respect."
Express Bi-folding Doors
Products: Aluminium roofing systems, windows, folding and sliding doors