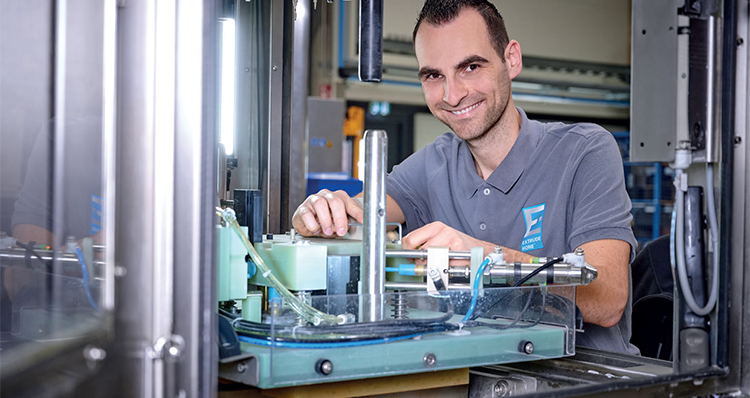 Excellence only
Despite the challenges it has faced over the past couple of years, Extrude Hone is pushing itself to be an innovative industry leader, with continued international growth that will sustain its legacy
Determined to help shape the solutions of its customers, Extrude Hone has been specializing in edge blending, shaping and fine-flow tuning, and surfacing services for over half a century. Its Global Marketing Director, Bruno Boutantin, has become an expert himself in the finishing industry and is proud to share with us the inner workings of the company's extensive capabilities, as well as how it is establishing itself across continents.
In the early 1960s, Larry Rhoades, Extrude Hone's founding father, brought to the business abrasive flow machining (AFM), which has gone on to become one of the company's specialties. The process embraces a wide range of applications that vary from critical aerospace and medical components, to a high volume of part production. Advances in media formulation and tool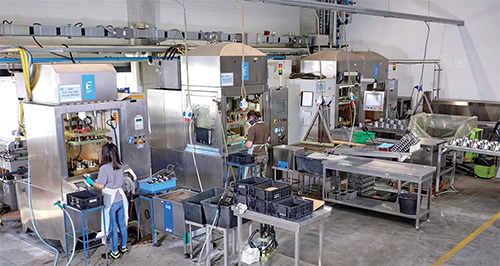 design, coupled with new capabilities in processing and automation, have established the abrasive flow processes as a way of fulfilling tough manufacturing requirements. "Larry really was a visionary," begins Bruno. "In fact, for a company that came to be what it is because of his work, I am incredibly proud of how we have upheld the original level of commitment to innovation for non-conventional manufacturing processes. On top of the AFM installation, he also introduced electrochemical machining (ECM), which was originally created by a German company and is used predominantly in the automotive field. Following this, he also added the technology for deburring," shares Bruno. Although these three core technologies lay at the heart of the business's operations, the pioneering spirit instilled by Larry, which has continued to spur on its innovation, has also allowed it to stretch its services around the globe.
Problem solving
According to Bruno, Extrude Hone is passionate about moving to where its customers are, which is how it came to own offices in the United States, Europe and Asia. "We have contract shops, manufacturing centers, and sales and service bases. The reasoning behind this is because we investigate what technologies are being used internationally. To leverage the ECM (electrochemical machining), when we see new developments happening, we look into how we can address different materials that we may not yet be able to process with this technology, and we focus on enlarging our market to find new applications to facilitate this. We have developed a simulation software to speed up the feasibility test. It's so good that it could fully replace a real physical test in most of the cases. It also helps to evaluate ECM at a lower cost. We also take that back to our contract shops to offer this technology to more people," he says, continuing to discuss that this methodology is what has lead the business to expand its services to more industries than only the automotive.
Seven years ago, 60 percent of the company's business depended heavily on the car industry. However, that income has dropped to 35 percent as Extrude Hone has encouraged inner transformations to address new markets. "We've become very successful within the medicine sector, which could be everything from prosthetics to die utilities. For example, since Covid-19 arrived and personal protection has become so important, we have been supporting the die manufacturing that are used to make the fiber that is used for mask manufacturing," he says. Even more recently, the business also supported the manufacturing process of ventilators, which opened up opportunities for new component exploration outside of its usual sectors. "We had never done something like that before and it has now broadened our horizons to industries we previously did not consider. Additive Manufacturing is also a growing market for us. In aerospace; we have just been awarded RocketDyne and MBDA UK's innovation award to participate in one project that is related to additives, which is incredibly exciting," Bruno adds
Of course, the capacity to service the spectrum of sectors that Extrude Hone does is owed – partly – to its infrastructure. Its historic Pennsylvania headquarters houses the essential machining used for its AFM technology. "This facility was created to address AFM and Microflow – the fuel system version and now it goes far beyond that. There are capabilities there to service micro holes down to 50 microns with micro flow processing. We also built some very large equipment, which is used in aerospace to help us with our clients in the US. In Europe, the birthplace of electrochemical technology, we design and build our advanced ECM tooling and we put together customized machines, which involves highly specific equipment. Our bases in Shanghai, China are used to leverage the manufacturing. Then, we have our skilled engineering and design team in Bangalore, India, which is also tied to additional contract shop facilities with all our technologies, and we also support the big original equipment manufacturing tiers in that region. This is the beauty of being a truly global company; our clients are so far-reaching. In addition to these big bases, we are also present in Japan, the UK and Brazil. Ultimately, wherever we can, we try to offer extensive support, which means that we tend to move with the customer to wherever they need us," Bruno informs.
It goes without saying that a network of this size requires a well-oiled team to keep the engine running, and likewise, Extrude Hone is dedicated to providing a safe and secure environment in which they can work, regardless of where they are located. Coincidentally, this is also driving the company's initiative to be a greener business. "We want the people who are working for us to feel connected to a community and we've seen that there is a growing need for a better working space; whether that's ensuring that our operations are more suitable for the planet or improving company policies, we are motivated to make those changes. For example, our AFM has been adapted to be more environmentally friendly in terms of the media, which concerns our abrasive machine, I believe that what truly sets us apart is our curiosity for the science, which is encouraging for people who begin their careers with us. It's about discovering how we can use our technology with different materials to address broader markets and to solve a wider portfolio of problems, and many of our employees relate to that," he expresses.
This inquisitiveness is what led the business to develop a digital approach that serves to accommodate a problem inflicted by the Covid-19 crisis. With in-person events being prohibited, Extrude Hone introduced a virtual booth, which provides potential clients with a portal into the company's offerings from around the world. "We are a small company and even as soon as 2019, we did about 26 physical events, which were complex and expensive. The investment of doing trade shows is always a big question mark. So, we asked: 'how could we develop something that would release a little bit of the burden while still providing that experience that would still be truly interesting for customers?' That's when we created the virtual booth.
"Firstly, we offer a place where people can discover the hardware we sell, the service we offer as though we were presenting from our usual expo booths, with the additional bonus of 3D imagery. For example, some of our parts are located inside helicopters and we can project and blow up those images on a screen and go inside the turbine to showcase our work. We also invite our customers to a Teams call and we work with them for one hour in this booth, speaking with them about what they find interesting and providing them with a guided tour. The driving inspiration is that we can offer a good match between 3D animations and digital content, mixed with human interaction and thorough discussions," Bruno says. Ultimately, for him, it is about maintaining a balance between upholding the company's reputation and pushing innovation to a larger audience. "The reality is that for the foreseeable future, we will be at less physical events. Most companies are only allowing a few of their employees to go to shows, which, although it has brought the costs down hugely, is also going to have a negative impact on our interaction with possible clients. This is why we are proud to offer this service to everyone. I think it will bring greater opportunities for us, mainly because we can offer this to everyone and we can be present 24 hours a day, 365 days a year," Bruno explains.
Passion for innovation
Now, as Extrude Hone gears up for the years ahead, it is reevaluating its strengths in order to sustain its international growth. While Bruno notes that the company will increase the business' size, he is determined to see Extrude Hone infiltrate as many industries as possible. "We need to get back to the servicing capacity that we had in 2018, by 2024, but covering additional new markets; we still have a journey to embark upon. We've noticed the transformation happening in the automotive industry. Although it may only be a third of our business, this is a third that we want to serve well, and the changes happening within the sector are proving to be quite a challenge, so we need to embrace that. We made a big step with the development of our contract shops, but we cannot have one of those on every corner of the globe so we are thinking about designing something that will truly bring the price for our equipment down, while also allowing more companies to access it. On top of that, we were struggling with material limitation regarding our ECM capabilities, that we will soon overcome. This is a big area where we want to focus our research. Overall, our strategy is basically to digest these transformations but in order to do so, it is crucial to be well positioned. Above that, we are going to maintain the same passion for innovation with which Larry began the company. This will serve us well for the future and I am quite excited for where we are heading," he shares.
No matter what, Bruno is confident that Extrude Hone will remain a resilient and strong company; resilient because its customers uphold those expectations, and strong because the people working within the business depend on those at higher levels to lead confidently throughout the challenges it may face. Taking this into account, as well as its persevering passion and relentless curiosity, there is no doubt that Extrude Hone will keep its furnace burning.
Extrude Hone
www.extrudehone.com
Services: Machine manufacturers for material finishing