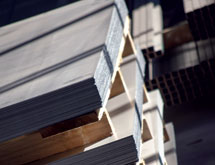 Extruders Inc. has come a long way since it started operations producing aluminum extrusions on a single press nearly 40 years ago. Ever since it opened up shop in 1975, it has worked to become a one-stop-shop solution provider, building a national presence based on its quality, delivery and service capabilities.
Extruders Inc. is a full-service manufacturer of standard and custom aluminum extrusions. Led by an experienced team that boasts more than a century of combined extrusion expertise, Extruders is a privately held company that strives to put its customers first. Its goal is to optimize customers' extrusions and simplify their supply chains.
Having consistently added to its arsenal over the years, Extruders added additional presses in 1983 and 1998. It installed a 24.5-foot vertical liquid paint line in 1995. In addition, it installed the first 24.5-foot vertical powder coating line in North America in 2003.
Today, from its 218,881-square-foot facility, it serves many different industries in the Midwest, the rest of the United States and Mexico. The company has an extrusion capacity that exceeds 75 million pounds per year. Extruders invests more than $2 million annually into capital equipment, allowing the company to continuously improve its quality, safety and capacity.
The company also continually upgrades its paint lines to make sure it can meet stringent coating requirements. In addition, it has an in-house trucking and delivery service, which helps its on-time delivery and product quality acceptance rates to regularly exceed 98 percent.
Core Competency
The capabilities possessed by Extruders are the foundation of the company's success. The company is able to produce custom and standard shapes including
architectural angles, structural angles, rods, flat bars, tubes, channels and I-beams. Its three extrusion presses include a 1,800-ton, seven-inch press; a 2,500-ton, eight-inch press; and a 2,750-ton, nine-inch press. This provides the company with the necessary flexibility to produce a diverse array of extrusions.
Value-added services are another part of Extruders' ability to offer custom solutions. Extruders offers multiple paint and coating solutions, as it has a strong portfolio of wet paint and powder coating technology and expertise. It offers more than 270 color options on its vertical paint lines.
Extruders provides all standard anodizing aluminum finishes, too. These include hardcoat anodizing, bright dip anodizing, brushing, polishing, bead blasting and tumbling.
Additionally, the company offers various fabrication services and has the ability to provide high-quality turnkey parts. It offers cut lengths ranging from 3/8-inch to 40-foot, and additional operations include punching, bending, drilling, tapping, notching, slotting, precision cutting, mitre cutting, deburring, welding, heat treating, assembly and kitting.
It can also provide design assistance by taking advantage of its experience to help customers develop designs and avoid waste. It can thoroughly analyze customer needs and help with tooling definition, finishing specifications, prototyping and first run verification, ultimately wrapping everything up with completed parts.
The company's state-of-the art CAD system allows it to provide drawings to industry standards. Its design for manufacturability analyses allow the company to evaluate projects from aluminum alloy and temper selection, extrusion press selection and die requirements to fabrication requirements, finishing requirements, packaging methodologies and shipping requirements.
Another service is the thermal break fill and de-bridge process, which provides high insulation for window and door components. Utilizing this process allows Extruders to insert a resin into aluminum pockets before cutting the bottom out of that pocket so there is no aluminum connection. The process provides insulation from both hot and cold temperatures, increasing the thermal efficiency of the assembly.
Lastly, Extruders offers packaging and shipping solutions. It can provide special packaging for products requiring additional care, utilizing its own dedicated trucks as well as common carriers specified by customers.
Throughout each step in the process, Extruders is highly conscious of quality control. From the review of drawings and materials before production begins all the way to delivery, Extruders works to ensure quality at every step. Its quality system includes inspection, calibration, training, document control and process monitoring.
Looking For More
The company has continued to look for ways to improve in recent years, putting a factory improvement taskforce in charge of increasing customer satisfaction, enhancing quality and improving capacity. In recent times, it has invested in everything from extruder furnace upgrades and new hot saws to upgraded material-handling equipment and enhanced thermal break/de-bridge capabilities.
One major project was the specification, evaluation, purchase, installation, and start-up of a new Granco Clark furnace. It added a new dimension to the company's capabilities, allowing it to process a wider range of aluminum alloys. The new system began operations in January 2013.