F/LIST creates luxury interiors for business jets, yachts and residences
Franz List Snr gave his surname to F/LIST when he founded the business in 1950. With its original home situated in a heavily wooded region of Austria, the business is rooted in master carpentry, craftsmanship and cabinet making. In 1962, his son, Franz List Jnr, took the reins, became the youngest master carpenter in Lower Austria, and added the F to the company's name. Today, the enterprise also has locations in Brazil, Germany, Dubai, the US, UK and Canada, and applies its age-old knowledge and techniques to a plethora of different industries.
"It's been a labor of love for the List family for three generations, with Franz List Jnr's daughter Katharina List-Nagl representing the most recent," begins Derek Gelinas, Managing Director of F/ LIST Canada Corporation. "The company has been steadily branching out over the last thirty years. In 1992, we delved into the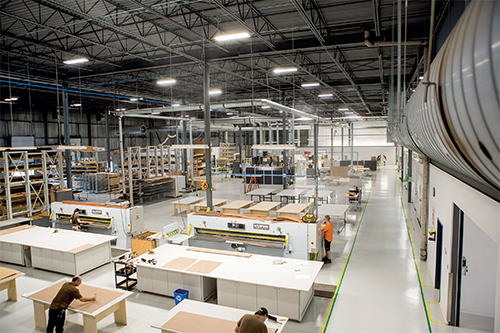 luxury yacht industry, which is a huge line of business over in Europe, and then in 2004, when Katharina joined, she established our Research and Development (R&D) department. This spurred on our expansion into lightweight construction, which was closely followed by our entry into the aviation business. Ultimately, when it comes to luxury interiors, we've got land, sea, and air covered.
"We initially started working on Bombardier Learjets, 40s and 45s, but our work within the wider industry soon took off. By 2009, we had an aftermarket division that led to our involvement with in service aircraft in locations all over the world. Katharina became our CEO in 2017, then I joined our Canada site the following year. We are now three years into Katharina's 15-year vision, which is a strategy to develop F/LIST's focus on innovation, sustainability, and technology. We've been debuting our ideas at multiple conventions. It's an exciting time for us."
High quality products and customer satisfaction have always been at the top of F/LIST's agenda, underpinned by its family-based focus on providing a supportive and educational environment in which its people can flourish. An example of this, is the way that the company mirrored its Austrian-based technology in the Canada location when it was established. Although it seemed like a difficult and cumbersome approach at the time, to load everything onto boats and transfer it across the Atlantic, the business had two key reasons for doing so.
"Firstly, it was due to the familiarity that the Austrian teams had with the kit, and it was those colleagues who came over to get things up and running," Derek explains. "This was the most effective way for them to bequeath their skills and craftsmanship to our Canadian-based workforce. We were very lucky to be taught how to use the machines by the people that know them the best. The second reason became apparent once we started to interview new hires. All of our equipment is top of the line, and a lot of it is not readily available in North America, so you can only imagine how prospective employees' faces light up when they see the toys that they get to play with.
Feats of engineering
"We also house a lot of contemporary technologies, but what's more exciting to me is the time that the teams spend experimenting with our tools to see how far we can stretch their capabilities," he continues. "There is a certain curiosity that trickles down from our artisanal heritage of hand crafting and traditional methodologies, which when applied to our new lines of machinery, creates the most incredible feats of engineering. Imagine taking a master carpenter of 25 years, based in Austria, and dropping him into an aerospace project to see how his skills can be transferred. It's amazing!"
The Canada site initially focused on raw material veneers, but it wasn't long before F/LIST realized that it needed to address the needs of local consumers for full scale manufacturing. The three key sectors in which it now operates are aerospace OEM, aerospace in-service and aftermarket, and residential. To serve the aircraft interiors segment, the location features a large format five-axis CNC machine, veneer cutting and joining machinery, pressing machinery, cabinetry pre-production equipment, two spray booths, a separate glue booth, an upholstery workshop, a flammability lab and a recently added large format laser cutting machine. It also falls on Derek and his team to bridge the innovations developed by the R&D department, now called the F/LAB, at the headquarters in Austria, over to the North American market. The Austrian locale is investing in another plant to add to the company's global footprint, which currently has eight sites, with a few more in the pipeline.
Sustainability and innovation

"As we move forward with Katharina's vision, the two major principles that we have chosen to address are sustainability and innovation," says Derek. "Sustainability is an obvious one into which we, as a species, should be doubling our efforts as it means to survive. We are utilizing our infamous flair for innovation and design skills to provide solutions. We're known for challenging the status quo and achieving feats our industry hasn't seen before, for a customer base that thrives on having the best of the best.
"We are continuing to push the boundaries in providing solutions for our future clients, with a particularly exciting avenue being that of our sustainable decorative materials. WHISPER Leather for example is a new generation of leather, which is manufactured from plant-based raw materials. However, it has been developed in such a way that it not only meets the expectations of the traditional animal-based alternative but exceeds its functionalities and places-of-use too."
Derek cites the organization's method of managing supply chain relationships as being inherited from its European roots. F/LIST bonds with its vendors, suppliers and customers, in what he refers to as eye-level partnerships. The great value of these connections come from strong, long-standing relationships, in which all parties practice the utmost honesty and support for one another. "Some of the actions I've seen at this company would boggle the minds of those working elsewhere in North America," Derek goes on. "I have witnessed senior specialists notice imperceivable defects in products that have already been signed off by customers and proceed to contact them immediately about fixing the fault.
"We also like to consider our closer competitors more like neighbors, as we regularly help each other out. We would rather share our inventory stock, given that the lead times for some of our European components can be two to three weeks, so that everyone can avoid disruptions. I believe this to be a far more advantageous approach to navigating your supply chain than conventional dual-sourcing or strategically holding stock around the country. We still practice the latter to a small extent but thrive more so on feeling like we belong to a community where everybody helps each other out.
Celebrating people
One of the main factors that Derek states attracted him to his role, is the emphasis that F/LIST places upon its people and working culture. The company strives to facilitate learning and career progression by creating a fun and encouraging atmosphere in which people are proud to work. "The Head of People & Culture, Monika Putz, has been over from Austria recently, workshopping our new culture guide with the teams. Another company-wide initiative is promoting international opportunities for employees on a long- or short-term basis. For example, this year F/LIST Canada is hosting two employees on long-term assignment from Austria and will be sending three of its top employees over to a new developing location to share their expertise. This is a real point of pride for people.
"We like to celebrate first-time delivery of a new, or really well executed product or service, as well as stage a family day, a summer BBQ, occasional food trucks, a Halloween costume/pumpkin carving contest and a Christmas event every year. In keeping with our Austrian heritage, there's also our "F/LIST Canada" version of an Oktoberfest potluck every autumn. The social element is so crucial to sculpting a workplace that gets the most out of everybody. As a result of all the orchestrated events that we host, the employees have formed their own summertime tradition, organizing a barbecue every Friday afternoon in our parking lot to get everyone together. I always say that I'm trying to run Hotel California, as I want everybody to retire here!
"We aim to stand out from our competitors, by being what we hope makes us an employer of choice," Derek concludes. "Looking forward, I want to see us grow the reputation of a worldwide high-end luxury interior brand, all within a culture that celebrates people who love what they do."
www.f-list.at