Fabulously innovative
A specialist in providing bespoke stainless steel heating, cooling, storage, and processing systems, Fabdec had a busy year in 2018, which saw the company develop new products and invest in key equipment to meet emerging customer demands
A continued increase in turnover, release of new products, investment in new machinery, and expansion into new markets have been the leitmotifs for Fabdec in the past 12 months. The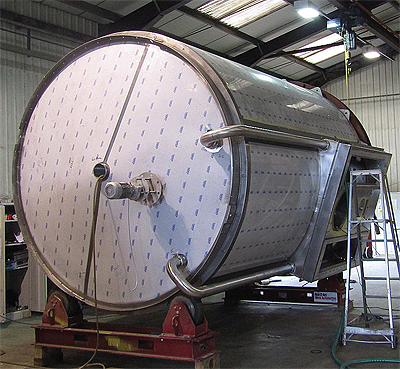 specialist manufacturer of stainless steel heat transfer products achieved a 12 per cent growth in 2018, recording strong results across its water heating, brewery, heat recovery and dairy divisions.
"The past few months have also been a time of innovation, marked by the introduction of four new products to our range," comments Fabdec's Managing Director, Chris Powell, beginning his review of the latest highlights for the company. "These include a new milk cooling tank designed to use the best available space in a high cube container, thus reducing transportation costs for overseas customers, as well as a new water heater for milk parlours and a cow footwash. We have also launched a Hi-Flo water heater and a pre-plumbed unvented water heater, both using our patented 3S technology."
The 3S Excelsior pre-plumb unit, in particular, was installed last summer at a residential development in Newport, Shropshire, providing reliable hot water alongside streamlined and disruption-free installation. Using the Venturi effect (the reduction in fluid pressure that results when a fluid flows through a constricted section of a pipe with no restriction applied to the volume of water) the heater automatically replenishes the expansion space, negating the need for an expansion vessel and saving time and money in future maintenance costs.
In order to finish the year on a high, Fabdec showcased its new automatic footbath system tailored for animal hygiene in the dairy sector at the World Dairy Expo 2018, held in Madison, Wisconsin. The Foot-Wash Plus builds on the company's commitment to innovation by introducing a number of new features such as automatic counting systems, quick refill, and full-width pneumatic drainage guaranteeing usability and practicality. Following its successful showing at the Expo, the system is now available in three lengths – 2.5 metres, 3.6 metres, and 4.0 metres, thus providing multiple options for different configurations.
"Foot-Wash Plus marks another step in the development of our animal hygiene line and one that brings a range of unique benefits to the market," Chris enthuses. "Animal hygiene is a key consideration for anyone working in the dairy sector and we are passionate about developing products that ensure our customers maintain their best-in-class standards."
As promised by Chris during our conversation a year ago, Fabdec also made strides in new markets in the brewery sector, namely the wine and spirits markets. "We have, indeed, manufactured tanks for the wine industry and we are currently building a 25,000-litre wine vessel for a winery. Together with this, our engineers are constantly working on various new products in all the other sectors we are present in, as we aim to address the growing demand for bespoke solutions in stainless steel vessels and heat transfer systems," he adds.
In a veritable testament to Fabdec's active product development in recent times, the company was named Shropshire's Best Manufacturer at the 2018 Shropshire Business Awards. Singled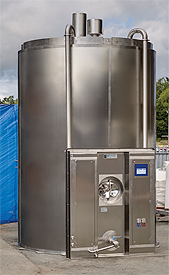 out for its never-ending pursuit of achieving and maintaining world-class manufacturing standards, Fabdec was also praised for its ability to engage with its workforce, adopt new processes and technologies, and understand what it takes to provide tangible value to customers.
The company's success has also allowed it to invest in the next generation of industry talent and support the local economy. To support its clients' needs both domestically and overseas, Fabdec took on 17 new employees in 2018, with plans to employ a further four new apprentices, reiterating its eagerness to develop talented young people across the Shropshire region.
"We also have some major capital investment plans for our manufacturing plant in 2019 and we have even already taken delivery of a new laser welding system, which will give us more flexibility and efficiency in the process of standard and bespoke heat exchange plate manufacturing," Chris reveals. "In addition, we have invested in a four-metre CNC press brake to increase our capacity.
"Moving forward, we are looking to install a total of 908 solar photovoltaic panels on our factory roof, which will generate enough electricity to power both our manufacturing plant and our head office. By doing this, we will significantly improve our impact on the environment and complement the investment in LED lighting we made last year," he discusses Fabdec's planned investments.
For Chris, continuous capital injection will remain a key driver for further growth, not only in 2019, but also in the long-term. "It is only through equipping ourselves with the best machines and arranging our operations in the most efficient way that we will be able to deliver on our promises to the customers. We want Fabdec to be recognised as a provider of energy efficient solutions, which have now become much sought-after by users, due to increasing energy costs. To this end, we will continue expanding our capabilities and developing innovative bespoke products so that we satisfy our clients' needs," he wraps up.
Fabdec
Products: Stainless steel heat transfer products and dairy management systems