Opportunities brewing
An expert in the manufacture of heating, cooling, storage and processing vessels, Fabdec is benefiting from the continued growth in demand for real ale and specialist beers as well as the recent boom within the UK's dairy market
Founded in 1960 in Ellesmere, Shropshire, to manufacture refrigerated milk tanks, Fabdec has grown over the years to become the leading developer of stainless steel heat transfer products and dairy management systems for those in the dairy, brewery and heating sectors. Well established in the markets it serves, Fabdec began selling overseas in 1985 following a slow-down in the UK; in order to continue growing, the company looked at opportunities overseas. Seeing a demand for high quality, bespoke manufacturing within the export market, the company went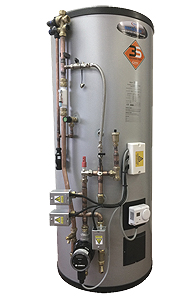 on to grow a strong presence in countries such as Germany, Russia, France, Ireland, Austria, Switzerland, Denmark, Africa and Japan. On top of these locations, it has exported to Eastern European countries such as Slovakia, Hungary Belarus and Poland. Following the introduction of a new tank range that fits comfortably into a shipping container, Fabdec has also gained new customers in the US and Israel.
With approximately 50 per cent of its business in exports, some of the reasons Fabdec achieved success in these countries stems from market research, the building of local relationships and due diligence on partners, agents and suppliers. However, the most integral part of Fabdec's ongoing growth in both the UK and further afield is its portfolio, which is complete with a high quality, diverse range of product technologies for professional milk production, duplex stainless steel water heaters and heat transfer products, and hygienic stainless steel vessels for the brewery industry.
With the appetite for craft beers and ales growing over recent years, Fabdec has benefited from a steady increase in brewery sales throughout the first six months of 2017, which have doubled that of the same period in 2016. So far this year, the company has produced stainless steel tanks and vessels for UK based microbreweries such as Aston Manor, Hedgedog, Kite, Wilderness, Spire, Great Orme and Brightside. With both microbreweries, micropubs and Fabdec alike sharing a passion for quality, the company is proud to be trusted in the delivery of these significant investments with the goal of creating distinctive beers.
Products within the brewery range include designed and manufactured hygienic stainless steel vessels that are developed to meet individual requirements. When it comes to size, shape, fittings and accessories, Fabdec can accommodate these requests through product engineering and manufacturing facilities. Moreover, all designs can be modelled in 2D and 3D as well as finite analysis and electrical schematics through the utilisation of the most cutting edge design software.
In more detail, this portfolio includes duplex stainless steel, scale resistant, fermentation/ conditioning vessels that boast unique thermaplate technology cooling jackets, conditioning tanks with anti-vacuum/pressure, relief valves and a full CIP system; duplex stainless steel copper wort kettles, with heating options for 1/3 hp electrical/gas burner with immersed coil/ indirect coil for oil or propane, a conical hop seed filter and vent with condensate ring trap. Other products include hot/cold liquor tanks, plate heat exchangers and KOOL-PAK ice builders.
Fabdec is also enjoying a boom in the UK's dairy sector, for which it assists in improving the productivity of the dairy farmer and makes day-to-day operations easier and safer. Products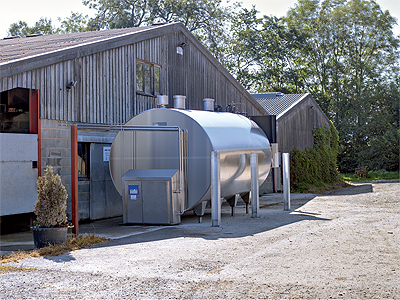 within this range include milk cooling systems, which offer the dairy farmer the ultimate in milk cooling technology and a solution for every stage of the milk cooling process. For example, the DX-FF bulk milk cooling tanks are designed to offer extreme efficiency and outstanding reliability through the utilisation of state-of-the-art technology that ensures the quality of milk is maintained.
Other products include the Hi-KOOL vertical milk cooling tank, which offers a further option for milk cooling and storage on the farm, and the Uni-Heat agricultural unvented water heaters that provide hot water on demand for bulk tank washing. Meanwhile, the company's milk parlour systems improve efficiency and lower operating costs; the modular systems can also be tailored to meet the specific requirements of a farm and to also work alongside existing parlour systems. Also available to customers is a comprehensive range of tank cooling spares and KINGSTON parlour spares that ensure customers find the solution they need, and a portfolio of cow management systems.
For the third part of its portfolio, Fabdec has become an established supplier of choice when it comes to stainless steel water heaters and heat transfer products in the UK. Serving both markets within the UK and around the world, Fabdec has maintained its strong position in this market through ongoing innovation; the most recent example of this is the company's range of unvented water heaters that use 3S technology or the self-sustaining air-gap system. This includes a patented device, which replenishes the internal expansion in the cylinder automatically without requiring service or recharging. Another notable product in the company's water heating range is the SMART-HEAT range, which is available from 22 to 2000 litres as a standard range and up to six condensing units that can be connected to a single SMART-HEAT. With more than 10,000 installations, this product has become the established name in heat recovery systems.
Having capitalised on the reinvigorated dairy sector in the UK, the company is looking to grow its dairy presence in the US over the coming years. On top of this, Fabdec will also aim to penetrate new markets such as China and Africa, where opportunities are appearing for a company not only experienced in product technologies for professional milk production but is also wholly committed to delivering optimum quality systems and products. In other areas of the business, the company will aim to grow a stronger presence in Europe with its heating products and will continue to tap into the craft beer boom in the UK.
Fabdec
Products: Heating, cooling, storage and processing vessels and systems