A vision of the future
By making use of the materials of tomorrow, FACC is shaping the mobility of the future and contributing towards fulfilling people's desire for new, more efficient and sustainable means of travel
In mid-July 2019, more than 2000 specially invited guests gathered together at the campus of FACC in St. Martin im Innkreis, Austria, in order to mark a very important occasion. It was here that the entire crew of this leading global aerospace company – proficient in the design, development and production of aerospace technologies and advanced lightweight systems – as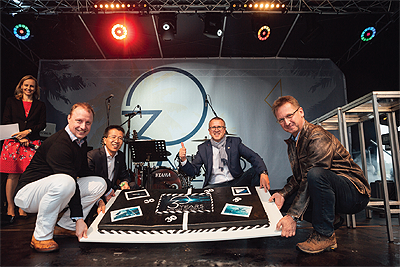 well as their family and friends were able to celebrate its 30th anniversary. In addition to numerous food trucks and a cocktail bar, guests also enjoyed a range of attractions, including a Virtual Reality flight simulator and a giant table football match, before raising a glass to the company's successes.
The activities of FACC have been documented previously within Manufacturing Today Europe. In fact, it was back in the summer of 2018 that Marketing and Communications Director, Andreas Perotti detailed the activities of a business that employs 3500 people in 13 different countries, and whose innovations are so vital to its blue-chip clientele that every second there is an aircraft taking off from somewhere in the world with FACC technology on board.
Since our last conversation with Andreas, the company has posted full year revenues of 782 million euros for the 2018/19 period, and in July it reported revenues of 193.7 million euros – a rise of 2.2 per cent – for the first three months of 2019. These figures are very much in line with a market that has, in recent times, seen a flattening of its growth curve as it navigates challenges such as the slowdown in the global economy, the on-going trade dispute between China and the United States, the issues surrounding Brexit, and the continuing climate debate. In spite of the above, FACC finds itself in the enviable position of having secured over one billion euros worth of new contracts in the last two years – taking its order backlog up to a value of 6.5 billion dollars – meaning that its order book is currently full for the next seven years.
"Despite the well-documented challenges within the aerospace industry, FACC itself FACChas enjoyed a great deal of positive news over the last 12-to-18 months," Andreas states. "For instance, our aftermarket services business, which we discussed with yourselves previously, has been growing extremely well. Developments in this field have included our recent launch of a strategic co-operation partnership with the Chinese corporate group STAECO. This will allow us to better penetrate the Chinese Maintenance, Repair and Overhaul (MRO) market. We have also been buoyed by the launch of our innovative new cabin solution, the Passenger Luggage Space Upgrade. Easy to install and competitively priced, this interiors product improves the look and feel of an upgraded cabin, while also boosting its functionality by offering more space, whilst saving weight."
In May 2019, the company also announced it had completed the land acquisition necessary for it to begin establishing a footprint in what will be its fourteenth country Croatia. It is here that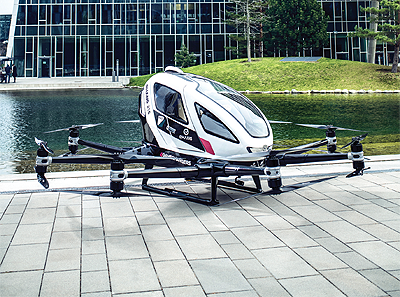 a new production facility will be constructed for the manufacture of lightweight components for passenger cabins of commercial aircraft and business jets, using state-of-the-art fibre composite technology in the first phase. "The building of this high-tech plant – which will commence with production in March 2021 – will represent the laying of the foundations for an increase in demand from the cabin interiors segment of the market, and will ultimately provide jobs for 600 new employees," Andreas adds.
For FACC, innovation has always one of the driving forces behind its success, and such is the importance of this characteristic that the company ensures that it re-invests ten per cent of its revenue back into R&D each year. "If you look at the market around us, we are not the smallest or the largest company of our kind, and we often find ourselves competing with some with revenues that can be up to 50-times our own. Therefore, in order to succeed in the way that we have for 30 years it is vital that we are able to stay one step ahead of our competitors, which means being more innovative, flexible and faster to market with solutions," Andreas explains. "This is why our commitment to innovation has never changed, and why we continue to have some 500 people employed in our R&D departments around the world, developing 100s of patents and several that we issue each year."
From these efforts, the company has been responsible for the creation of exciting new concepts, including solutions to facilitate autonomous flying. "In late 2018, we entered into a strategic partnership with Chinese technology company EHang, which specialises in autonomous air mobility," Andreas adds. "Together we have been developing an autonomous air vehicle (AAV) 'Air Taxi' solution, which is shortly due to enter into series production. Once the first series model leaves our factory and is shipped to customers, which we expect to happen in October 2019, it will represent the first series product of its kind globally to reach this stage. As you can imagine, we are very excited about the disruptive potential of this solution, and with thousands of pre-orders already it will be a massively promising market for FACC over the next several decades."
As FACC looks to the more immediate future, there are a number of topics that the company is planning to address moving forward. "In the manufacturing and production space there is so much happening that it is vital that we stay on top of new means of production, new processes and new technologies, whether that be in the form of thermal plastics, additive manufacturing, digitalisation, AI and robotics, big data management and so forth," Andreas points out. "Meanwhile, as a manufacturer of complex products, a large percentage of which are made up of individual configurations, we need to ensure that we continue to find the right balance between new technology and human labour.
"We have always been a very future-focused company, and that is why we are very confident about achieving our immediate goals, which include the securing of new contracts, setting up our facility in Croatia, bringing our AAV solution to market, and keeping our financials stable. Fortunately, our experience proves that we are more than capable of exceeding expectations in all market conditions, and with a team of extremely talented people around us we have every reason to be optimistic about the journey ahead for FACC."
FACC
Products: Composite components for the aviation industry