Falcon Foodservice Equipment
Horizontal cooking
With almost 200 years manufactguring cooking equipment, Falcon Foodservice Equipment supplies a comprehensive range of tools to meet the needs of caterers and chefs in every sector of the catering industry
Since the company was created in 1819, Falcon Foodservice Equipment has established a name for itself, identifiable with high quality performance products. Tim Tindle, Falcon's managing director explains the significant history of the company since its inception. "The company was founded in 1819, the year Queen Victoria was born and it was initially a foundry-based operation. In those days catering equipment was made out of cast iron, whereas today it is made out of stainless steel. In 1969 the company became part of Glynwed, which later became AGA. In 2004 we moved to our new factory, nestled in the Ochil hills just outside Stirling. At the same time we closed our last foundry," he said. In 2007 the company reached a massive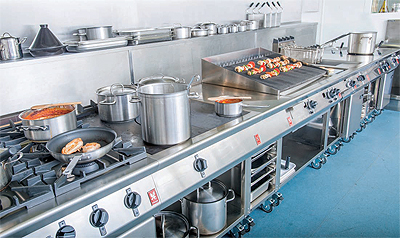 milestone when Ali SpA, an Italian family business and one of the largest global leaders in the foodservice industry acquired it. Being part of the Ali Group, which is solely focused on the commercial market, has helped Falcon revitalise itself and look to the future.
Today the company supplies a comprehensive range of equipment, designed to meet the needs of caterers and chefs in every sector of the catering industry, from cafes to tearooms, and casual dining venues to Michelin starred restaurants such as the world famous Three Chimneys on the Isle of Skye, or The Club in Abi Dhabi. Falcon also provides equipment to the public sector. "In the public sector our brand is popular across all sectors – schools, universities, hospitals, the military and prisons, and is used in many catering colleges," adds Tim.
Innovation is key to the success of the company. It works with leading UK robotics specialists to enable the company to develop pioneering systems like a corner welding plant. Tim explains: "We chose a company grounded in welding technology that had moved into automation. The challenge to the development team was to weld, without filler wire, the corner of an oven door that was manufactured out of 0.8mm stainless steel and in doing so have a finish that required no secondary operations." After much hard work and creative thinking the end result went beyond expected capabilities in three significant areas; finish, semi-skilled processing and robustness in operation. The commercial technology paid for itself in 12 months and Falcon is now able to deliver a high quality product more cost effectively than before.
In 2016 Falcon launched its new F900 range of suitable products. The company is proud to have moved into the growing segment for beautifully crafted units that combine great performance and functionality. When speaking about the range Tim explains: "Our patented Dynamic Link System (DLS) allows for the units to be suited tightly together, almost seamlessly and with minimum fuss. The range has a European look, is ideal for the growing trend for front of house kitchens and is spearheading our drive into export markets."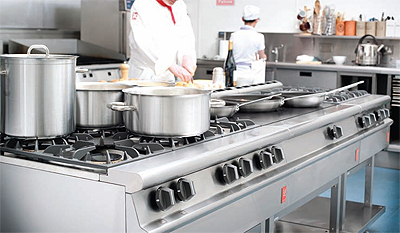 The growing success of its export sales is also assisted by being part of the AFE group, a principle business unit within the Ali Group. "We often work together with our sister companies Williams Refrigeration and Mono Bakery equipment to deliver great solutions," said Tim. "Being an Ali group company also helps as they are a truly giant brand in our industry and that of course helps our credibility when we enter a new market," he adds. The joint AFE office in the Middle East is another example of synergy as is joint purchasing of certain products such as steel.
Tim comments: "We also benefit from a number of best practice forums that we operate across the factories in the UK, covering areas like Health and Safety and Energy Saving. As an MD it is also useful to have other managing directors to bounce things off from time to time."
When asked about the future of the company Tim is keen to tell us that changing markets don't appear to have a negative effect on the business. "A noticeable side to the 2008 economic downturn was that UK consumers down-traded but still ate out," said Tim. The restaurant business responded to the crisis with innovation and designed cheaper menus and better deals. Tim added: "We're seeing consistent year-on-year growth in eating out and that won't change."
Tim concludes that over the next 12 months the strategic vision for the business is to develop new product lines and markets, by increasing quality, reliability and efficiency. "It's not about being the cheapest it's about being the best in class. We have aggressive plans in all areas and the whole team know where we are and where we want to go on our journey together," he ends.
Falcon Foodservice Equipment
Products: The UK's leading manufacturer of professional cooking equipment; supplying operators and chefs across Europe, the Middle East and Asia