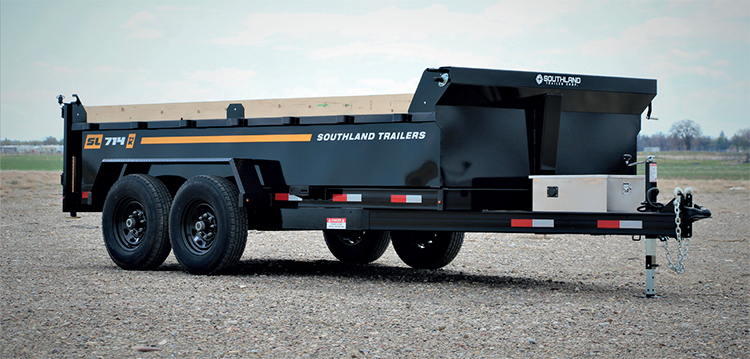 Family expertise has made Southland Trailers one of the best in the business; here is how the company is taking on 2023
For 42 years, Southland Trailers has been a family-owned business. What started as a small venture of Scott Sailer's parents, has grown to become the largest trailer manufacturing company in Canada. Scott, who serves as the Operations Manager, shares detailed insight into what it takes to make the perfect trailer, and how the business is bringing innovation to the trailer manufacturing industry. "Strength-to-weight ratio is crucial," he begins. "We've been in the gravel industry for many years, under our Renn brand, and as a result, we've learnt that there are certain metals and materials that can take the weight out of a trailer's composition. We endeavour to make sure that our trailers are both light and strong."
The practices being implemented at Southland Trailers are strides ahead of industry standards, a fact of which the Sailers are incredibly proud. "Many still believe that a trailer needs to be bulky and heavy to be effective, but that is just not the case. The marketplace is still trying to overcome that perception, so there is a big gap that we're trying to bridge. What we do here will help to change the thinking around trailer safety and logistics. As such, we're pushing ourselves to share knowledge with customers through videos, training programs and additional initiatives, but effective change will take time," explains Scott.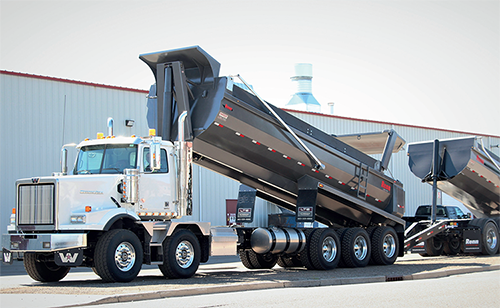 Innovation by the truckload
The government of Alberta is providing Southland Trailers with funding to help initiate positive change in trailer manufacturing. The money will be used to assist with the growth and expansion of the business' sixth plant. "In 2023, the new plant will house our cargo division, which will give us an increase in the production flow. Our operation will be more streamlined, and in our other facility, we'll be moving into vertical integration."
Regarding the company's facilities, each plant is dedicated to a specific phase of trailer production. "Under the Southland line, we have the dump trailers, goosenecks and flat decks. As such, we have a plant dedicated to a production mix of the Southland and Renn brands, which consists of heavier commercial lines. Another one of our plants is dedicated to vertical integration and material processing. Finally, the other plant is more dedicated to the cargo facility. Each plant has its own diversification, and is tailored to make the production more streamlined," he says.
With this level of capability, the company is able to provide trailers to all corners of the globe, as Scott shares. "We go as far as Russia, which took some stock trailers back in the early 2000s. More locally, we have a reach in Texas and the surrounding area. We really look at maximizing the truckloads as much as possible to make the shipping journey the most effective for the dealer. The reach we achieve will depend on how creative we are in making the truckload the best value for the dealer; that will dictate how much further afield we can share our products."
Additionally, Southland Trailers is about more than manufacturing. The business also believes that a large portion of its success is owed to its excellent company culture, and its passion for the environment. The company has initiated several recycling programs to contribute to a cleaner, greener industry. "We donate a large amount of our excess palettes to local high schools. All our plastics from tire shipments and shrink wrap are recycled. We compact that, band it all together, and send it to a facility. We do the same for our cardboard and paper products. We recycle all our steel, and aluminium too."
Growth trajectory
Complementing its dedication to the environment, Southland Trailers is also passionate about refining its company culture, and ensuring that each member feels as though they are valued within the business. "We strive to create a company where our team knows they are contributing to meaningful work. Each trailer that goes out the door is potentially a trailer for a new family starting their life venture, or for a new business just lifting off the ground. We have to be certain we are investing the highest level of craftsmanship into every single one to make sure the end customer is 100 percent satisfied. Empowering people to do their work better is our purpose. We want our team to feel confident to make the right decisions to get the job done well," shares Scott.
Scott brings the conversation to a close on the topic of innovation. The elements that contribute to Southland Trailers' quality products boils down to customer insights and industry needs. "We listen to what the market's doing. We are in constant conversation with dealers, and we take the information they share with us very seriously. We have a world-class engineering team that works with the latest equipment, and we want to continue to invest in that department for the best possible operation."
Looking towards the future, Scott is excited about the potential of his family's company, and expects a 20 percent annual increase for the next five years. "I see us going in a positive direction. There's nothing concerning us about the market right now, fortunately. Trailers are one of the ways that goods move throughout the world, and Southland Trailers is on a strong growth trajectory to support this industry. With our initiatives and company culture, I don't think anything will stand in the way to achieving that success," he concludes.
www.southlandtrailers.com