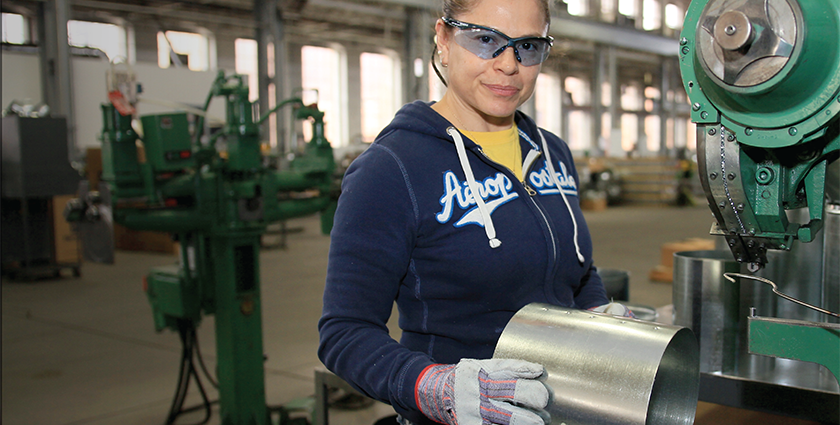 Family-owned to 100 percent employee-owned: Hercules Industries keenly proves that strength does indeed come in numbers
As Hercules Industries (Hercules) celebrates 60 years in business, we took the opportunity to catch up with its Vice President of Manufacturing Operations, Dan Grady, to reflect on a history of sustained success that, as he is proud to point out, is a result of engaging with the company's greatest asset: its people. Established in 1962 by William Newland, Hercules manufactures and distributes a range of Heating, Ventilation, and Air Conditioning (HVAC) equipment and ancillary stock (from duct and spiral pipe systems to steel sheering and fume exhausts). In 2012, moreover, the company introduced a full product line of sealants and adhesives to offer customers a vertically integrated solution to any HVAC-related problems.
"We are in the business of moving air," says Dan. "We serve both residential and commercial contractors in the heating and air conditioning sectors two-fold; not only are we a manufacturer, but we also distribute an increasing range of products as well. From a wholesale distribution standpoint, we have become a one-stop source for HVAC contractors, supporting national brand names while also stocking a tremendous number of items between the geographies that we cover.
"The manufacturing side of the business is a strong driving force for us because we are able to leverage our relationships with both our customers, acting as a single-source supplier through sales of our manufactured products, and our raw materials network," he goes on. "We work with domestic steel mills across the US, and this offers numerous advantages. First, by buying from the mills direct, we can procure raw materials at the best possible price and pass that saving onto our customers. Second, part of that network are local and regional scrapyards, who take our metal waste and recycle it by selling it back to the mills we originally procured it from!"
Employee family
Since its founding six decades ago, Hercules has – like its namesake – shown impressive strength and resilience, growing year-on-year to become one of the largest companies of its type in the US. Today, it operates four manufacturing facilities and 17 sales and distribution centers across Colorado, Utah, Arizona, Texas, New Mexico, and Wyoming. Though it has certainly come a long way, the history that has brought the firm to where it is has not been forgotten.
"The company comes from very humble beginnings, starting as a supplier in solely the heating and air conditioning world with just one small building in Denver, Colorado," reflects Dan. "These origins serve as an important reminder of how far we have come. The Newland family, all the way back to our founder, William Newland, has cultivated a grand vision for the company, which has been passed down and instilled in every employee. This reached its zenith in 2019, when the family transitioned Hercules into a 100 percent employee-owned company, firmly casting that vision in stone. It was evident that, through this move, the Newlands wanted to keep the family legacy alive, but also start to evolve it into one that incorporated the entire Hercules team.
"The single greatest asset within our organization is our people," he continues. "Being able to partner with those who you go to work with every day, and seeing them as fellow owners of the business, is something truly remarkable. Being frank, our previous owners could have sold up to a competitor; from an economic standpoint, it would have probably made more sense. But they chose not to. Therefore, that legacy, which has been built over the course of 60 years, and the Hercules story, now lives on through our new 600-strong employee family."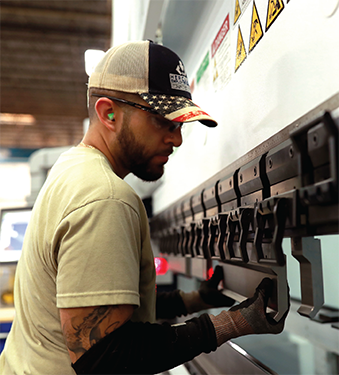 As Dan goes on to explain, the Employee Stock Ownership Plan (ESOP) that was established in 2019 was an essential factor in how the company dealt with the Covid-19 pandemic. "All of a sudden, with the arrival of the pandemic, the concept of business ownership and making quick decisions internally became very real – in fact, being able to manage our way through the ups and down of Covid-19 through the ESOP model was a turning point in how we could respond to adversity," he reveals. "It was so impactful. We could now manage our way through the various waves and make decisions
without external influence. With the running of the organization in the hands of its employees (whether that employee works in a warehouse or is an executive), we firmly established ourselves as a reliable source for our contracting network. In turn, this enabled us to grow our revenue despite the global situation."
Increasing automation
Currently, the ESOP model is offering benefits that concern employee engagement and security. Hercules is in the process of reinvesting considerable funds in its various manufacturing locations, upgrading machines, but also introducing automation as a means of improving efficiencies and output. Yet, as Dan divulges, that move has not been met with universal ebullience. "There was, in fact, some discomfort among our employees in the production team when we revealed our plans to increasingly automate manufacturing processes, as many thought it might lead to future jobs losses," he details. "In reality, that could not be further from the truth. We need people to operate these machines, to become subject experts on automation, and that means a secure workforce going forward."
Under the ESOP concept, moreover, the very fabric of these decisions is woven together by the employees themselves. Those on the shopfloor are engaged in and can influence the decisions that will not only affect work in their own personal remits, but their livelihoods as well. Before the buyout in 2019, this was simply not possible. Influence, as the model that Hercules has embraced suggests, is bliss.
www.herculesindustries.com