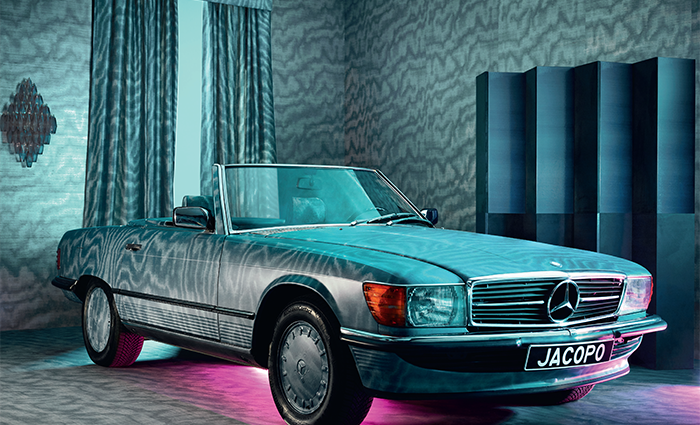 Family ownership is woven deeply into Romo's moral fiber, bringing the textile-giant continued success
I think the reason we have survived five generations as a family business is because we have retained the original ethos instilled by our founding relatives. Despite having grown to employ over 400 people across the UK, US and Europe, we believe that it's crucial that we remain friendly, approachable and down to earth, and make recognizing the value of our employees a top priority," begins Felicity Mould, Director of People, Culture and Communications at Romo Ltd (Romo).
"As family members, we're very much present. We are all working in the business and involved in its day-to-day operations, as well as making the big decisions. We have a good personal relationship with our talented staff, through the daily contact we have with each department, and the resultant longevity, loyalty and dedication they show us in return is incredible. Many of them and their careers have grown alongside Romo. The majority of our employees have been with us for over 15 years, and around ten percent for over 25. Textiles is a unique and complex industry, but we are a business full of experts, with a huge deal of experience, which has ultimately brought us our continued success for so many years."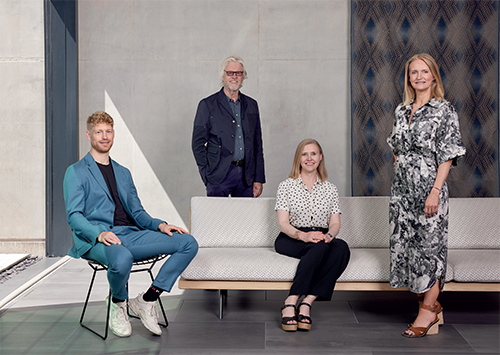 Design-led solutions
Romo was established in 1902 by Felicity's great, great grandfather Robert Mould. He gave his name to the initial enterprise, R Mould Ltd, until it was rebranded to Romo in the 1980s. The business specializes in the design, wholesale and distribution of luxury textiles, wall coverings and interior accessories: a natural progression from Robert's days of wholesaling components for the local upholstery industry in Nottinghamshire, such as springs, horsehair and fabric. As the demand for fabric grew, so did Romo's focus on supplying it, until a significant turning point in the 1980s.
In unison with the change in name, Romo opened its first design studio and redefined itself as the design-led company it is today.
During this era, the business also ventured into the overseas export of its products; initially just in Europe, but the reach soon extended to the US (its largest single market) and now includes 70 countries around the world, accounting for over 70 percent of its turnover. The company now boasts six established fabric and wall covering brands, designed in house across its six design studios, and offers a range of interior products from upholstery and drapery fabrics to wall coverings, trimmings, cushions, throws and rugs, with the majority of manufacturing taking place in Europe.
Company culture
"On the product side, the key differentiator from our competitors lies with our high-level of quality. Through the distinct British design, honed by our rich heritage, we offer a real diversity of styles covering a variety of looks and price points. This enables us to cater to an incredibly broad customer base around the world. We are well known for our comprehensive color palettes, distinctive designs, and our collective keen eye for quality, detail and craftmanship.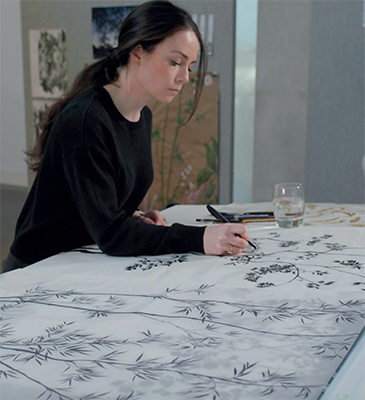 "From a business perspective," she compares, "I would say it's our long-established reputation of efficiency and quality of service that sets us apart. We are known for our good stock levels and the speed at which we process our orders – generally we dispatch orders placed before 2pm, the same day. We take great pride in the long-standing relationships we have with our suppliers, manufacturing partners, agents, distributors and customers – many of which span intergenerationally, maintaining the connections made by our father's generation. We really see ourselves as a family, whether you're designing the fabric, cutting it or cleaning the studio – everyone plays a key part in Romo's success."
2020 saw the completion of the company's new headquarters, a long-term dream of Felicity's father, CEO Jonathan Mould. The structure employed a collective of local Nottinghamshire architects, who worked closely with the family and leadership team to bring Romo's dream to life. The building has succeeded in finally bringing the four previous sites, which each sector had outgrown, together under one roof, and reflects the business vision and ambition, which stands out in the local ex-mining region. "We have been heavily involved in the process right from the beginning, through to the end, in every small decision made," Felicity explains.
In continuation of Romo's overall themes of teamwork, and the implications of its family-owned status, she details the business' governance initiatives further: "As Director of People, Culture and Communications, on behalf of the family I have taken on the responsibility to protect and develop our culture as we continue to grow. By being personally involved and ensuring we remain as approachable as possible, we facilitate our focus on developing staff as individuals, by means of a range of training programs and initiatives that provide the utmost in employee fulfilment. We have organized funfairs, site tours, charity work and community support, which all help further motivate our workforce by giving them a deeper sense of pride in working for Romo. In honor of our 120-year anniversary, we hosted an event at the new HQ. It was wonderful to see all the old faces, and new, coming together to celebrate our triumphs as we look excitedly towards the future."
www.romo.com