A new era for automation
Having merged its robotics, controls and machine tools divisions into one building in 2015, FANUC UK has enjoyed 20 per cent growth on the previous financial year
Part of the global FANUC organisation, FANUC UK has developed a strong reputation for providing ground breaking industrial automation and robotic solutions to a diverse range of customers. Operating from its Coventry based facility, which is used as a single customer support portal for its three core businesses, the company pushes the boundaries of innovation in its supply of high quality products. From CNC controllers, lasers, robots, machining centres, wire EDM, injection moulding machines to fully integrated factory automation systems, FANUC UK has versatile technologies to suit every manufacturing process.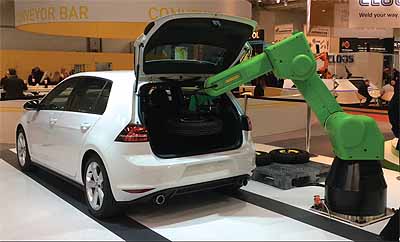 Keen to enhance synergy, FANUC UK integrated three of its divisions into one at FANUC UK in 2015, which resulted in the company announcing a sales increase of 20 per cent on the previous year. With total control and flexibility over its products, systems and automation projects, the company then turned its attentions to training engineers across the board in all areas of the business to further bolster growth when it comes to services/spares and machine sales. These developments have clearly proven fruitful for FANUC UK, with the company undertaking its first major automation cell incorporating both robotics and machine tools. This installation consisting of nine robots and nine machine tools was ordered as a single source solution for an automotive supplier, this landmark project played an integral role in the company's successful 2015.
"We had a strong second half of 2015, with steady growth in all areas of the business," says Tom Bouchier, Managing Director at FANUC UK. "The main growth has been in injection moulding on the special purpose machines side of our operations; we have gone from ten units a year to 100 units this year on the RoboShot machine range, which is a significant increase. The robots have also witnessed strong growth, with an estimated 30 per cent of the market share coming from robots in 2015. One reason for this growth is the fact manufacturing is returning to the UK, which is fantastic; there is a real feeling of buoyancy in the industry."
Following this strong performance in all areas of the business, FANUC UK is now preparing to move to larger premises in line with the group's investment programme for continued expansion across the globe, as Tom notes: "We're currently at the stage of signing a contract and hope to be in the building by February 2017. The new location is at the Technology Park in Ansty, on the outskirts of Coventry and will be four times the size of our current premises."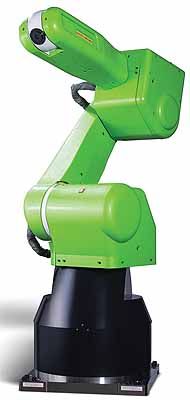 Alongside these developments, the company has also had a change in management. Previous Managing Director Chris Sumner is now focusing his attentions on the group's goal of delivering the best response times in the industry, and he will be facilitating this new strategy across 17 offices in Europe. "It is FANUC's philosophy that service comes first, which is why we are working on informing people of our capabilities as a systems provider that can provide full turnkey automation packages to a broad range of industries; robot users know of our strengths but we need to highlight our capabilities and products to other sectors," explains Tom.
Indeed, with more than 100 models, FANUC offers the widest range of industrial robots in the world and covers a broad spectrum of applications and industries. Easy to operate, these robots provide customers with complete flexibility thanks to a number of application-specific options, simple integration, payloads up to 2.3 tonnes and maximum reaches up to 4.7 metres. The most recent robot to join the company's extensive collection is the world's first heavy lifting collaboration robot, the CR-35iA, which has a 35 kilogramme payload and is able to work side-by-side with human employees thanks to the use of intelligent sensors that automatically stop the robot should it touch a human operator.
Eradicating the need for external safety devices, this incredible technology opens up a new era for manufacturing, where humans and robots will be able to work even more closely on tasks, which will thus enhance productivity and efficiencies across the plant floor. As opposed to the company's standard yellow colour for its robots, the ISO 10218-1 certified CR-35iA is covered by a soft green cover to reduce any impact to the human body, while also distinguishing the safe collaborative robot from a standard robot. By combining the repeatability of a robot with the dexterity of a human, customers will benefit from increased productivity, improved health and safety in their workforce and a more competitive business.
With more innovative products due to be launched in April 2016, FANUC UK is certain to continue bringing its customers into a new age by redefining factory automation capabilities through advanced artificial intelligence. This innovation, alongside its focus on marketing itself as one company with a comprehensive range of products and services, will also aid the firm in reaching its goal of doubling growth over the next four years, as Tom concludes: "Put together with the new management team, we will strive to meet this business plan to double growth once again by highlighting our strengths to customers. Four years ago we were at £25 million turnover and we're just under £50 million in 2015; it is our focus to continue this trend moving forward."
FANUC UK
Products: Industrial automation and robotic solutions