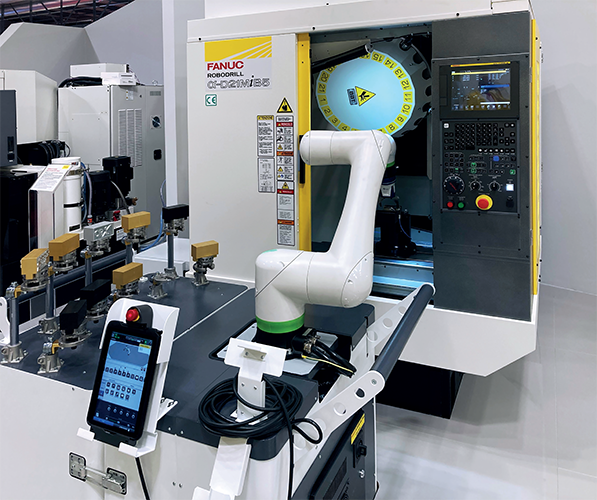 The art of automation
Leading automation solutions provider FANUC UK & Ireland discusses the imminent launch of its new Ireland office, and recent work with waste management start-up, Recycleye
The past five years have been some of the most challenging to date," admits Tom Bouchier, Managing Director of FANUC UK & Ireland (FANUC), when asked about developments since the company's last feature in Manufacturing Today, back in 2016. The factory automation company is not alone in feeling the effects of the Covid-19 pandemic, which posed logistical difficulties to businesses throughout the manufacturing industry and supply chain. Nevertheless, for Tom, this period has not been without its positives, including the acceleration of what he perceives as a new era of digital transformation.
"Throughout the pandemic, we've seen how those businesses that had already embraced automation were shielded to a certain extent from some of the immediate operational challenges brought about by social distancing and mandatory isolation," Tom reflects. "Indeed, one of the key takeaways from our 'Future of Automation' Open House event, held in November 2021, was how the narrative has shifted to one of positivity, with a firm focus on the benefits of automation rather than barriers to implementation. That said, when you look at the number of industrial robots installed in the UK per 10,000 workers compared to some of our international peers, there is still a lot of ground to make up."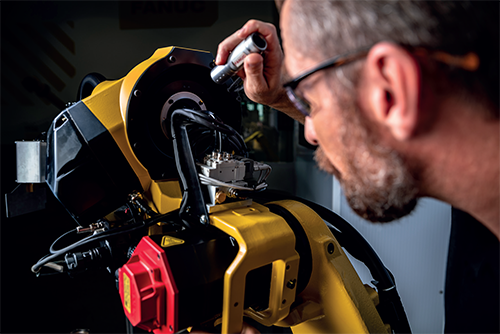 In expressing this need to advance towards a more automated future, Tom is demonstrating the desire within FANUC to continue the good work the company had already begun prior to Covid-19. Back in 2017, FANUC opened its UK headquarters – a brand new, 107,000-square-foot facility – in what was among its largest European investments to date. "Five years on, and the project has been a resounding success," Tom insists. "Not only has it provided us with a state-of-the-art training, demonstration, and exhibition space, but it has also significantly improved our ability to offer systems integration and factory acceptance testing for a host of customers in the UK and beyond."
New product development
Building on that success, FANUC is now in the process of finalizing a location for its FANUC Ireland office. "It is important to us that we don't just have a presence through staff on the ground, but that we also have a dedicated space where our customers and partners can interact with each other," Tom says. "Ultimately, having somewhere for people to experience our products in person has proved very successful in the UK, and we are keen to emulate that in Ireland. It will also enable us to host dedicated networking and training events. In time, we hope it will become a destination in its own right for stakeholders throughout the Irish automation industry."
It's not only the company's footprint that is growing. FANUC has also been hard at work developing a series of innovations for its product catalogue. "Innovation has always been a fundamental value for FANUC, and our new product development has continued apace in recent years," Tom notes. "A good example is the field of collaborative robots (cobots). Earlier this year, we launched three new models to our CRX range of intuitive cobots. This takes our portfolio up to 11 models, with payload capabilities of up to 35kg. This is the most extensive line-up of easy-to-use cobots available on the market today.
"One of the most exciting projects we've been involved with in recent years is with Recycleye, a start-up using AI to revolutionize the waste management industry," he suggests. "The limited number of scalable recognition technologies has pushed the industry towards a reliance on manual waste pickers to identify and extract high value materials. However, in recent years, the economic efficiency of manual sorting has been challenged due to increased stringency in international quality standards on the purity of imported recycled waste. As such, demand is rising for an affordable automated sorting solution to ensure purity standards are met."
That, ultimately, is where Recycleye comes in. "Recycleye performs the physical tasks of identifying, picking, and placing material, at a rate of 55 successful picks per minute," Tom explains. "The novel solution automates current manual operations and enables facilities to double their total throughput. FANUC's team of expert automation engineers designed Recycleye to weigh 75 percent less than any existing robotic waste picker currently on the market. The plug-and-play installation eliminates traditionally expensive retrofit costs."
Engaging and educating

In its ability to deliver these solutions, FANUC necessarily relies on the hard work and dedication of its people. "Automation has not been without its detractors," Tom concedes. "However, while the level of innovation evident in today's manufacturing industry is far greater than I thought possible when I completed my apprenticeship, one thing has remained true, in that it's fundamentally a people business.
"We rely not only on the skill of our engineers who can design, build, and install systems that solve real-world problems, but also on the sales and support teams, as well as our integration partners, to help our customers visualize success and alleviate any concerns they may have," he confirms. "We're very lucky that we have a network of longstanding connections at FANUC, both in terms of colleagues who have given us many valuable years of service, and our systems integrators, a number of whom we've worked with for more than 20 years."
That longevity doesn't happen by accident. It's repayment – for FANUC's faith and investment in its employee base. "Training and education are fundamental to the success of any business, not least one which works at the frontier of industrial innovation," Tom comments. "While there has been a well-documented skills shortage within the industry, we believe that – collectively – there is light at the end of the tunnel. We have a burgeoning apprenticeship and graduate engineer program, and we work hand-in-glove with organizations such as the Manufacturing Technology Centre and Cranfield University.
"However, the identification and resourcing of talent at the start of their careers is just one piece of the puzzle," he continues. "Arguably, the bigger challenge is engaging and educating established engineers and providing them with a platform to upskill themselves and their colleagues today, to deliver change at every level of an organization. On this note, we have had great success with our Training Academy in Coventry, with nearly every course booked out for the foreseeable future."
Likewise, the protection and preservation of its colleagues was the primary focus of FANUC's response to the Covid-19 pandemic. "We closed our Coventry site to any non-essential personnel, and then implemented stringent infection control measures," Tom explains. "These included split shifts, one-way systems, compartmentalized working areas, and regular temperature checks. Many of our customers are involved in critical infrastructure and healthcare operations, while others responded to the Government's call to action to manufacture PPE, hand sanitizer, and ventilators. As such, we maintained an active service support team to ensure those applications could remain fully operational."
The future looks promising for FANUC, with the launch of the company's Irish operations scheduled for later in 2022, ahead of its third annual Open House event, due to be held in Coventry this November. "The past two years have certainly accelerated the appetite for digital transformation among the UK and Irish manufacturing industries, and I hope to see that interest translate into installations over the next five years," Tom concludes. "While the annual IFR report has not made for particularly pleasant reading over the past few years, the most recent findings did reveal some green shoots of positivity, particularly in key growth markets such as food processing and packaging. Ultimately, it's an incredibly exciting time to be involved in the optimism among customers, partners, and peers alike."
FANUC UK & Ireland
www.fanuc.eu
Services: Factory automation solutions