The future of manufacturing
Part of the global FANUC organisation, FANUC UK provides groundbreaking industrial automation and robotic solutions
The FANUC UK facility provides a single customer support portal for its three core businesses and from this location it continually pushes back the boundaries of innovation in its supply of CNC controllers, lasers, robots, machining centres, EDM and injection moulding machines and fully integrated factory automation systems.
In order to ensure it is able to provide the best possible service and accommodate its future growth strategy, the business will move its UK headquarters to a new ultra-modern facility in 2016. Four times the size of the current premises, the new site will have the ability to expand the FANUC UK workforce by 25 per cent of its original capacity.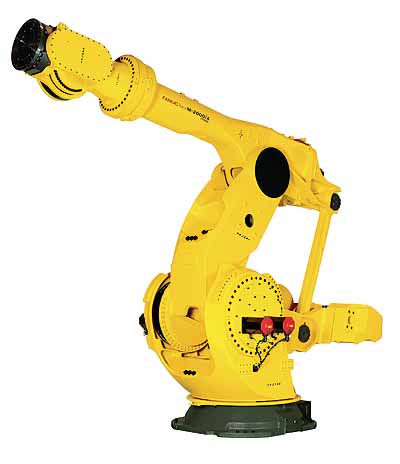 As Chris Sumner, managing director of FANUC UK noted, this is a significant milestone for the company as it continues to grow and invest in the engineers of tomorrow. "The new facility will enable us to expand our workforce, provide an excellent working environment with access to the state-of-the-art facilities, and improve services to our customers," he said.
Indeed, this dedication to the creation of a new generation of engineers is a cause very close to FANUC UK's heart and in July 2015 the company is showcasing its Training Academy at the Manufacturing and Engineering North East 2015 exhibition (stand B33.) The FANUC Academy provides its customers with the ability to optimise the effectiveness of automation and robotics within their business, by offering the ability to train customer employees at any level, in real-life production environments, teaching the importance of multiple machines and fully automated solutions. Training courses are most commonly held at dedicated FANUC training academies across the globe, or on-site at the customers' request.
Alongside its Academy stand, as one of the headline sponsors of the event, FANUC UK is also using North East Manufacturing and Engineering as a platform from which to showcase the world's largest range of robotics and automation products. On FANUC's B1 stand, a range of products will be on show, including live demonstrations of the D21LiA5 ROBODRILL and the new ROBOCUT C400iA machine. Robots are also being demonstrated – including the LRMate 200iD – one of FANUC lightest loading and unloading robots in its class, and the M1-iA, a lightweight and compact robot designed for small part handling.
The event promises to be an ideal way for visitors to gain an understanding of what FANUC has to offer in the way of products and services, as well as a glimpse into its total dedication to innovation and continual product release.
A perfect example of this ethos is the development and launch of the world's first heavy lifting collaborative robot (the CR-35iA). Previously the idea of a 'collaborative robot' may have been considered science fiction. However, the FANUC CR-35iA is able to work hand-in-hand with human employees, thanks to the use of intelligent sensors which automatically stop the robot if it touches a human operator.
This removes the need for external safety devices such as metal fences, a previous requirement for all industrial robots. As Chris highlighted: "Collaborative robot technology opens up a new era for manufacturing in which humans and robots will work even more closely on tasks; increasing productivity and efficiencies across the plant floor."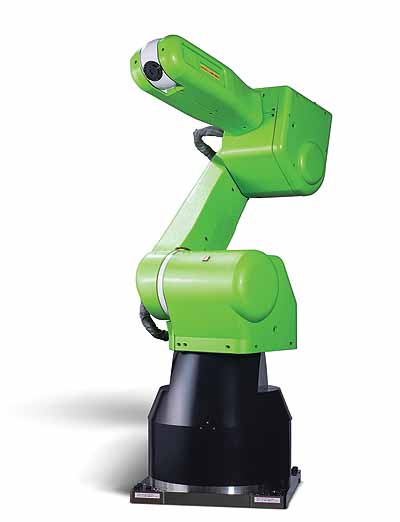 The use of intelligent sensors in the CR-35iA is critical to the safety of its human companions working alongside – in order to develop its technology even further, in June 2015 FANUC announced its partnership with Preferred Networks Inc, a Tokyo-based machine-learning venture. The partnership will involve FANUC integrating machine-learning software into its robots to increase their intelligence and give them the ability to learn by themselves without programming.
The artificial intelligence will not only optimise how the work is done but it will make it possible for machines to configure themselves and diagnose efficiencies. As Chris explained: "As industry 4.0 evolves and we enter a next generation of manufacturing, we believe it is essential to continue to drive innovation and improve our robotics and automation with advanced intelligence."
The news of this partnership came on the back of another announcement – FANUC has developed the strongest robot in the world capable of lifting 1.7 tonnes. The M-2000iA/1700L automates areas of heavy material handling, lowering the risk of damage to production material, reducing running costs, and improving overall cycle times and workflow. While not appearing at Manufacturing and Engineering North East event, it will be showcased in October 2015 at the EMO fair in Milan.
As Chris explained, the M-2000iA/1700L was launched following research into customers' challenges: "We identified a need to increase the efficiency of the heavy materials handling process for manufacturers, specifically within the automotive industry. As the world's strongest robot the FANUC M-2000iA/1700L brings us into a new age, redefining factory automation capabilities," he concluded
FANUC UK
Products: Factory automation and industrial robots
Sites: Three
Employees: 100+