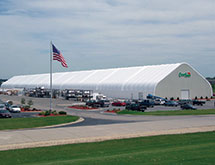 For more than 300,000 customers, FarmTek does it all. "There are 20,000 to 30,000 different items we carry," explains Matt Niaura, senior vice president. "We carry everything from lighting, electrical, ventilation, hardware and floor mats to miscellaneous farming products."
Operating under parent Engineering Services & Products Co. (ESAPCO) of South Windsor, Conn., FarmTek was founded in 1979 as a catalog merchandiser. Today, about 60 percent of its offerings are manufactured in-house at its enormous 40-acre, three-building facility in Dyersville, Iowa and 40 percent are distributed products through its supply chain, VP of Operations Dave Buchheit says.
FarmTek provides "the highest-quality products at the most competitive prices with exceptional customer service directly to the agricultural, horticultural, building and retail trade communities," the company says.
FarmTek offers the best customer service and most economical prices on products for the agricultural industry. This includes fabric building and storage, greenhouse equipment, livestock supplies and greenhouses. The company prides itself on its speedy deliveries, quick product flow and high quality, Buchheit says.
The company mails 23 million catalogs per year. Orders are sent from the call center directly to the manufacturing facility. Although it operates standard production lines, many orders are custom-built, Buchheit says. The company's production process was recently enhanced in conjunction with the Center for Industrial Research and Service at Iowa State University, which helped FarmTek implement a theory of constraints (TOC) paradigm to eliminate wasted efforts. It mapped its work flows to ensure all work was being conducted to further improve production.
That has increased overall efficiency, Buchheit says. It is also utilizing lean manufacturing processes and automation to combat labor shortages.
Everyone Wants One
FarmTek has seen a surge of sales for fabric buildings and storage facilities recently. ClearSpan Fabric Structures, another division of ESAPCO, provides design/build and engineered tension fabric buildings that are covered with semi-translucent fabric and can be permanent or temporary.
They have many applications in farming, such as livestock housing, general equipment and hay storage. The structures are also used for horse riding arenas or warehouse and manufacturing storage sites.
They are more affordable and quicker to construct than traditional steel or wood buildings, Niaura says. Sales are increasing by word of mouth. "When we install one in an industrial area, everyone around sees it and soon we get more orders there, because the people down the street saw it and now they want one too," he says.
Designed for high-wind and heavy-snow environments, the structures are commonly used for municipal salt storage and even at oil facilities on the North Slope of Alaska. They are also used for athletic purposes, such as tennis or football training. In fact, they can be used "pretty much anywhere you need a building," Niaura says.
Another hot item these days at FarmTek are greenhouses and hydroponic systems. Sales are partially fueled by the legalization of marijuana in Colorado and Washington and further sustained by the local, organic food movement, which is increasing the demand for fresh fruit and vegetables.
Case Study
When Gulfstream Park Racing & Casino in Hallandale Beach, Fla. ordered two of ClearSpan's 50,000-square-foot Hercules Truss Arch Buildings for horse stalls, it required each to be completed in 50 days.
FarmTek hit the ground running with synchronized design, engineering, ordering and construction plans. Working overtime, the team achieved the 50-day requirement on both buildings. Buchheit credits FarmTek's finely honed scheduling. "It was very well coordinated with a great team from the floor level to the top guys," he says. "They were able to pull it off and there was a great sense of pride."
ESAPCO, the parent company of FarmTek, ClearSpan Fabric Structures and Growers Supply, is the leading manufacturer and distributor of agriculture supplies, tension fabric buildings, greenhouses, controlled environment agriculture systems and more.
ESAPCO offers over 30,000 products designed to meet the needs of large scale commercial, mid-scale family and small hobby farmers and growers. ESAPCO's corporate headquarters are located in South Windsor, Conn. and supports a campus for manufacturing & distribution in Dyersville, Iowa.