In the mix
Following major investments in 2014, Farrel Ltd has slashed production times and enhanced machine reliability to ensure it can meet increased demand from the rubber processing and tyre making industry
At the forefront of innovations since its inception in 1900, Rochdale based Farrel Ltd began as David Bridge and Sons, a company that focused on the niche rubber production market. With the groundbreaking Banbury® mixer invented in 1916 by Fernley H Banbury, an engineer at the Birmingham Iron Foundry in Connecticut, USA, David Bridge and Sons set up license agreements with the foundry and began production and sales of the machine in 1918.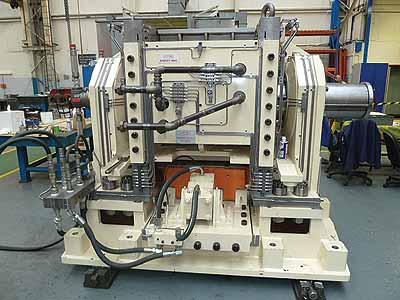 Over the years the company was acquired by Farrel Corporation and renamed Farrel Ltd. Discussing the company's further developments, board director of Farrel Ltd Ian Wilson begins: "In 2008 we were sold to our German competitor and the formation of the HF Mixing Group was created in 2010 together with two of our former competitors, Harburg Freudenberger and Pomini. In line with these developments, respective business units were formed to market our batch mixer technology, which includes; tangential BU, Rochdale England; Intermeshing and Systems BU, Freudenberg Germany; and the Convex BU, Rescaldina Italy. Furthermore another separate business unit Farrel Pomini, Ansonia USA was established in 2011 to market the continuous mixing equipment of the former Farrel Corporation and Pomini companies, which is focused on thermoplastic compounding applications."
Elaborating on the benefits of this acquisition, comIan continues: "Farrel Ltd is now a global player that sells to all of the top 100 tyre manufacturers across the world, with the majority of business in the UK related to the automotive business. As part of the HF Mixing Group, we have a number of manufacturing facilities, one in the UK, two in the US and one in Germany. We also have a newer lower cost facility in Slovakia and are setting up service facilities in Asia, India and China. Being in close proximity to our customers means we can deliver a great service and remain competitive as we can focus on volume, production and key competencies at different manufacturing sites."
As part of the HF Mixing Group, Farrel Ltd focuses on the production of the Banbury Mixer, which will celebrate its centennial anniversary in 2016. Highly innovative and beneficial to the tyre industry, the Banbury® mixer has become the accepted standard in tangential mixing technology since its invention and remains the first choice for a diverse range of applications in the tyre industry. Ideally suited to the specific requirements of multi-step applications, the Banbury® mixer boasts good intake and discharge behaviour, optimal cooling behaviour and superior dispersion and distribution quality; all of which guarantees profitable and efficient masterbatch, remilling and final mixing processes. Other features of the product includes increased volumes for tangential mixers, greater batch size with different ram profiles , optimised hydraulic cylinder direct (HCD) dust seal system and new single point lubrication system. "The Banbury® mixer is a very strong brand within the rubber and plastic market," confirms Ian. "It is essentially the Hoover to the vacuum cleaner."
Having increased the number of machines produced annually from 30 to 45, Farrel Ltd has set the foundations for further growth with major investments in its facilities following funding from the Regional Growth Fund in 2014. The money has enabled the 170 strong firm to spend £1.1 million on state-of-the-art machining centre technology, which has drastically reduced production times across a number of processes and thus reduced lead time from 16 to 18 weeks to less than nine. "The key investment was the 2D CNC Toyoda Machining Centre, however, we also installed another smaller machining centre, Correa, and acquired new welding equipment. Moreover, we now have a new robot system for our dust seal ring component parts and invested heavily in the assembly area with new overhead cranes."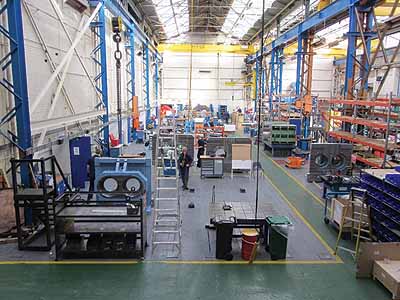 These investments will complement Farrel Ltd's high level of hard surfacing and rotor technology competence and further enable it to deliver new solutions to its global customer base. "We spend a high percentage of our time on research and development projects so we can introduce new mixer sizes into the market on a continuous basis," says Ian. "For example, we are currently working on a knowledge transfer partnership (KTP) project that I initiated two or three years ago, which is 50 per cent government funded by the KTP. We have a KTP engineer in place throughout the duration of the project, which is focused on producing a model to calculate the lubrication requirements of the dust seal assembly up of the mixer; this is one of the most maintenance intensive parts of the machine and is always a frequent topic of discussion with our customers. We entered this project to develop the theoretical model to determine more precisely what the lubrication requirements are, subject to the application. That way we can look at being more innovative in future designs and extend the working life of the dust seals while also lowering oil consumption."
In addition to developing new innovations, Farrel Ltd will also look to consolidate its product line and build high volume standard products that will reduce cost and boost competitiveness throughout 2015. "Our growth has been substantial since 2006 when our turnover was in the region of £20 million; it has since increased to £40 million in 2014. Moreover, our head count has increased from 130 to 179 in the past six years. Over the next three to five years our goal is to increase production to 60 machines annually; there is also huge potential for us to be involved in maintenance work on existing machines in operation, should customers choose not to invest in new mixers," concludes Ian.
Farrel Limited
Products: Designer, developer and producer of mixing and compounding machinery
Principle sites: UK, US, Italy & Singapore
Employees: 179