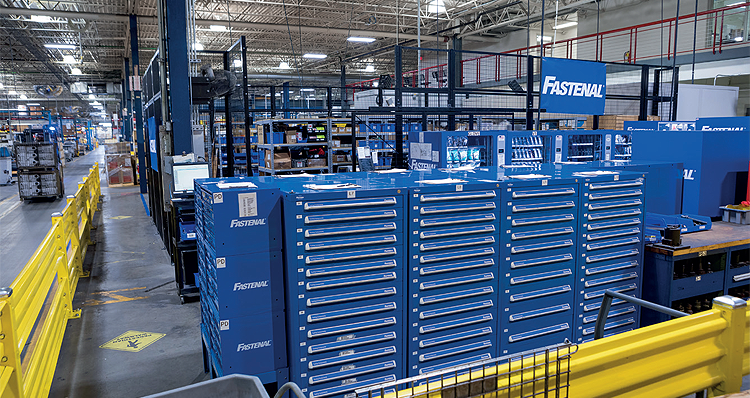 Understanding supply chain needs
The largest fastener distributor in North America, Fastenal also boasts a robust, global manufacturing operation, providing its clients with custom-made products
When its doors opened for the first time in 1967, Fastenal was the smallest of a then-estimated 10,000 fastener distributors in the United States. By the mid-1990s, however, it had risen to become the largest, almost exclusively through organic growth. Today, the business is many things to its many different customers, from an expert consultant, logistics company, and a technology provider; to – more generally – a distributor of a wide-ranging portfolio of industrial and construction products. What it also is, is a provider of advanced manufacturing services, responsible for producing custom products to meet its customers' unique needs, from high-volume fasteners to complex machined parts.
Cory Jansen is Fastenal's Executive Vice President of Operations and Manufacturing. Having spent nearly 30 years with the company – during which time he has risen through its various ranks – he talks to Manufacturing Today about what has been his role now for the past five years. "Today, my principal task within the business is to focus all of my energy on growing Fastenal's manufacturing capabilities, which could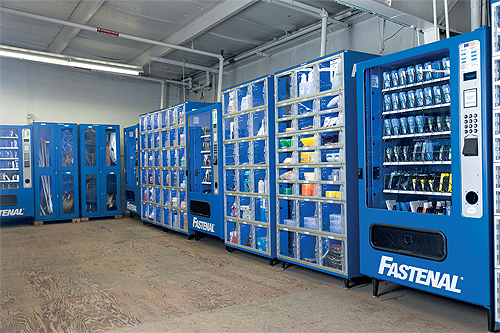 previously have been described as a hugely under-utilized asset," he begins. "Together with around 1500 of Fastenal's 22,000-strong workforce, our activities represent approximately ten percent of its total fastener sales, and it is our mission to grab more of the market by making more made-to-print solutions."
Cory's tenure within Fastenal gives him an expert perspective on some of the factors that have contributed to its success over the years. "Key to this organization and its growth – in my opinion – has been a combination of its human capital and its proximity to its customers," he reveals, referencing Fastenal's 3,200-plus in-market locations and its global distribution and supplier networks. "Our business model of locating products and services close to the end user – facilitated by our unmatched global footprint – really does set us apart from anyone else in our industry."
As Cory explains, Fastenal's rise to prominence is in large part thanks to the vision of its founder, Bob Kierlin, a mechanical engineer himself, who understood that to become the largest industrial fastener distributor in North America, the company needed to be able to control its own destiny when it came to manufacturing and product supply. "Thanks to this approach, we have reached the point where we now have no less than nine manufacturing locations, three of which bring a greater international presence to the business, being located in Malaysia, the Czech Republic, and the UK, respectively.
"Meanwhile, domestically, our various facilities help to showcase the diversity of our manufacturing efforts, which encompass three main methods. The first of these is precision manufacturing through the use of a range of equipment including CNC machines, the second is cold forming – which takes place at our locations in Rockford, Illinois, and Wallingford, Connecticut, under the brand name of Holo-Krome – and the third is hot upset forging, which operates under the Cardinal moniker at three facilities, the largest being found in Winona, Minnesota. Further to these sites, we also operate a facility in Houston, Texas, which focuses on stud bolting, and in Indianapolis, Indiana, where we carry out the modification of standard fasteners."
Global supply chain
The majority of the aforementioned facilities are greenfield sites, and each one benefits from Fastenal's company-wide belief in the importance of reinvesting back into the business. Among the ways this capital is spent is on new technology, and various new and upgraded pieces of equipment, which allow Fastenal to develop new products and services. Indeed, it is this reinvestment that has – and continues to – future-proof the organization.
In spite of its impressive manufacturing infrastructure, Cory reveals that, to this day, only a very small percentage of the businesses that he speaks to even realize that Fastenal possesses such capabilities. "The vast majority, probably 95 percent of said businesses, think that – at best – we are responsible for manufacturing the standardized, commercial fasteners that our distribution centers send out to our branches. So, you can imagine how proud I am when I am able to say that, in fact, we have a network of superior, global manufacturing locations that produce parts to meet customer specifications, which we distribute through a quality global supply chain!"
Someone else who possesses a thorough understanding of what makes Fastenal stand out amongst its peers is Director of Sales Heath Hazard. With 24 years in the business under his belt, since January 2020 Heath has also led its Customer Solutions Consultant Team, a group of sales professionals tasked with identifying and engaging manufacturing clients with the end goal of forging long-lasting strategic partnerships. "The foundations of said partnerships usually boil down to four main criteria – or pillars as we often refer to them – namely, commitment, communication, innovation, and continuous improvement," Heath states. "Working with our clients, we look to create a shared vision based on their individual aims and expectations, and devise solutions that help them to exceed these wherever possible."
Commitment to quality
Another of Heath's remits within the company is to help integrate tailor-made solutions into the manufacturing environment for the betterment of Fastenal's clients. As he tells us, this process begins by approaching each client with a completely open mind. "We come into these discussions with a desire to understand each customer's aims, as well as their challenges and pain points when it comes to their supply chain," he points out. "Through this – and by conceptualizing how technology and innovation can be utilized in a given scenario – we are able to build out the ideal solutions for the client's needs."
Among the suite of service models and technology solutions that Fastenal has created to bring efficiency, visibility, and control to a client's supply chain, are its vending, onsite, integrated supply, bin stock, e-business, and jobsite inventory solutions. Fastenal is able to leverage these solutions in order to assist clients in automating their supply chains, thus driving efficiencies while giving the client time to focus their efforts on their core competencies. "By making complete use of the data that our various solutions provide, a business is able to make that transition from being reactive to becoming proactive, and perhaps even predictive as it relates to identifying problems with things such as inventory before they happen," Heath points out.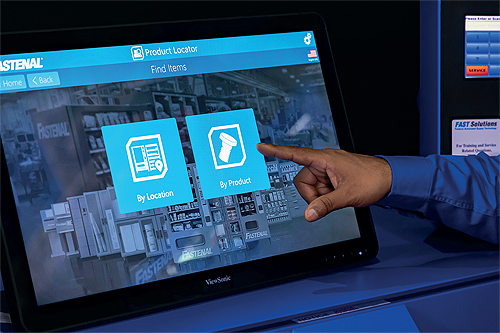 Looking back on the year that was 2020, both Cory and Heath immediately point to the fact that the extreme challenges posed by Covid-19 and the global pandemic meant that the organization had to be agile and able to pivot in order to conduct its business in new and different ways. "2020 was undoubtedly a devastating period of time for everybody; however, 2021 to date has felt almost like being shot out of a cannon. So, our focus has really been centered on trying to meet and/or exceed increased demands from our customers," Cory states. "Like many other companies out there, we have had to face difficulties resulting from the pandemic, such as a decrease in raw material availability – which has meant broadening our portfolio of vendors – but if you are in any way familiar with the history of Fastenal, you will know that we are a growth-orientated company, and we are proud to say that we are continuing to exceed our growth targets to this day."
Fastenal has achieved this feat without having to increase its headcount, which has naturally decreased in recent times due to attrition, not layoffs. "By investing in new technology and equipment on a consistent basis, we have succeeded in increasing our productivity," Cory enthuses. "This is a trend that we very much want to continue to follow, and the excellent relationships that Fastenal has formed over the years with equipment manufacturers means that we can be confident about adding extra capacity going forward in what is an ever-more competitive environment."
In terms of what the future holds for Heath and his team, it is his hope that in the near-term he can further expand the group into more and more territories. "What I think we as a team have brought to the table since our inception is a much higher level of focus and consistency as it relates to understanding the supply chain needs of Fastenal's customers," he adds. "Longer-term, one of my aims is to collaborate more internally with our technology and innovations teams here within the organization, with the goal of further exploring potential new, state-of-the-art solutions that we can bring to market and that can create added value."
Before Manufacturing Today brings our conversation to a close, Cory has one final statement to make. "I would be remiss not to highlight one of the biggest areas where I think Fastenal has gone above and beyond the typical distributor, and that is in its commitment to quality," he declares. "As is our nature, we obviously enjoy achieving strong profit margins, but we have never been the type to jeopardize our quality standards for a sale, and that also says a lot for the professionalism and dedication of our people."
Fastenal
www.fastenal.com
Products: Industrial supplies
Focus: Supply chain solutions