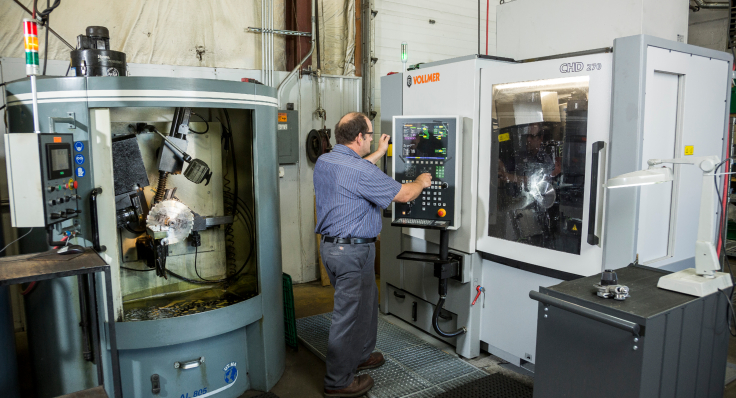 From its start in a 1,000-square-foot shop, Fastenal Co. has grown into a $4.4 billion company. "It's been a great success story, a lot of fun and we're just getting started," Director of Product Development Jeremiah Littmann declares.
Winona, Minn.-based Fastenal provides fasteners, metalworking products, tools and supplies for manufacturing, construction, staff protection, and facility and equipment maintenance. Bob Kierlin co-founded the company in 1967, but the idea for the business came to him in the early 1950s.
When he was an 11-year-old boy, working in his father's auto parts shop, Kierlin saw that automotive fasteners came in pre-packaged boxes, like cigarettes. This made him wonder if fasteners could be vended like cigarettes were at that time.
Years later, Kierlin partnered with four friends who pooled together their savings to start Fastenal. The original business plan was to realize Bob's boyhood vision by dispensing nuts, bolts and screws via custom vending machines, using a small rented space in Bob's hometown of Winona as a pilot location.
It was an innovative idea, but it didn't take long to discover that customers wanted quantities and types of fasteners that couldn't be vended. Before the machines were even built, the vending concept was tabled and Fastenal's branch-based service model was born.
Fastenal acquired a second location in Rochester, Minn., in 1971, and amassed enough bulk fastener inventory, much of it stored in rented garages around Winona, to open a handful of additional branches in the region. These early locations set the blueprint for what proved to be a rock-solid business model: open servicing locations as close to customers as possible, staff them with great people, and let them grow the business by exceeding customers' expectations for service – an approach summed up by the company's longstanding motto: "Growth Through Customer Service." Today, the company has nearly 2,400 branches in 24 countries, as well as approximately 600 on-site locations in its customers' facilities.
"We back that up with over $1 billion in inventory," Littmann says. "We've built a nice, sizable army to help our customers get what they need."
Fastenal serves its branches with more than 600 company-owned trucks, which together delivered 834 million pounds of products last year. "We do distribute a lot of different products, including everything from chemicals to hydraulics," he says.
The company also has more than 70,000 vending machines in its clients' locations, making it the largest distributor in that format.
"It's a very technical platform because of all the systems behind the scenes," he admits. "But we have over 200 specialists out in the field that help optimize and implement vending for our customers."
Solid Strategies
One of Fastenal's fastest-growing categories consists of its metalworking products. The company has successfully found ways to reduce its clients' costs in this sector with a three-tiered strategy that begins with working with its vendors.
"We partner with our suppliers like no other distributor to be able to bring a complete solution to our customers from top to bottom," says Curtis Burtenshaw, the company's director of Metalworking Sales for the Western U.S.
The company also secures the supply chain and implements opportunities that benefit the customer. These can range from vending machines to onsite facilities to binstock systems, or even include opening a local branch.
Fastenal also can take out the client's older program and bring in new bins for stocking and storage. "There are a variety of options we can customize by usage and really clean up a facility," he says, adding that Fastenal can help clients meet 5S needs so they can find parts quickly.
When that is complete, Fastenal enters the third step, which involves examining opportunities to make process improvements, boost efficiencies and eliminate waste. "Ideally, once the first two steps are completed and we have the current supply chain secured, then we want to work closely with our customers to understand every part that they manufacture on every machine tool in their facility," says James Self, the director of sales for Fastenal in the eastern United States, Canada and Mexico.
This can be a very daunting task, but the feedback from the customer brings Fastenal closer to solutions. "We will ask fact finding questions such as 'Are there any bottlenecks or other issues that you would like us to tackle,' so that we can help the customers achieve their goals," Self says. "We align with the customers in a way that eliminates wastes and increases productivity, and we utilize our industry tooling experts to maximize this activity."
The company also helps drive down the total cost of ownership for its clients by focusing on the three KPIs most associated with the metalworking category: hard cost savings, tool life improvement and improvement in throughput. "We want to improve all three for our customers," Self says.
Keeping Close
Fastenal's three-tiered strategy reflects its philosophy of staying close to its clients. "Our motto since the beginning has been 'Growth through customer service,'" Littmann says.
"Part of that strategy is also proximity," he continues. "We want to get as close to the customer as possible, in terms of geography and partnership. We believe we can [bring] a much more strategic value partnership.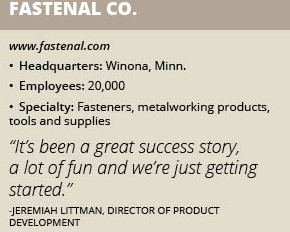 "We're able to deliver on things that your average distributor can't do," he says. For example, Fastenal's on-site locations, branches and vending machines can provide clients with same-day solutions.
Getting closer to the customer also helps Fastenal gain a greater understanding of their business. "Our system is constantly learning," Littmann says.
Essential Expertise
Fastenal backs up its service with industry experts. "We have 40 specialists throughout the country, covering our largest opportunities," Burtenshaw says. Collectively, the company's team has more than 600 years of industry experience.
Its metalworking application specialists carry an average tenure of 17 years. "Every single specialist has the ability to stand at the spindle, diagnose issues, make recommendations and help implement improvements," he says.
Fastenal's branches also are staffed with industry experts, which makes it "a local business with a national backbone," Littmann says. "[That] is appealing to some of the largest names in the industry."
The company keeps its employees up-to-date through constant training. "Our people go through at least 20 days of training every year on the newest machining technologies and practices," Burtenshaw says.
Its recent training initiatives include Tooling-U Module Level 3. Self explains that this consists of 25 courses online, that upon completion will allow its metalworking application specialists to be "CNC Certified" through SME. "You won't see this certification in our industry competitors because it was developed specifically for Fastenal's Metalworking Program through our partnership with Tooling-U and SME," he says. "Our strategic goal is to couple expertise with Fastenal's scale and proven supply chain management."
A Clear View
Fastenal has not let e-commerce pass it by. Thanks to its website, the company's metalworking clients have access to 175,000 SKUs that they can purchase, and that number is always expanding, Littmann says.
They can view their inventory and spend on the website via FAST 360°, which allows them to see the counts on their Fastenal bin stock or vending machines. "If you've got 1,000 of these devices across multiple plants, we can give you the ability to see that," he says.
"Whether it is cutting tools or another product category, we help drive cost savings, because everyone's a little more cautious when they have to punch [into the machines]," he says, noting that clients can track how many products are being used daily. "[They can ask], 'Do we really need three pairs of gloves a day?'"
Fueling Growth
Fastenal has seen shifts in the markets it serves in recent years. In late 2014, "We were heavily impacted by the oil and gas recession," Self recalls.
"We got hit really hard going into 2015," he continues, noting that the markets he oversees in the Gulf Coast, Texas and parts of New Mexico were heavily reliant on oil and gas. "That was something we had to run up against and adjust [to]."
Fastenal coped by concentrating on other markets, including automotive, aerospace, medical, shipbuilding and the general manufacturing sectors. Several of these "are very strong markets and will continue to trend very positively over the next five to 10 years," Burtenshaw reports.
"Aerospace is predicted in the next 20 years to grow over $6 trillion," he says, noting that this sector will see a boost as the production of aircraft continues.
The medical market also will continue to grow as an aging population needs more healthcare products, including stents and hip replacements. "Those are continuing to trend up as it continues to be a stronger market," he says.
Even the oil and gas industry is on an upswing. In the fourth quarter of 2016, Fastenal saw the industry's downturn start to wane. Although the sector is still not where it was before, "We're starting to see a little bit of a comeback that is really helping fuel our growth," Self reports.
The automotive sector, however, is looking rather tepid due to "NAFTA and the tariff agreement," Burtenshaw says. "The automotive sector will be among the hardest hit."
Fastenal also is coping with price increases. Recently, "Like other raw material, we have seen the price of carbide increase in the past year, and this can cause manufacturers to increase their costs of finished cutting tools," Self says.
Despite these challenges, Fastenal is looking forward to a strong future. "We are in a position to better service our customers, to have a meaningful impact on their business and be a true partner," Littmann says. "We know that's going to pay dividends and rewards down the line."
Fastenal, he notes, has often viewed itself as a growth-oriented company. "We've got such a small percentage of the market when it comes to industrial and construction supplies," he admits.
However, "We're excited about seeing this business double and triple in the future," he says. "The question is how long and how fast [it'll take to] get there. We're going to continue to service [the customer] to make a difference in their operation."
Sidebar — Company Commitment
Fastenal considers its commitment to training, decentralized decision-making and promoting from within to be important aspects of its culture. In fact, last year, "Fastenal employees completed nearly 655,261 online and instructor-led training courses," it says.
"Over 95 percent of our current branch managers were promoted from within, and nearly all of our senior company leaders began their careers in entry-level positions," Fastenal adds.
Sidebar — Eyes on Improvement
Fastenal provides training to its customers on cutting tool and abrasive applications. These range from small group demonstrations to full presentations in conference rooms with machinists, programmers and engineers in attendance.
"We sometimes involve our supplier partners for these events, but mostly we provide this for our customers with Fastenal MWASs alone," James Self says. "It is very rewarding for us to see 20-year machinists that just wanted to know why the insert nomenclature is detailed a certain way, or a new machinist understanding the importance of coolant concentration for his or her process.
"Everything that Fastenal provides is with the eye towards improving our customer's process and making them more competitive with the processes that they finance," he adds. "Training them around the product line is fundamental to this strategy, especially when we see new technology that could drive 30 seconds out of a one-minute current process, and the customer is making that product 24/seven, 365 days a year!
"We have a duty to teach our customers about these types of changes in the marketplace," he concludes.