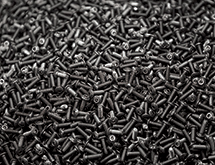 Some companies have a tendency to fall behind in their markets, but not Fastenal Co. Instead, Executive Vice President of Operations Cory Jansen says, the company constantly looks at how it can stay ahead of its competitors.
"We deal with a lot of competitiveness in the marketplace," he admits. "There's a lot of great manufacturing companies, [so we regularly look at] how we can make a quality part at a competitive price."
Based in Winona, Minn., Fastenal specializes in OEM, MRO and construction supplies, including fasteners, safety products, tools and equipment. Founder Bob Kierlin started the company in 1967 when he opened the first Fastenal location, adjacent to his father's auto parts store, with $30,000 that he pooled together with four friends.
By 1982, Kierlin had become too reliant on machine shops to modify standard fasteners into something special and the machine shops had a knack for missing promised delivery dates. "In order to improve customer service, his view was we had to have the capability to machine our own fasteners so we didn't have other machine shops controlling our destiny," Jansen says.
It was around this time that Fastenal spent $28,000 to $30,000 purchasing an engine lathe, vertical mill, horizontal grinder, cut off machine, and a deburring machine from a 3M owned shop that was closing.
Today, Fastenal has more than 2,700 stores in every U.S. state, as well as Canada, Mexico, Central and South America, Europe and Asia. Its operations also include a multi-site manufacturing division with an exhaustive capabilities list that includes hot-forged and cold-formed parts, regional distribution centers and FAST Solutions, the world's largest industrial vending program.
Customer Focused
With a presence in 22 countries, Fastenal serves a diverse customer base, including firms in the power generation, oil and gas, food and beverage, and equipment manufacturing markets. "Our large footprint and local presence means that we have no shortage of opportunities," Jansen reports.
Fastenal also has a loyal customer base, and repeat business comprises 63 percent of its work. That has been achieved by providing great service "at the local level," Jansen says.
The company also works closely with clients when it provides custom manufacturing, he adds. "Some know where we're buying the materials, they know the speed and fill rates…it can be a true partnership in every sense," Jansen says.
Areas of Opportunity
When Fastenal discovers it does not have the capacity to complete an action for its clients, "That's our area of opportunity," Jansen says. "We look at that and [say], 'Where are we going and can we fill this void?'"
In the past two years, Fastenal invested more than $7 million to bring secondary processes in-house, including equipment for heat treatment, coating, and fatigue and vibration testing. "Just having them in-house allows us to have quicker turnaround time and respond better to customer needs," he declares.
Fastenal also sharpens its employees' skills with training that keeps them up-to-date with industry changes, Jansen says. "We also offer tuition reimbursement programs," he adds. The employees are trained at local technical colleges in areas such as blueprint reading, precision measurement and machine programming.
Achieving Quality
Fastenal focuses strongly on quality, Jansen says. Not only is the company ISO 9001:2008 certified, but it has achieved the American Society of Mechanical Engineers' Nuclear Quality Assurance-1, and earned certification from the Qualified Suppliers List for Manufacturers and the American Petroleum Institute. "We [also] have six A2LA-accredited labs," he adds.
Fastenal has practiced lean manufacturing for the last 15 years with a "cellular mentality in everything we do," Jansen adds. "Lean's a journey that never ends."
The company's lean concentration helped when it acquired HOLO-KROME USA, a Wallingford, Conn.-based fastener manufacturer in December 2009. Thanks to Fastenal's lean expertise, "We've been able to double their sales with the same headcount," Jansen reports.
A significant portion of HOLO-KROME's production is standard fasteners sold in small box quantities. In order to compete with low cost countries, HOLO-KROME has very high quality standards.
"The rest of our manufacturing is migrating more to what HOLO-KROME is doing," Jansen adds. "We can compete with the overseas producers if we bring something extra to the playing field and a high level of quality is often that something extra."
Fastenal Pride
Jansen joined Fastenal in 1992. Like many of its employees, he started working at the company part-time in one of its distribution centers while attending college. Over the years, he managed the opening of its distribution centers in California and Ohio.
After serving as the regional vice president of sales for six years, he took his current roles in 2005. Jansen says he is proud of what Fastenal does for its engineering and production workers. "Growth creates opportunities to hire people so that they have the opportunity to provide for themselves and their families," he says.
Additionally, "The parts we produce have quality," he says. "[Our people] never give up their integrity to get a sale. I'm happy about [having] great people and great products, and that's what I hang my hat on."
Business Evolution
Although some businesses feel pressured to lower their inventories, "We are seeing [increases] in the purchase order quantities," Jansen says. "We are going to change up our mentality and stock more."
That not only ensures that Fastenal's store locations will be able to satisfy its customers, but it will free up machine time. By producing more at once and having its stores stock more, the company will cut down on rush amounts.
Fastenal Manufacturing's recent changes also include selling directly to the end-user, Jansen says. In the past, the company rejected this idea and opted to sell its products strictly through its stores.
Those direct sales represent only a small percentage of its business and will not lead to Fastenal phasing out its stores. "As a business, we'll [never] migrate away from that," Jansen asserts. "We want our stores to be involved in that transaction [and to provide a] value-added service locally."
Last year, Fastenal's manufacturing sales grew more than 10 percent and expects to grow 15 percent this year, Jansen says. "My goal is to take Fastenal Manufacturing … to $500 million in the next five to 10 years," he says.  Additionally, "The continued evolution of our business is going to allow us to capture more and more of our market."
Fastenal's offerings include inventory and product services, such as process mapping. "Our inventory management specialists will work with [our client's] personnel to map how product flows through [their] current system and identify areas where operational costs can be reduced or eliminated," it says. "We will uncover hidden sources of supply chain waste to provide total cost-savings solutions."
Fastenal also offers product sourcing through its FASTCO training company, which "can identify and audit factors capable of meeting your product requirements in terms of quality, price and delivery," it says.
Through FASTCO, Fastenal provides turnkey importing of virtually any per-print or reverse-engineered product by "leveraging our customs clearance team, international shipping contacts and extensive service networks in the U.S. and Asia," it says. "Our sourcing specialties include castings, stampings, forgings, injection moldings and casters, and our services include factory audits, first-article inspections, pre-shipment inspections, customs clearance and delivery of product to your location."