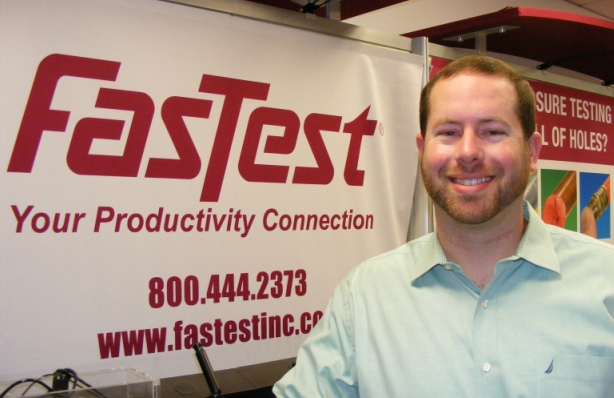 FasTest Inc. has more than 30 years of experience in designing quick test connection tools and high-flow processing valves. FasTest's connection tools are typically used to create the leak-tight seal required to perform a reliable leak test on the product being manufactured. Because the leak test is often the final portion of the manufacturing process and is responsible for validating product quality before it goes to the customers, FasTest's products must be reliable 100 percent of the time.
FasTest's high performance connection tools are specifically engineered to maximize the efficiency, productivity and safety of the customer's testing processes.  "What sets us apart is that we have more than 30 years' experience designing connectors and working through different applications," Product Development Manager Dustin Sirny adds. "More and more customers have begun to rely on us as solution providers, requiring us to adapt our products to meet their new applications, so agility throughout our innovation process is crucial.
Partnering with Customers
To help drive agility and scalability, FasTest produces a number of product components in-house. "As long as we have capacity in-house we can design it and turn the solution around quickly," Sirny says. "That is a big advantage for us in the product development process as well as with custom solutions. As we learn from our customers and better understand their pain points, we are able to create new designs and try different solutions in short order."
FasTest works closely with its customers to ensure it is creating new products that meet customers' specific demands. "We go out to the customers and show them samples to make sure we are on the right track, which helps speed up the process and lower our time to market," Sirny explains. "We have a team of product managers, as well as customer facing engineers, which allows us to gather crucial feedback on preliminary designs and make iterative changes as needed. It's a great way to drive a lean innovation process."
FasTest has also recently implemented several new machining technologies, including a new twin spindle wave machine and multiple 3-D printers to allow for quicker iterating throughout the new product development process. "Our goal is to quickly churn out a minimally viable product sample and get it into our customer's hands for feedback, said Sirny. "This process often happens multiple times in a matter of weeks throughout the innovation process and allows us to be nimble and quickly adjust to our customers' needs."
Driving Efficiency
Because many of FasTest's customers demand short lead times, FasTest offers a wide range of standard connectors with a two-day lead time.  "We pride ourselves on being solution providers to our customers," said Sirny. "We understand that without our connectors, our customer's manufacturing process comes to a halt, creating significant, costly waste." In recent
years, FasTest has specifically focused on how to limit downtime for its customers.
Through its own lean manufacturing practices, and close relationships with supply chain partners, FasTest has been able to achieve industry-best lead times, with the majority of its products available within two weeks, compared to an industry standard of 8 to 12 weeks. FasTest has also implemented an online store, which offers 200+ standard SKUs that are available within two business days.
Paving the Way to Industry 4.0
FasTest is first and foremost an innovation company. "We pride ourselves on investing in people and technology to continuously improve our product offering." The company has doubled the size of the product management and engineering teams over the past two years. 
Over the past 18 months, FasTest's largest area of focus has been incorporating "SMART" technologies into their connectors. Last year, FasTest introduced SMART Connection Verification TM technology to three product lines: the SMART CGA-580 connectors, the SMART FE Series connecters and the SMART FI Series connectors.
Connection Verification technology provides operators with visual verification that a successful connection has been made and it is safe to begin the filling or leak testing process. Each connector with Connection Verification is equipped with sensors and LED lights that change color depending on the connector's connection status. For example, red is fully disconnected, orange is partially connected and green is fully connected.
Connection Verification technology essentially removes the connection point as an area of concern for the leak test. When a manufacturer is able to verify a successful connection before starting a leak test, they are able to attribute any failed tests to the manufactured product being tested. This eliminates a significant amount of rework and scrap waste associated with false failures in the leak testing process.
"There has been a major shift towards Industry 4.0 practices in leak testing; manufacturers are beginning to gather data to drive improvements to the manufacturing process," Sirny says. "Leak testing is a critical process that verifies that the manufactured product meets the required quality standards, so being able to collect data on that process is incredibly valuable. Our Connection Verification technology drives lower warranty costs, eliminates waste in the testing process, and instantly alerts operators to test setup issues, allowing them to quickly make the necessary changes."
FasTest believes its SMART Technology is a game-changer for its customers. "We provide what no one else can," Sirny says. "We have been developing the SMART Technology for two-and-a-half years, and are just scratching the surface as far as the level of feedback and data we are able to provide our customers."
Moving forward, FasTest will continue to improve its SMART Technology offering by work intimately with customers to better understand the future of their manufacturing processes. "We are very excited about our Connection Verification™ technology and look forward to working with our customers to define more SMART product opportunities," Sirny says. "We are really focused on lean product development processes that get the right products to our customers more quickly. We remain fully committed to that approach and to providing our customers with the premium product they need to drive safety, quality and productivity in their manufacturing processes."