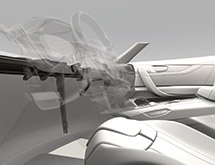 By definition, a leader is out in front, taking the first steps down a path and voluntarily accepting whatever risks may come. There can be no leadership without a willingness to do things no one else has attempted and to be the first to face whatever challenges come with those bold decisions. It should be no surprise, then, that Faurecia North America President Mark Stidham says the company owes its position as a leader in every market segment it serves to its innovation and willingness to push the boundaries of the automotive components market. Globally, the company is recognized as either No. 1 or No. 2 in all of its four key market segments, and Stidham says that is the company's goal for North America and elsewhere.
"That is a driver for Faurecia," he says. "We want to be No. 1 or 2. We think it's important to have that critical mass."
Globally, Faurecia is one of the largest suppliers of automotive seating, interior systems, exteriors and emissions control systems. Nearly 25 percent of the company's total sales – approximately $6.2 billion – are generated in the United States. The company's North American customer base includes major automotive OEMs such as Ford and Chrysler, and Stidham says Faurecia is seeing the commercial vehicle side of the business growing a lot.
In all of the market segments Faurecia North America and its global parent serve, Stidham says its success is being driven by its willingness and ability to create solutions for its customers. Whether these solutions are to help OEMs drive their own innovation or react to the ever-changing regulatory environment, Faurecia has been at the forefront of developing new products that keep its customers on the right track.
Forward Thinking
Faurecia is the result of a 1997 merger between two major European automotive components suppliers, one of which was a subsidiary of French automaker Peugeot. Stidham says the company's deep roots and the long-term stability it has demonstrated in its various incarnations are major attractions for automakers around the world. "The one thing I would say about Faurecia is our commitment to the interiors business is continuous, and our global footprint makes us very attractive and stable," Stidham says.
However, the company's past is only part of what makes Faurecia a global leader. Stidham says the company understands that it needs to evolve continuously to keep up with the changing needs of its OEM customers. In every segment that the company serves, Faurecia has brought a forward-thinking attitude and leveraged its worldwide R&D capabilities, allowing it to create some of the most advanced and solutions-focused components on the market today.
Stidham says auto manufacturers are experiencing a serious shift in their priorities thanks in large part to increasing concerns over environmental impacts and fuel economy. Auto OEMs today want components that offer significantly lighter weight than in years past to save on fuel consumption, and they also want emission control systems that reduce the ecological impact of their vehicles while also creating greater fuel efficiency. Stidham says Faurecia makes these things happen for its customers.
"I would say without a doubt, [our strength] is engineering and technology that's associated with driving these products in the direction our customers are either driving us or are being driven by regulatory changes," Stidham says.
Recent Innovations
The company broke into emissions control in 2010 with the acquisition of Emcon Technologies, itself already a leader in the segment worldwide. Stidham says the segment is one of the most technologically advanced areas of the automotive business, as well as one where the potential to innovate has barely begun to be tapped. "The emissions business is a very attractive business for us for many reasons," he says. "We see it as a very solid business going forward."
One of the most significant advancements Faurecia made in the emissions control sector recently was solving customers' needs for systems that use as little materials as possible. Utilizing thin-walled materials – such as tubing less than a millimeter in thickness – is the ideal for these systems, but the technical challenges of using these materials were too much for many manufacturers. "The obstacle to that in the past has been the ability to weld thin materials like that or dissimilar thicknesses of materials," Stidham says.
Faurecia developed a unique induction brazing technique that has proven highly successful and efficient for marrying thin-walled materials together. Stidham says the company also has been successful in designing adaptive valves in exhaust systems to reduce noise with fewer materials. All GM trucks are outfitted with adaptive valves from Faurecia because of their efficient design. "You can literally eliminate resonators in some cases or reduce the size of some resonators," he says.
New Horizons
On the interiors side of the business, Faurecia drives innovation through the use of resin combinations with natural elements that allow for significant lightweighting of plastic components without sacrificing strength.
Stidham notes that the company also is looking into using more composites and carbon fiber technologies in interior modules like instrument panels.
Reducing weight also is an increasingly important part of the company's work in seating and exteriors, Stidham explains. He says the company's extensive and ongoing research and development give it the opportunity to be a leader in innovation in that area. As it innovates, Faurecia will continue to stay in front of the pack.
"Being able to set yourself apart from the competition in our core areas of expertise is important," Stidham says.