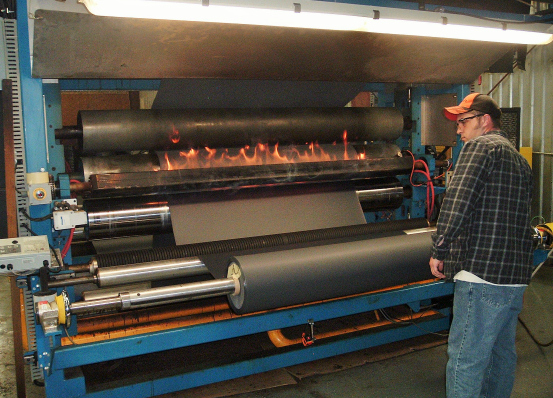 Federal Foam Technologies Inc.
When operating powerful off-road agricultural or construction equipment, noise is an unavoidable byproduct. But it can be mitigated successfully by many materials that are innovatively designed and carefully manufactured, such as those from Federal Foam Technologies Inc. The company specializes in many different types of engineered products designed and manufactured for a wide variety of industries instead of just being foam-fabricated.
"Our products are extremely diverse and have the fabricating technologies to support our flexible materials, but we've also expanded our business into the form and trim parts to give us a broader capability base," President Wyman Smith emphasizes. "So we can go to the customer with a fuller array of services and supplies."
The company's form and trim offerings include cab head liners and parts that are rigid but have a softer feel, such as rear door panels and fender covers for off-road equipment. "You can push on it and it has a soft feel, but structurally it's rigid," Smith explains.
Federal Foam Technologies produces cushioning products used in pillows, mattresses, chair pads, boat seats and stadium cushions. " Acoustical foams are the same type of polyurethane materials that comes in blocks, but the acoustical foams are poured to have more consistent cell structures for better acoustics," Smith says.
Federal Foam Technologies also processes its own polyester fiber. "It is compressed, and it has a binder in it that causes it to become rigid," Smith notes. "So you can use it as a substrate instead of plastics or fiberglass, and it has an acoustical benefit to it as well"
Flame Lamination
The company is vertically integrated in its processing of fiber and its new flame lamination capability. "Flame laminating is not new technology, but we used to buy it in the open market," Smith says. "Now we do it ourselves. It allows us to laminate a fabric, non-woven or film – various materials – onto the foam. That foam is then used to make the interior trim or acoustic part. The flame laminating is the bonding process of the fabric, vinyl or any other substrate to the foam."
Automated equipment applies a natural gas flame to the foam that causes their surfaces to melt and act as the agent to bond the substrate to the foam. The advantage of doing it in-house – despite the major investment required – is not having to pay a supplier's margin, a greater flexibility to use different substrates and not having to meet a minimum order size from an outside supplier. "It's a significant amount of training to understand and learn the process and dialing in the recipes for all the different material combinations," Smith points out.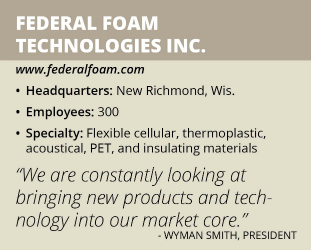 "Every material combination needs different processing settings of heat and speed," CFO Cathy Longtin adds. The recipe is determined by Federal Foam Technologies' engineering and production specialists. "Once we determine the recipe, then we can program that into the machine," Smith says. "The first time you run a particular product, you have to figure that out yourself."
Federal Foam Technologies is constantly seeking ways to automate its processes. "We've added several robotic systems in the past several years to trimming and cutting processes that were done by hand," Smith relates. The company also uses a CNC contour saw to cut 3-D shapes in foam. "The more we can automate things to eliminate hand labor, the more consistent our quality is and the easier it is to replicate the process time and time again," Smith says.
Hiring Challenge
The other advantage to increasing automation is that it reduces the need for labor, which is becoming increasingly hard to find. "The unemployment rate in all of our locations is extremely low, so acquiring skilled people has been a challenge," Longtin stresses.
Federal Foam Technologies has a total of approximately 400,000 square feet of manufacturing space at its four locations in New Richmond and Ellsworth, Wis., Northwood, Iowa, and Cokato, Minn. The New Richmond and Northwood plants focus on the acoustical cab trim and industrial products for off-road equipment. Cokato processes polyester fiber and flame laminates, and Ellsworth focuses on cushioning consumer products. The company's products are distributed worldwide. In addition to the North American operations, Federal Foam has two facilities in Europe.
Federal Foam is implementing a new enterprise resource planning system to replace one 15 years old. It will allow the company to integrate many different functions including scheduling, finances, order entry, inventory and purchasing. Most of the company's inventory is of raw materials such as foam, fabric, vinyl, adhesive and polyester fiber, although it does stock products for some customers. Federal Foam also is constantly improving work cells and instituting lean production practices.
Energy efficiency efforts include automating air makeup and heating so they only run when they are needed, reducing production noise, partnering with the city of New Richmond in their community solar garden located in its industrial park and recycling corrugated cardboard, paper, scrap foam, plastic and polyester.
One of Federal Foam's many competitive advantages is its innovation. "We are constantly looking at bringing new products and technology into our market core," Smith insists. The company's R&D staff of approximately 20 includes material, design and manufacturing engineers. The company also is diversified in its markets. "If any given market has a downturn, the whole company is not depending on that," Smith points out. He also strives to maintain an open-door policy with employees.
Smith foresees growth in the future from acquisitions and additional innovation. "We will continue to bring new products and technology to the marketplace to try and capture a bigger marketshare," he promises. "One of the keys of our success has been the employees and getting them engaged. Everybody is fully aware of what's going on with the company and engaged in the success of the company from every position, not just at a management level, but all throughout the organization."