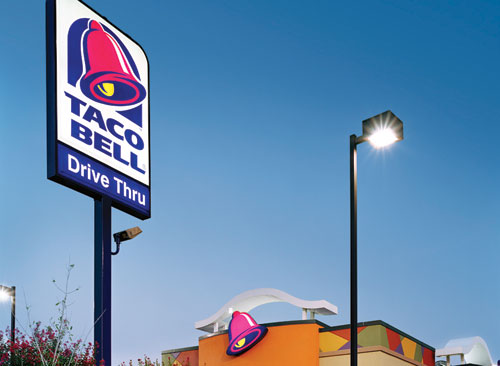 These clients select the company to design, manufacture, in­stall and maintain their storefronts and commercial locations.
The company maintains an impressive list of national repeat clients. Anyone who has dined at a Chili's restaurant, grabbed a cup of coffee at Dunkin Donuts, watched the famous CITGO sign while at a baseball game at Boston's Fenway Park, pumped gas at a Valero or Shell gas station, took in the dazzling sights in Las Vegas or stayed overnight at a Hyatt or Holi­day Inn has seen a portion of Federal Heath's workmanship.
According to President and CEO Kevin Stotmeister, Federal Heath takes responsibility for its clients' business image and provides comprehensive solutions addressing issues in the sign product, specialty contracting and maintenance arenas. "We attempt to provide a unique, positive experience where our clients trust that we'll get them positive results," he says. "We'll actually do what we say we're going to do."
Another key to the company's success is its relationships with subcontractors, suppliers and especially clients. Stotmeister says that their suppliers are partners in a supply chain that ultimately serves Federal Heath customers better than anyone else in the industry. "Costs and prices are certainly always an issue but never the most important issue; total value delivered as well as working with someone we can trust in both good times and bad is most important for us," Stotmeister says.
The company manages its coast-to-coast operations from four manufacturing facilities and 20 nationwide sales and support offices. The manufacturing sites are located in Euless and Jacksonville, Texas; Oceanside, California; and Delaware, Ohio, and employ approximately 300 manufacturing operations employees. The Jacksonville plant has a thermal form­ing process function that creates a 3-D typeface (distortion screening) used by such customers as Valero, Phillips, Conoco and Exxon. The Delaware facility has a strong niche in signs, canopies and fascia for petroleum clients such as Shell, Texaco and Exxon Mobil.  The Oceanside and Eu­less facilities manufacture more customized products such as Las Vegas casino spectaculars.
Although each facility has some specialties, all four facilities offer the same capabilities. "We literally can do similar kind of work in each four plants, which is very strategic for us," Stotmeister says. "We take advantage of geography and lower shipping costs and the ability to balance loads in case there is a schedule backup in a given plant."
New Era of Manufacturing
Until a few years ago, Federal Heath primarily manufactured signs based on customer specifications. As the economy took its downward journey, many companies downsized in-house skills and relied more heavily on outside resources.
"We have increased the scope of our services to provide more comprehensive pre-sale and post-sale offerings," Stotmeister says. "We now provide much of the work involved, for example, in research, product specification, design, material component evaluation, site survey analysis and code research that often was performed in-house by many clients in the past."
Another industry change is the move into LED lighting, which isn't brand new. Stotmeister says neon lighting and fluorescent tubes gave way to LED lighting years ago. How­ever, LED technology improves from year to year, resulting in decreased energy costs and increased lifespan of electrical signage.
New technology isn't the only thing Federal Heath keeps close watch on. The company thoroughly researches local jurisdiction codes for how large, tall and bright signs can be in the client's given area. The average cycle time from order to delivery runs about 60 days. However, actual manufacturing takes approximately 15 days, which means the bulk of that time is spent in the permitting pro­cess and installation. Extra effort in addressing problem areas that can cause further unnecessary delays is especially crucial in the multimillion-dollar jobs that Federal Heath frequently performs for clients requesting a national signage conversion.
Stotmeister says that Federal Heath believes it's better and easier to bring more things to current customers than it is to bring more customers to the same things. Two additional divisions of the company, specialty contracting and MX Main­tenance Services, do just that.
The specialty contracting division provides re-imaging capabilities be­yond the obvious identification of the sign product. This division gets in­volved in remodeling activities both inside and on the exterior of buildings and store sites for multi-location quick-serve restaurants, petroleum and convenience stores. Its scope of work includes building frontage and fascia replacement, painting, electrical, plumbing and even concrete work in parking lots. Freshening up the look of existing stores, which may have been in place for 20 or 30 years, is often as important to clients as expanding their business with new store sites, says Stotmeister.
MX Services provides maintenance and minor repair services for sign and lighting products in the field. MX changes out failed lamps, transformers and other sign components and gets involved with some retrofit activity replacing neon lighting with LED lighting.  This is done for both signs Federal Heath originally manufactured and those manufactured by other companies. MX offers both fixed-price maintenance contracts as well as work on a time and material basis.
Academy-Worthy Performance
In October 2009, Academy Sports + Outdoors contracted Federal Heath to give its signs a new look before the year's end. The big-box retailer, with 110 locations in Texas, Oklahoma and Louisiana, changed the tagline to modernize its image and better explain the kind of products it provides. One of the challenges of this project was the 277-volt electrical system in place at most of Academy's stores.
The transformers required to light the new signs are not used very often and are therefore in short supply.  "Our team pulled together to get all locations surveyed and designed, and installers lined up while manufacturing planned the necessary fabrication and scoured the country through our supply chain to find enough of the unique 277-volt transformers required for the project," Stotmeister says.
The company purchased every single 277-volt transformer in the country at the time. "This kind of conversion under normal circumstances might be a four-to-six-month undertaking," Stot­meister explains. "In full coordination, we were able to meet the customer's needs in less than three months."