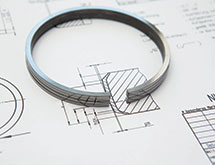 Federal-Mogul Holdings Corp. is a $6.8 billion global supplier of well-known brands and solutions for manufacturers of automotive, light commercial, heavy-duty and off-highway vehicles, as well as a provider for power generation, aerospace, marine, rail and industrial markets.
The company operates with two business divisions: Federal-Mogul Powertrain and Federal-Mogul Motorparts, each with a chief executive officer reporting to a board of directors. Federal-Mogul Powertrain focuses on original equipment powertrain products for automotive, heavy-duty and industrial applications; Federal-Mogul Motorparts sells and distributes a broad portfolio of products in the global vehicle aftermarket, while also serving original equipment (OE/OES) manufacturers with vehicle products, including brake friction, chassis, wipers and other components.
Federal-Mogul's history dates back more than 100 years to a duo, J. Howard Muzzy and Edward F. Lyon, who started a company that sold mill supplies and rubber goods with a subsidiary called the Mogul Metal Company. Under this new umbrella, they revolutionized the bearing industry. The pair developed specialized metals to meet different bearing needs, and pioneered manufacturing die-casting replacement bearings to the right size and shape. Before the latter innovation, mechanics had to gouge out the old bearing from the motor block and pour in new metal.
Since its founding in 1899, Federal-Mogul has been known as an innovator and a leader in technology. The company started with a bold idea, and over time, grew into a Fortune 500 company with a global workforce thousands strong. Federal-Mogul ranks No. 50 on the Automotive News list of top suppliers with an estimated $4.2 billion in sales to automakers in 2013.
Federal-Mogul sells and distributes a broad portfolio of products through more than 20 of the world's most-recognized brands in the global vehicle aftermarket, while also serving original equipment vehicle manufacturers with products including braking, chassis, wipers and other vehicle components.  The company's aftermarket brands include ANCO® wiper blades; Champion® spark plugs, wipers and filters; AE®, Fel-Pro®, FP Diesel®, Goetze®, Glyco®, Nüral®, Payen® and Sealed Power® engine products; MOOG® steering and suspension parts; and Ferodo®, Jurid® and Wagner® brake products.
New Mexican Plant
On October 9, Federal-Mogul opened a new piston ring manufacturing plant in Puebla, Mexico, for its powertrain division. The new site makes steel and cast iron piston rings to be sold throughout North and South America, and are said to enable reduced emissions and improved fuel economy
The $15 million project initially created jobs for 120 employees, with plans to grow and add more people to the workforce. With the addition of the new plant, Federal-Mogul now has seven plants under its powertrain division. Altogether, the facilities produce leading powertrain components including bearings, ignition, sealing products and pistons.
"We are very pleased to open this new facility in Puebla. It is part of our global strategy to expand our manufacturing footprint, particularly for piston ring production," Michael Hedderich, senior vice president and general manager of rings and liners, said in a statement. "This new facility demonstrates our commitment to providing more efficient production of piston rings to customers in this region of the world."
The company's latest ring production in surface and machining technologies will be utilized, combined with state-of-the-art quality standards and data-based process control systems.
"Our investment in advanced manufacturing processes for piston rings has enabled us to provide state-of-the-art solutions at the new Puebla facility that fit the needs of our customers," Puebla Plant Manager Lars Gutberlett said. "The extension of the manufacturing footprint in Mexico strengthens Federal-Mogul Powertrain's leading position in piston ring technology through its use of unique coating technologies to ensure optimal product performance. Best-in-class coating technologies like PVD and DuroGlide support the automotive industry's challenges to meet legislative targets for reduced CO2 and improved fuel economy."