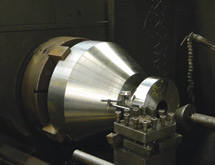 Traditionally, Federal has been in the business of making connections for the oil and gas industry, but CEO Keith Luomala says it may be more accurate to say that it's in the business of making connections with the oil and gas industry. "The best way to describe our company and our customer relationships is that we're a partner to the entire oil and gas industry," Luomala says.
The Houston-based company, formerly known as Federal Flange, produces custom-engineered connection solutions and components ranging from standard flanges to deepwater subsea connectors and tools. Luomala says the company's customer base consists of practically all the major players in the oil and gas sector, especially those located in the Houston area.
Federal has become a trusted name in the industry for more than 35 years because of the unique nature of its services, according to Luomala. As such, with the depth of services off­ered, the company occupies a singular position in the marketplace that sets it apart from most other manufacturers in the industry.
"If you look at our core model, we don't really consider that there are a lot of direct competitors out there," he says.
The combination of Federal's value proposition, its broad range of mach­ining capability and diversity of services, as well as its commitment to cust­omer service, is what has propelled the company to a position of prominence in the industry. Luomala says the company's recent expansion efforts and an anticipated upward swing in the oil and gas sector add up to a promising future, as well.
In-House Capabilities
Federal is unique because it combines services normally spread among various vendors into one source. Luomala says this helps the company provide special one-off projects or small-run components to fill specific needs for its customers.
Federal provides engineering, manu­facturing and consulting services. "Our model is focused on providing the industry with things that can't be provided by any single source out there," Luomala says.
"I think the biggest thing we offer that doesn't exist out there is our highly technical in-house engineering capabilities," CFO Larry Ostrow­ski says.
The company's facility in Houston is equipped with more than 50 mach­ining centers – both CNC and manual – that allow the company to develop and produce highly specified components. Because of these capabilities, the company's core business is not set up for high levels of production, something that Ostrowski says makes it possible for Federal to be more flexible and nimble than competing manufacturers.
"It's our ability to turn things around in a fraction of the time it takes other people in the market to do," Ostrowski says, adding that the company also is willing to move heaven and earth for its customers. "If we have to work on something 24 hours a day, seven days a week to get it done, that's what we'll do."
Thanks to this dedication and capability, Federal is able to offer customers turnaround times that are much shorter than the industry average. According to the company, the industry's average turnaround time for flange design and production can range between six and 30 weeks, but Federal's deliveries are between 24 hours to two or three weeks.
Because Federal core model is set up for small production runs or one-off pieces, it has not found as much value in lean manufacturing principles or just-in-time delivery in regards to set up and other manufacturing processes, according to Luomala.
The company focuses its continuous improvement efforts on the back office and ancillary processes while continuously looking  for best practices to im­prove its individual processes. Sweep­ing reforms such as those prescribed by lean would only hurt its capability to quickly produce custom connection solutions, it believes.
Growing Intelligently
To help increase the company's capabilities and better serve its customers, Federal is undertaking a significant expansion project that today gives it an additional 30,000 square feet of manufacturing space.
Luomala explains that the company has installed state-of-the-art machining centers and designed the new facility as a temperature-controlled operation. This will allow for high-tolerance production and to provide greater quality control while still allowing the company to concentrate on flexibility and full customization of products.
In addition to expanding Federal's core model, this new facility and equip­ment will allow the company to take on overflow production runs from select core customers on complex components. The first phase of the expansion was expected to come online this summer, with the second and third phases currently under development, Luo­mala says.
Key Partnerships
Federal's expansion project is fortunately timed, as Luomala says the company expects to see the oil and gas ind­ustry shake off the effects of the recession in the next few years. "Every­one in the oil and gas industry believes we're on the verge of a significant uptick," he says.
That increase in activity won't come in one big surge, however, as Luomala says many of Federal's customers have had their optimism tempered by the realities of the economic downturn they just experienced.
"What's happened since the banner year of 2008 is that customers have become a bit more cautious and perhaps more intelligent in their growth cycles," he says.
Regardless of how quickly the oil and gas sector emerges from the recession, Federal will count on the cooperation of its key vendors and suppliers to help it meet customers' demands. "Our suppliers are very key in the sense that we're not able to carry the entire range of material sizes and types that are needed," Ostrowski says, adding that the company considers its material suppliers to be a significant component of its success.
Luomala says Federal expects to see greater cooperation between the company and its customer base in the near future, as well. With many OEMs outsourcing more aspects of their work, Federal is working with those customers to be called upon to help them reach their goals. This is going to be the foundation on which Federal builds its future success, the company says.
"Those partnerships are driving our expansion direction and hence will be a large portion of our future growth." Luomala says.