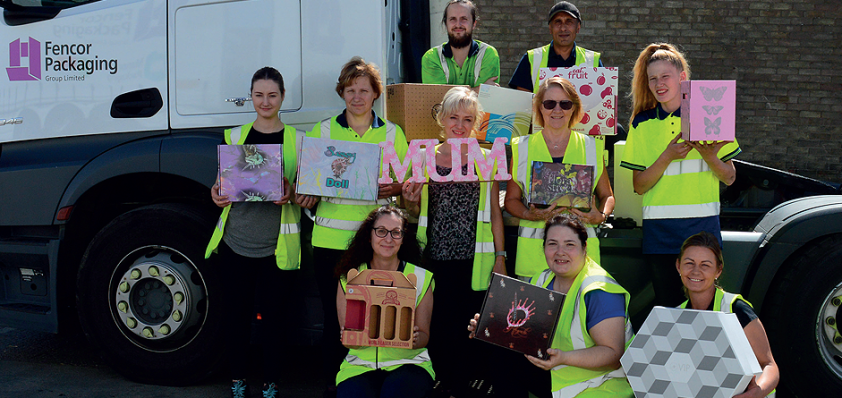 Positive corrugation
An environmentally-conscious designer and manufacturer of corrugated packaging and display units, Fencor Packaging Group is a customer-focused business that continues to invest in a better future
Led by Group Managing Director David Orr, Fencor Packaging Group has grown significantly since 2000. In the last seven years alone, the company has ploughed close to £10 million into improving its manufacturing capabilities and increasing its factory and warehouse space. Now boasting a workforce of 140 employees, and a turnover of almost £20 million a year, it is clear that the firm's investment strategy is paying off.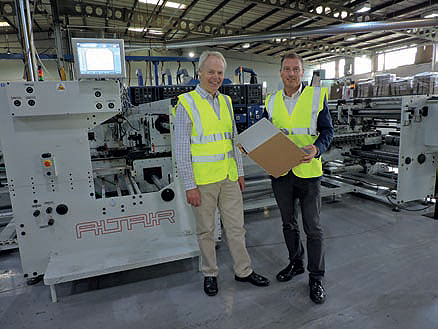 "It all comes down to a simple rule," David says. "We will not hesitate to invest where our Groupcustomers need us to. We will follow the needs of our customers, and if we don't do that, we don't deserve to keep them."
Fencor's commitment to the needs of its customers, as well as its willingness to invest in areas of need, were in evidence at the end of July when the company took on an extra 25,000 square feet of working space.
"By adding the new space, we can hold extra stock, but more importantly, we can free up room within our manufacturing unit so that we can install more machinery," David explains. "Within the next week, we will be placing an order for a flatbed die-cutter and a few other bits of equipment. This follows recent orders for automatic taping and gluing machines. The total bill is going to be around £750,000, but we believe it is the right thing to do, and as a Board, we will not hesitate to do what is right. We've already communicated these plans to our customers and hopefully they will understand and appreciate the fact that we're doing something to keep pace with their requirements."
More than manufacture
Operating as two distinct companies – Manor Packaging and Easypack POP Displays – Fencor serves a variety of industries, including the pharmaceutical, cosmetics, food and drink, retail, and horticultural sectors. Whilst Manor Packaging produces conventional corrugated boxes and flexographic print products, Easypack focuses on the manufacture of three-dimensional cardboard displays for end-of-aisle promotions.
"The displays we create are very specialist and retail oriented. There are some businesses that can only get their products into stores through the use of promotional displays and that is where we come in," David states. "We've got specialist equipment, including two Hewlett Packard large format digital printers around 3.2 meters by 1.6 meters in size, so these are big beasts which eliminate the need for printing plates. The specifications of display products tend to be extremely complex and require huge design elements that are relatively costly in comparison to a normal brown box, so it favors digital technology. That's why we've also got probably the biggest hand platen die-cutter in the country, which measures 3.2 meters by 1.8 meters and weighs about 23 tons. It's also why we have just installed a new large format Elitron digital cutter, which is ideal for producing short runs.
"Still," David adds, "as is the case across the whole of our business, the real differentiating factor is customer service and design and everything that surrounds a product but isn't actually the product itself. It's the customer experience, it's the lead times, it's the nurturing element of the business and that requires good people, engaged people, and continuous investment in state-of-the-art equipment."
As David suggests, Fencor is more than just a manufacturer. In 2019, the company's extensive design capabilities helped it take home a Silver Award in the Temporary Display Confectionary category at the POPAI Awards. The award-winning product was a sustainable, recyclable Oreo Cookie Shark Display, designed and manufactured for Cadbury in partnership with Total Marketing Support (TMS). This followed a POPAI Gold award in 2018.
"TMS handle Mondelez's print and packaging requirements and they use us to design and produce displays," David reports. "We have a similar arrangement with another marketing services company working with a global brand, who, before we could qualify to do the work, put us through a really stringent audit, including cyber security, colour management and confidential manufacturing. We've also been designing frustration-free packaging for satellite boxes that is fully recyclable and allows for easy delivery.
"As a business, we are very fortunate to have two highly skilled and experienced design teams full of people who can see a structure out of a flat sheet of board. It's a rare talent and they are really capable people. Our Group Sales Director started life as a structural designer, so it is a really good place to begin working for us. We've got other salespeople and account managers who started as designers too. We like to carve a career path from designer on to other roles, if that's what people want. If you've got that intimate knowledge of the product, you can find solutions for complex client requests much quicker than someone who hasn't got that background."
Magnificent response
Fencor's response to 2020's Covid-19 pandemic has been widely recognized in the media and David is particularly pleased by the resilience on show throughout the business. After modelling a 'worst-case scenario' budget and receiving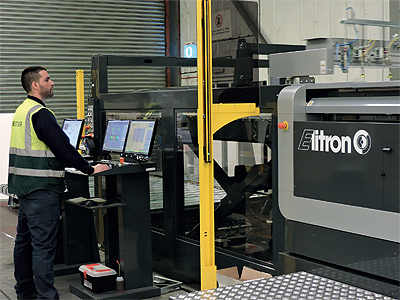 financial reassurance from the bank, the firm tackled the challenges of Coronavirus head on.
"We knew we needed to focus on the end game. We had the kit, we had the finances, so we turned to our workforce and assured them it would be worth going through all this to come out intact and in a strong position. We said to our team, we can make it through this with no job losses and no financial damage or harm to any employee, but we have to stick together, we have to be there for our customers," David reveals. "The response was absolutely magnificent. We did everything we could to protect our staff and they volunteered to work through weekends and bank holidays. The resilience the whole company showed allowed us to maintain our reliability, whilst also creating a bond of trust. It's something that has really served us well."
Having experienced a huge surge in demand in March, both Manor Packaging and Easypack remain busy. Demand for e-commerce packaging continues to soar and David is thankful for the investments Fencor has made in recent times that have allowed the company to cope with – and profit from – such a significant increase in activity.
"Among the equipment we've purchased is a Bobst Casemaker," David comments. "Bobst is the Rolls Royce of our industry, so this is a machine that has been hugely beneficial in our battle to cope with the surge in demand. Only last year, we added a speciality multi-point gluer that helps to manufacture boxes that form instantly when you twist them. That's been particularly useful for e-commerce and even though we only installed it a year ago, it's now one of the busiest machines in our group. The company is really seeing the advantages of always staying on the front foot from an investment point of view."
Green approaches
Having made it through the first half of the year relatively unscathed, Fencor is expecting to see more growth on the e-commerce side of the business over the next six months. Alongside the firm's continuing program of investment, David suggests that the company is also in a strong enough position to add new recruits to its ranks. "We've taken on three new team members in the last month and we plan to take on more before the end of 2020," David notes. "It is a healthy position to be in and we really are counting our blessings."
As far as the future is concerned, sustainability and environmental strategies will guide Fencor on its journey through the next decade. Assisted by the fact that the company's core product is inherently green – all Fencor packaging is 80 per cent recycled and 100 per cent recyclable – David hopes the firm will be able to persuade more companies to use corrugated materials over plastics.
"We're talking all the time with companies that want to change from plastics," he declares. "We supply a number of horticultural businesses and we were tasked by one of them to come up with a recyclable alternative to vacuum-formed trays for plug plants. Historically, cardboard wasn't considered feasible because it is too absorbent, but we found a special coating that had never been used for this purpose before and we were able to get it to work for the product. We have also been able to apply the same principle for a customer in the personal care and cosmetics industry, so we are using the environmental qualities of cardboard to help customers move away from plastics.
"Fencor is a part owner of Corrboard UK, which provides the majority of our raw material and which is the world's first corrugated sheet board manufacturer to be powered by a sustainable energy generation facility fuelled by organic waste. Internally, we continue to invest in LED lighting and we are working in conjunction with Suffolk County Council to install solar panels on one of our factories. The next big push for us will be to source all our power from renewables. I imagine it will be in place before the end of the year, which will be a big step towards our stated goal to be carbon neutral by 2030."
Fencor Packaging Group
Products / Services: Designer and manufacturer of corrugated boxes and display units
www.fencorpackaging.co.uk