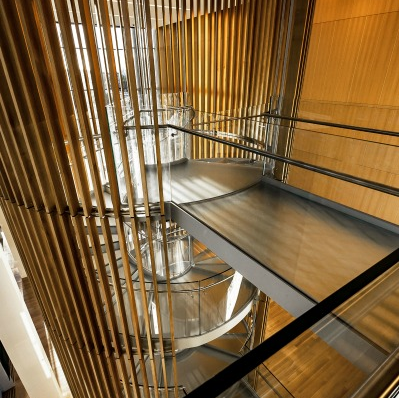 Fetzer Architectural Woodwork
Although much has changed in manufacturing since Fetzer Architectural Woodwork was founded in 1909, surprisingly little has changed within the walls of the company during that time. That's because the recipe for success remains the same as it did more than a century ago: extreme attention to detail, combined with an artisan's approach to manufacturing architectural woodwork for buildings and retail centers throughout the globe.
That artisan's approach has paid dividends, as Fetzer has grown to become one of the largest millwork companies in the United States. However, the process of refining that artisan's touch does not come without its challenges.
"Because of the degree of detail involved, there are processes that automation simply can't solve," Fetzer President and CEO Joe Wixom states. "For this work, you simply can't replicate the work done by a skilled craftperson's hand."
The degree of detail and skill involved means that typical apprenticeships, which last two to three years, are not the norm at Fetzer. In fact, the company has many workers that have been at the company for upwards of 30 years, while the average tenure is 10 years.
Indeed, working at Fetzer provides craftsmen with a unique opportunity. "Here, they have the ability to safely practice careful artisanship," Wixom states. "We believe the quality of the product represents the quality of the people working here, as well as the rich heritage of the company."
Finding quality workers can pose a challenge, one that Fetzer meets with community outreach. "We generally give 10 to 15 tours a year," Wixom states. "Further, we have strong outreach programs not just to shop students, but also to shop teachers as well. At Fetzer, you can go to school, learn a good craft and earn a good living all at once."
Boom Times
That careful approach to quality craftsmanship has led to notable success in the past few years. The company derives its revenue from two main sources: High-end retail store fixtures, and massive build-out projects such as corporate campuses, performing arts centers and mixed-use developments. Though the former can be cyclical in nature, the latter has really taken off.
"Really, these have been some of the best years in the company's history," Wixom says. He credits this uptick to the boom in construction of large, corporate campuses in recent years. Fetzer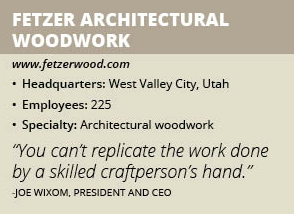 recently finished a large project for a noteworthy corporate client, and in recent years has worked on such high-profile projects as Levi's [5]Stadium in Santa Clara, Calif., and the new Salt Lake Federal Courthouse in Utah.
It is no accident that the company has found success in these markets. According to Wixom, Fetzer seeks out work in cities that have large, diverse economies that are not tied to one industry. And on these large projects, Wixom sees where Fetzer can add the most value. "On large projects with multiple buildings, we are often able to be 2.5 buildings ahead of schedule," Wixom says. "That's because we get involved very early in the process, and work very closely with the general contractors to identify dimensions and project parameters beforehand."
Of course, working large, complex projects requires an intricate, well-managed system with many moving parts.  Because Fetzer has invested in an advanced labeling and tracking system, countless difficulties are also eliminated. "We just completed a corporate campus project, our largest project to date, with over three million parts," Wixom notes. "And the company lost none of them."
Logistical and Supply Challenges
Fetzer acts as both a manufacturer and subcontractor on large projects, and both roles have their challenges. "It's the most difficult type of manufacturing," Wixom says. That's because with project-based manufacturing, it is difficult to gauge how much product will be needed on a project-to-project basis, and it is challenging to make year-to-year projections based on those estimates.
Wixom notes that the sourcing of the material can also be difficult. "Our biggest challenge," he says, "is the constant struggle to acquire the highest-quality materials. We deal with the best wood, and it takes a long time for the best wood to grow."
Fortunately for Fetzer, Wixom has met those challenges head-on with a very strong logistics team that can source from anywhere in the world. And, equally important, Wixom relies on a state-of-the-art custom software system to constantly refine Fetzer's manufacturing process. "We keep refining the process," Wixom notes, "hoping to always meet the grade, and exceed it whenever possible."
Fetzer meets its challenges with a strong belief in teamwork to solve problems. "Essentially, we're setting up the next person to succeed," Wixom notes. "Sales sets up estimating which sets up project management which sets up manufacturing." If Fetzer continues to foster this teamwork as the market continues to explode, this company will be set up to succeed for years to come.