The image of innovation
As companies require increasingly more sophisticated solutions within the digital imaging and digital inkjet arena, FFEI has the design and manufacture capabilities to meet its customers most complex needs
The roots of FFEI Limited trace back to Crosfield Electronics, an engineering firm founded by John Crosfield in 1947 that specialised in printing press control systems. Becoming famous in the 1970s for introducing the first digital colour scanner for digitising high quality photographs, Crosfield went on to be acquired by De La Rue in the late 1970s. Growing rapidly in the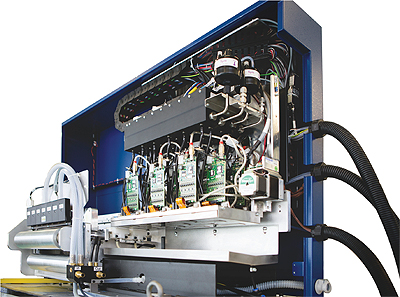 1980s, the company continued to innovate; in 1987 it was sold to a joint venture between DuPont and FUJIFILM and benefited from significant investment in manufacturing and product development capabilities.
"In 1997, FUJIFILM made the strategic decision to acquire all of our assets to create FUJIFILM Electronic Imaging Limited as a wholly owned subsidiary that was responsible for developing and manufacturing advanced digital imaging products for its Graphic Arts business. FUJIFILM invested £50 million in the company as it focused on setting new high standard in product development and manufacturing quality," says Andy Cook, Managing Director at FFEI Limited. "In December 2005, our business premises were totally destroyed by the Buncefield Oil depot explosion. Luckily we had a well-tested disaster recovery process, which enabled the business to be fully operation in a temporary facility in one week. As a result of this event, FUJIFILM and the company management put together a new company strategy and business plan, which opened up the possibility of an MBO."
He continues: "Having become managing director of the company in 2001, I knew the organisation well so in 2006, some ten months after the explosion, I led an MBO to take the company back to being privately owned; this is how FFEI Limited remains to this day. This development has a big positive impact on the company, which is now 100 per cent owned by three of the directors who are actively involved in the day-to-day running of the company."
Since the MBO, FUJIFILM has remained an important business partner for the company, with FFEI Limited continuing to provide innovative products and services to; the company also went on to achieve two Queen's Awards for innovation for some of its more successful product developments.
Celebrating 70 years since the formation of Crosfield and 11 years since the MBO in 2017, FFEI Limited has become the go-to company for those seeking sophisticated and innovative solutions. Whether the challenge is to create software functions that enhance workflow, develop a product that can accurately jet billions of ink droplets a second onto exotic materials or even create ultra-high resolution micro scanning mechanisms to research human tissue cells, FFEI has the capabilities to meet these complex requirements.
Based in Hemel Hempstead, the company houses environmentally controlled technology suites for each product area; operated by expert staff, FFEI Limited can ensure all products reach the stringent standards that its clients have grown to expect. "We have a quite unique business model where we undertake the full product development process, productisation manufacturing and supply responsibilities including regulatory and technical support roll out," says Andy. "Current products include an ultra-high resolution digital pathology slide scanner for one of the world's largest life science companies, along with several industrial inkjet label and packaging systems for global commercial print companies.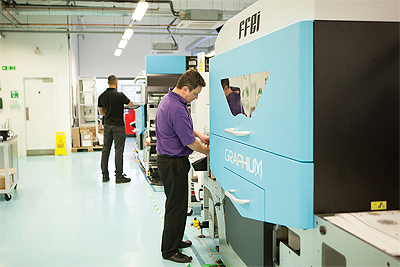 "Furthermore, one of our mainline inkjet systems, Graphium, has become a market leader in the growing hybrid printing label market, where very high quality colour inkjet printing is combined with traditional flexo printing to create short run labels for the packaging markets. We have also developed products for printing on plastics used in the furnishing industry, including one of the world's largest suppliers of edge bands used for high-end fitted kitchens."
The most recent innovation for the company is Printbar Uncovered, an inkjet printing system that can be integrated into an existing printing press. This product is being marketed to the printing press manufacturers to enable them to offer digital printing capability to customers. For this product, FFEI Limited allows the press manufacturers to own label, add features and functionality that is aligned to their own goals and competitive advantage. "We will be demonstrating this system at the upcoming Label Expo show in September 2017 at Brussels. This is the world's largest show for the labels and packaging industry and we expect to have two companies showing their version of the Printbar at the show, both with unique features and branding targeted at their own clients," says Andy.
Benefiting from companies experiencing ever-increasing numbers of product innovation from competitors, FFEI Limted is an attractive option to global players and smaller firms alike as they seek to outsource the process of product development. "Outsourcing not only reduces cost, but also speed to market," explains Andy. "In 2017 we have doubled the value of development projects we have won, which will create new revenue streams within the next 24 months.
"Our success comes from having excellent core digital imaging technologies, which can rapidly be productised into reliable and price competitive products or systems. Our vision is to build on this success and capability to become the partner of choice for product development to these global brands. Looking ahead, we plan to double the number of industries and partners we are engaged with over the next five years and continue to invest in our organisational capability," he concludes.
FFEI Limited
Products: Manufacturer of digital inkjet and imaging solutions