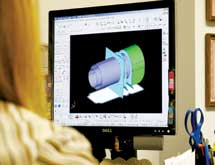 In a rapidly changing marketplace, most companies are challenged to stay proactive in developing new products and diversifying their portfolios, but Field Controls LLC makes it look easy. The Kinston, N.C.-based air systems manufacturer has a long history of coming up with innovative solutions to meet its customers' evolving needs, according to President Patrick Holleran.
Ted Field founded Field Controls in 1927 as a draft control manufacturer. In the 1960s, the company expanded into venting products. When Heico acquired Field Controls from its original owner, HC Conkey Co., in 1979, the company committed itself to further expand into the HVAC market.
Subsequent Heico acquisitions, including its purchases of Steinen in 1983, Effikal in 2006 and the steam humidification product line of EWC last year, allowed Field Controls to broaden its product offering and remain competitive. "We are fortunate to be part of a large organization with a global reach and extensive purchasing and procuring support," Holleran says.
Having the support of a large global parent enabled Field Controls to build a new laboratory and invest in new equipment in 2008. "The new lab positioned us to be more competitive coming out of the downturn," he notes. "We continue to invest in equipment to ensure quality and competitive advantages, and will continue to consider strategic acquisitions of other HVAC businesses as appropriate."
New Directions
Today, Field Controls manufactures air purifiers, combustion air systems, draft controls, power venters and humidifiers. The company sells to other HVAC manufacturers or OEMs of water heaters, boilers, furnaces and other equipment. It also sells to plumbing, heating or HVAC wholesalers, which supply product to contractors.
A recent decision to move into the indoor air quality market with its Healthy Home System™ line of products was a natural progression for Field Controls since it has significant experience in controlling and moving air, Holleran explains. It also allowed the company to support key industry initiatives including energy efficiency and sustainability.
Field Controls' Fresh Air System, Media Air Cleaner and UV-Aire products, for instance, can be added to a home's heating and cooling system to create an energy-efficient air quality system that combats mold, dust, pollen, pet dander and other airborne invaders. "These can improve the quality of air you breathe while improving efficiency at the same time," he notes.
The Fresh Air System brings a prescribed amount of fresh air directly into a home's HVAC system, where it is mixed with conditioned air before it is distributed throughout the rest of the home. The Media Air Cleaner is a high-volume filter system that traps tiny particles to keep HVAC systems clean and efficient. UV-Aire uses an intense ultraviolet light to zap airborne invaders to keep air pure.
Always Improving
Field Controls knows that to remain on the leading edge, it must put quality at the forefront of its operations. "We've taken it upon ourselves in the last five years to dramatically improve our quality systems because, ultimately, to be in business 15 to 20 years from now, we have to be the best at what we do," Holleran says. "What may have been good before is not good enough anymore."
Although Field Controls has supplied to ISO-certified customer for years and consistently passed their audits, the company only recently decided it was ready to take the plunge itself – one of its key objectives for 2012 is to become ISO certified. "This is not a place we would have been in 10 years ago," Holleran acknowledges. "But we are now, and we have a quality manager and a quality team that has taken us there. We are quite proud of their accomplishments."
Field Controls abides by the principles of lean manufacturing and Kaizen. "We implement eight to 12 Kaizen events annually, covering shop floor and business processes," he says. "These dynamic events are effective in implementing quick, dramatic improvements in efficiency, safety, quality and organization. In addition to Kaizen shop floor events, we provide visible metrics throughout the shop to sustain the gains delivered through the kaizen events."
Looking forward, Field Controls expects to gain more market share while continuing to serve its customer base. "We will grow organically through close partnerships with our OEM customers and understanding their future needs," Holleran says. "We will grow our wholesale business through direct communication with the HVAC contractor community to train them on the benefits of our products to their homeowner customers."
In addition, the company will continue to maintain solid relationships with its suppliers. "We treat our suppliers as a partner," Holleran attests. "We see them as a critical component to our success. They understand the importance of on-time delivery, being flexible and having the ability to be responsive to our needs. All of those things are factored into whom we buy from, not just price. We know that our suppliers need to be making money too, so we talk to them about intelligently bringing cost reductions to fruition."